Lisbeth Baez '20, '22MBA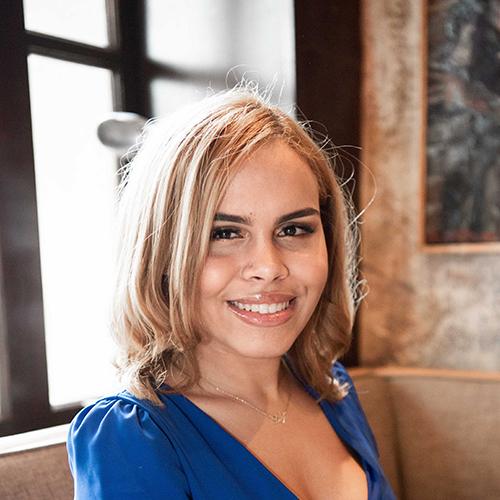 Major: Business Management
Minor: Entrepreneurship
Hometown: Santiago, Dominican Republic / New York, NY
High School: Harvest Collegiate High School
Some ways I participated at Iona:
President, Collegiate Entrepreneur Organization (CEO)
Vice President of Marketing, Collegiate Entrepreneur Organization (CEO)
Bailando Con Sazon
International Club
Lisbeth is currently pursuing her MBA in Marketing at Iona and expects to graduate in 2022.
Why did you choose Iona?
I choose Iona because of the business school programs. I also valued the student to professor ratio and the small classroom experience.
What did you accomplish at Iona that you are most proud of?
I am most proud of participating in the first ever idea pitch competition, the Iona Innovation Challenge through the Hynes Institute for Entrepreneurship & Innovation. The pitch competition felt like I was in a Shark Tank episode right here at Iona. I participated without any prior business ideas or experience, other than what I was receiving through Introduction to Entrepreneurship and Innovation, my first entrepreneurial class with the Hynes Institute. I was one of nine finalists competing for $6,000 in prizes. I won first place with a technology application, with a mission to decrease a city driver's gas emissions while looking for parking and increase city traffic efficiency.
The Iona Innovation Challenge was a pivotal experience. It aligned my path to discover a passion to problem-solve through an entrepreneurial mindset. The following year, I re-entered the Iona Innovation Challenge, this time with a passion project and I won first place again. I pitched The Entrepreneurial Adventure Camp, a socially responsible non-profit with a vision to accelerate access to entrepreneurship education for students in disadvantaged communities. Winning the Iona Innovation Challenge made me realize that I wanted to combine entrepreneurship with my management studies, and that has led to a career path which I am extremely passionate about pursuing.
The Innovation Challenge led to an opportunity to travel to Italy. Tell us about that.
After participating and winning the Iona Innovation Challenge I invested the cash prize money in a study abroad experience, the European Innovation Academy, a three-week accelerator in Turin, Italy. This experience was transformative. Alongside a team of international entrepreneurs and mentors from Silicon Valley, including Google and Uber, we built my technology application idea from the Iona Innovation Challenge.
You expanded your experience and knowledge through internships. Where did you intern?
I Interned for the Hynes Institute as an entrepreneurial ambassador to connect my peers to the entrepreneurship community on our campus. I also interned for Accel7, a local New Rochelle startup technology accelerator supporting founders solving problems that impact communities. As a senior, I interned for the marketing team at Chloe Capital, a venture capital firm touring nationally and hosting pitch competitions to invest in women-led businesses to decrease the gender gap in entrepreneurship and venture capital.
I was also honored with an exclusive invitation to train with the University Innovation Fellows, a program with Stanford University d.school. I was one of three UIF fellows in Iona College's 2019 cohort, one of four hundred in UIF's 2019 cohort, and we experienced hands-on learning through design thinking methodologies. As a UIF fellow, I am passionately committed to being a positive change agent in our local and global communities.
What have you been doing since graduation?
Since graduation I've been working on the launch of my business venture. I've also continued my studies at Iona and am pursuing an MBA in Marketing. I am a graduate assistant with the Hynes Institute and, most recently, I was the lead facilitator of a series of workshops: Designing Your College Mindset for Incoming Freshmen.
Any advice to prospective students?
Get involved from day one with the opportunities presented to you and explore Iona's resources that interest you. Home in on what you are passionate about, then align your college journey with experiences that will have you in the driver's seat, down a road towards your dreams.