Miguel Bernardino '21
Succeeding On and Off the Field with Support from Friends and Faculty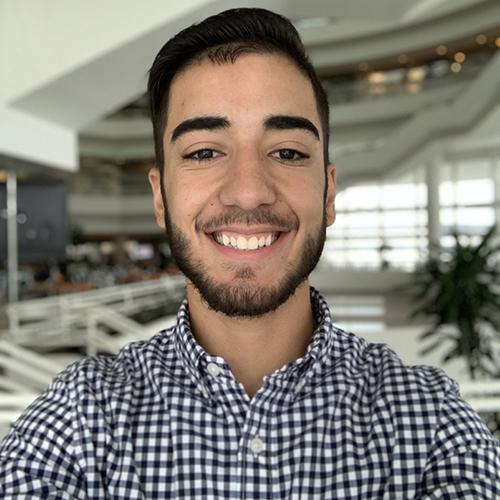 A proud manager of the Iona College Club Soccer Team, Miguel Bernardino '21, an accounting major who is a native of Yonkers, N.Y., has been able to leave his mark on the College, while maintaining an almost perfect GPA, working part time, and succeeding in a competitive internship.
Miguel, who is the Heinz Riehl '99H Endowed Scholarship recipient for 2018-19, was drawn to Iona because of its Business Administration program, which he believes is one of the best in Westchester. "When I went on the Iona College tour in my senior year of high school, I was immensely attracted to the LaPenta School of Business building. It was right in front the soccer field, so I just pictured myself playing soccer during the day and going to the School of Business at night!" shared Miguel. He is now even more excited for the opening of the LaPenta School of Business in early 2020.
On campus, Miguel is the manager of the Club Soccer Team. A year ago, he was able to help his friends, who created the soccer team, by scheduling their games and finding teams for them to play against. The team now plays every Sunday within the Eastern District Soccer League (EDSL). Miguel keeps the team organized by communicating with the league, creating rosters and doing the paperwork. He also incorporates his love for soccer in his part-time job as a referee.
Miguel also has an internship with the Reda, Romano & Company, LLP Accounting Firm. He is thankful to Dina Mangiafridda, associate director of stewardship & parent relations at Iona College for helping him acquire this internship. With his success in this experience, Miguel hopes to earn an internship with a large accounting firm in his senior year, and believes that with those experiences, along with the help of his dedicated professors, he can achieve his dream of working in one of the Big Four Accounting firms.
His advice to new students is to "Make friends and get to know your teachers. They will be a huge help not only with your studies, but also when you need a push of motivation. They will give you hope that you will do well in life and claim the success we all want."