Nicole O'Leary '21
"Nursing is more than a just career. It is a way to be a positive force in the lives of families and patients every day."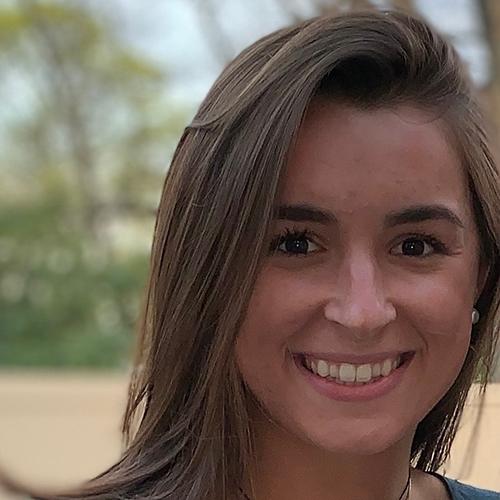 Major: BS Nursing - Accelerated Program
Hometown: New Rochelle, N.Y.
High School: The Ursuline School
Concordia College: BS Biology
Why did you choose nursing as a career?
To me, nursing is more than a just career. It is a way to be a positive force in the lives of families and patients every day. My grandma, who was a nurse practitioner for over 40 years, was a strong influence on my decision to become a nurse. She has always led with kindness and strength throughout her career and showed me what it means to care for patients with all you have. Her example and support played an enormous role in my decision to pursue a career in nursing.
Unfortunately, I have had many close family members who have battled various health issues throughout their lives. These challenges for my family gave me the opportunity to see nurses from the patient's perspective. They showed me what a crucial role nurses play in the recovery process. They have inspired me to be a nurse who is compassionate and supportive of not only my patients and their health, but also their families and the medical community as a whole.
Why did you choose Iona's nursing program?
I grew up in New Rochelle and have always been familiar with Iona. I swam at Iona College for ten years when I was younger and always spoke about how I would one day be a student here. When my brother started as a freshman at Iona, I got to see first-hand the supportive environment Iona provided, and I hoped one day I, too, would be able to attend. My brother is not the first O'Leary to attend Iona. Two of my uncles graduated in 1985 & 1989; my cousin Audrey is graduating in 2021; and my cousin Amanda is also attending Iona's Nursing Program.
When I first learned that Iona was starting a nursing program, I immediately felt that this was finally my chance to be a part of the Iona community. I knew that Iona's nursing program, like all of Iona, would be a supportive and caring environment where I would have the opportunity to hone my skills as a nurse surrounded by a strong community of students and faculty that greatly care about their students. I came into the program with a BS in biology, so I was accepted into the accelerated program, which is a four-semester program specifically for students who have already received a bachelor's degree. It consists of a spring, summer, and 2 fall semesters.
Tell us a little about the life of a nursing student.
Being that I am in the accelerated program, my life revolves around nursing, but in the best way possible. My classes are filled with people as passionate as I am about becoming a nurse, and every day I learn something new. In our labs, we use mannequins representing all different age groups to prepare us for our real-life patients. We typically attend a clinical once a week where we can take the skills we've learned in lab and apply them to our patients!
What have you accomplished so far that you are most proud of?
2020 has been an incredibly challenging year for everyone and graduating during a global pandemic was definitely not how I expected to finish my undergraduate degree. However, I am incredibly proud of how I have persevered through these times and was able to begin my studies at Iona within one month of finishing my undergraduate degree. Despite the uncertainties of this year, Iona has been a stable force, and I am incredibly proud and honored to be a part of Iona's first nursing class. While my studies have been challenging thus far, and at times admittedly stressful, being able to channel my passion for science into a career that will allow me to make an impact on the lives of so many people has given me the motivation to work through the stress to continue to excel academically. Now more than ever we need passionate medical professionals, and I could not be more excited to be a part of the future of the medical profession.
Tell us about something you learned (in or out of the classroom) that really surprised or excited you.
This semester I was placed at Burke Rehabilitation for my first clinical rotation. While I was incredibly excited to be able to begin practicing my skills so early in my career, I was nervous as well. When I arrived, I not only was greeted by the kindest nurses, but the sweetest and most supportive patients I could have asked for. Each nurse at Burke took any opportunity they had despite their busy schedules to teach me something new or allow me to practice a skill. They taught me to lead with confidence and kindness, and I could not have asked for a better first clinical experience. The patients were also incredibly supportive and kind. I will always remember one of the patients who took my hand and thanked me with tears in his eyes for the care I was giving him. He touched my heart and truly grounded me, reminding me that kindness can go such a long way in providing the best medical care. I am so grateful for my experience at Burke; it was the perfect supportive and caring environment to learn and grow as a nurse.
Tell us something you've learned about yourself since coming to Iona.
One thing that I've learned since coming to Iona is that you should never be afraid to push yourself. An accelerated nursing program can be very intimidating and it's easy to become hard on yourself and doubt your success. My instructors at Iona have taught me the importance of perseverance and gratitude. They have encouraged me to continue pushing myself, finishing strong, and keeping the main goal in sight.
Watch: Nicole and her fellow nursing classmate Jonah join Kate for Gaels in Golfcarts