Robert Spino '21
"I've gained so much teaching experience while still in college. Although this year was crazy with hybrid and at-home learning, I was able to develop a real connection with each student and provide a stress-free environment that enables learning."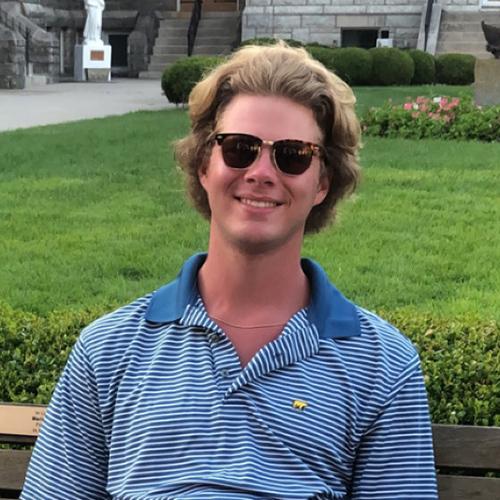 Major: Elementary Education with a focus on English
Hometown: Naugatuck, Conn.
High School: Naugatuck High School, Conn.
Why did you choose Iona?
I chose Iona College because it was far enough away from me to feel separated from home, but it was close enough for my family to see me. I had some friends who went here, and they all had great things to say about the campus life and classes. I also wanted to be close to NYC, so this was perfect in between.
Why did you choose your major?
I've always wanted to teach. My father was my elementary school teacher from kindergarten to sixth grade at Bethany Community School, so obviously that was a big influence. Throughout elementary school, I would always compare myself to the teachers, for example, if a teacher gave me some hard homework I would always think, "Well, if I were a teacher, I would do things differently." Eventually I realized those thoughts were my subconscious telling me I wanted to be a teacher. That was in 5th grade, and I haven't looked back since. I just love the classroom environment and I can't wait to have my own one day.
Have you done any student teaching or gained any experience you will use in your own classroom?
I have had experience in four different elementary schools: I've observed teachers in the classroom; I worked as a substitute teacher; and I had an opportunity to serve as a paraprofessional. I am proud of this because I've gained so much experience while still in college.
What have you learned about yourself since coming to Iona?
I have learned how to manage my free time better. In freshman year I found I was bored a lot and not using my free time well. Since then, I have found ways to keep myself busy and ways to motivate myself to do work when I would rather play Xbox. A good strategy is working with your friends; sometimes I felt it was harder to do work alone so working with friends gives the work environment a much better vibe.
Do you participate in clubs or activities on campus?
I am a member of Pi Kappa Phi fraternity here at Iona, and I have also participated in a mission trip to Houston in May of 2019. I fully intended on participating in other trips but the COVID pandemic resulted in the cancellation of the trip I was chosen to go on. I am also the co-founder and VP of the Education Club.
Have you done any student teaching or gained any experience you will use in your own classroom?
I am currently finishing up my student teaching through Iona at Davis Elementary School with Mrs. Curry's first grade class. I was so incredibly lucky to have such a great mentor teacher. Although this year was crazy with hybrid and at-home learning, Mrs. Curry persevered through it all and was able to give me the student teaching experience of a lifetime. It was definitely a learning experience for everyone in the classroom. The biggest challenge was managing a class full of students at the same time as a Zoom call full of students, but I was able to develop a real connection with each student. I knew how some kids dealt with frustrations and other issues we are sure to face in this virtual world and was able to adapt and provide a stress-free environment that enables learning.
I was very proud when a parent of a child in Mrs. Curry's class sent this note to Iona:
From a parent's perspective, Mr. Spino has a serious gift for teaching! He has a wonderful ability to really connect with the students and make them feel special and proud, no matter where they are at academically.
Prior to this, I had fieldwork through Iona at Dodson Elementary School in New Rochelle with second and fourth grade classes. I also gained experience in a special education classroom at P.S. 21 in Yonkers.
Back in Connecticut, I had experience as a paraprofessional at Hop Brook Elementary School in Naugatuck in third and fourth grade.
Was there a professor or mentor who impacted your experience at Iona?
I wish I could give a shout out to every professor and administrator in the Education and English program. Both departments have made my four years at Iona so amazing. They both offer support and resources that make it hard to fail any class! Two professors that stand out to me, though, would be Professor Richard McMahon and Professor Ivy Stabell. Although I have never had a class with Professor McMahon, he accompanied me on our trip to Houston as a disaster response team. The week spent with him was so much fun. He's just a great guy to talk to and hang out with. McMahon has taught me so much in the short time I have known him but all the knowledge I have gained from him is extremely valuable. Professor Stabell is a wonderful English professor and just an all-around cool person. Her classes are always so interesting and fun to be in, so much so that I've taken her class four times! The material in her class is always such a pleasure to read and there is always a fruitful conversation to follow any readings. Both professors have influenced and inspired me to be the person I am today. Dr. Stabell helped me strengthen my love for literature and deepened my knowledge of language arts more than I could have imagined. Dr. McMahon has no doubt made me confirm that a career in education is what I was born to pursue.
What are you looking forward to?
I am looking forward to traveling around the world and teaching in as many different cities and countries as possible. I also wish to pursue my dream of becoming an author; hopefully, my time in the classroom will help me write a novel one day.
Any advice to prospective students?
Don't hold yourself back! I have found that my greatest obstacle in life has been myself. When you learn to overcome fears and insecurities, you will feel like you can do anything. Never say you can't do something because when you give up on yourself it's hard to find motivation. Whatever things you face in your career or life, it's important to push yourself until you have proven yourself.