Tamia Reyes '21
"When I came to Accepted Students Day, I felt at home. Everyone I met was kind, welcoming and willing to be open with me. I felt like I belonged."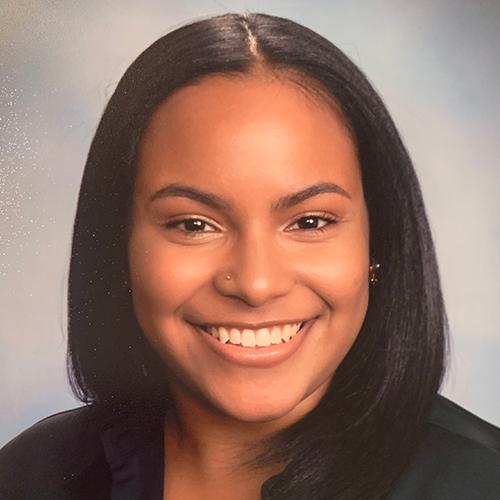 Major: Adolescence Education
Hometown: The Bronx, N.Y.
High School: The High School of Art and Design
Why did you choose Iona?
I was first drawn to Iona because it was close to my hometown, the Bronx. I did not want to be far from a city, but a nice distance from my parents. When I came to Accepted Students Day, I felt at home. The campus was small enough to maneuver and I did not feel intimidated. Instead, everyone I met was kind, welcoming and willing to be open with me. Then, I heard the bagpipes and the SGA President offered us a prayer that really stuck with me. I felt like I belonged.
Why did you choose your major?
I chose adolescence education specifically because I understood firsthand the vulnerability and awkwardness of that stage of life. I wanted to be a role model for students who were overcoming the challenges that come with growing up. I also wanted to share my passion for service, literature and learning with all, especially with students from areas like my own in the Bronx, who often get looked over in public education.
What have you accomplished so far that you are most proud of?
I am most proud of my achievements as a Campus Minister. It was not easy student teaching or observing in classrooms, working off-campus and being a full-time student and student leader. But leading service projects, programs and major invocations and events really opened my eyes to how service and faith plays a role in every part of our life.
Tell us about something you learned (in or out of the classroom) that really surprised or excited you.
Learning about childhood and adolescent psychology really surprised me. Learning how our childhood can impact the rest of our life and future behavior interested me. It changed how I viewed literature, classrooms and even my closest peers. If I did not have access to these courses, I would be lacking the information necessary to be a good leader and community member.
Tell us something you've learned about yourself since coming to Iona.
I have learned that although I thought I was an introvert, I am a people person. I enjoy helping and making others happy. It means the world to me make anyone's day a little bit better, even if I don't know them. Since coming to Iona, I learned importance of always being kind.
Do you belong to clubs/teams? Or do you participate in other activities? Tell us about your experiences with Mission and Ministry, especially as a team leader.
I am a student Campus Minister. I led the Boys and Girls Club and Woman to Woman, the prison ministry program, before COVID-19 changed things around. I would gather volunteers to join me to visit the Remington Boys and Girls Club once a week and tutor and hang out with the students. We also partnered with Bedford Hills Correctional Facility to pair students and women who have been incarcerated for long periods of times with visits to offer companionship to those on the outskirts of society. I currently help lead Iona College Tutors Online, in response to the global pandemic to ensure that students in neighboring communities still get the attention and support they need to succeed.
Have you participated in any internships or have you had any research opportunities? Tell us about that. What did you learn and how will it help you?
I observed at Iona Prep, Robert C. Dodson School, and James Baldwin High School. I was also a student teacher at New Rochelle High School. I learned a lot about how to be a student-centered and inclusive teacher who advocates for her students. I also got firsthand experience in the classroom where I planned, instructed and graded my own lessons with the help of many mentors. This will all help me be prepared for my own classroom in the near future.
Has any class, professor, mentor or friend made an important impact on you since coming to Iona? How?
There are so many friends, professors and mentors who have had an impact on my journey at Iona. First, Dr. Christine Hardigree and Dr. Ellen Small in the education department had a huge role in my time in the classroom as both a student and a teacher. With help from these women, I was always reassured that I am on the path to becoming a great teacher. Their courses offered me a plethora of skills to add to my teaching toolbox. Dr. Carl Procario-Foley also opened my eyes to so many spiritual and service-based experiences that had a positive effect on my morale. He really pushed me to explore the world of community service and giving back. Without the opportunities he led me to and the doors he opened, I would not be able to make the connections and impact I have today.
What are you looking forward in the future?
I am most looking forward to becoming a teacher and bringing service and education together in the classroom. I can not wait to have my own classroom one day and help teach the future leaders of our society.
Any advice to prospective students?
Try it! Growth does not exist within your comfort zone. Try anything and everything presented to you. It is a privilege to be able to get a college education, so seize the opportunity to learn and reinvent yourself. These four years will fly by in the blink of an eye.