Buildings, Memorials & Statues
In 1916, Judge Martin J. Keogh invited a group of Christian Brothers to start a school in New Rochelle. Br. Joseph Ignatius Doorley became the first principal and named the school on Lockwood Avenue after St. Columba's island monastery: "Iona School."
The first building erected for Iona Prep was Doorley Hall, built in 1934.
The forward-looking Br. Doorley went on to purchase 18-acres of land in New Rochelle that would later become the site of Iona University.
The first building occupied by Iona University at its founding was Cornelia Hall, built in 1940.
Buildings for Classrooms, Libraries, Athletics, and Administration
Amend Hall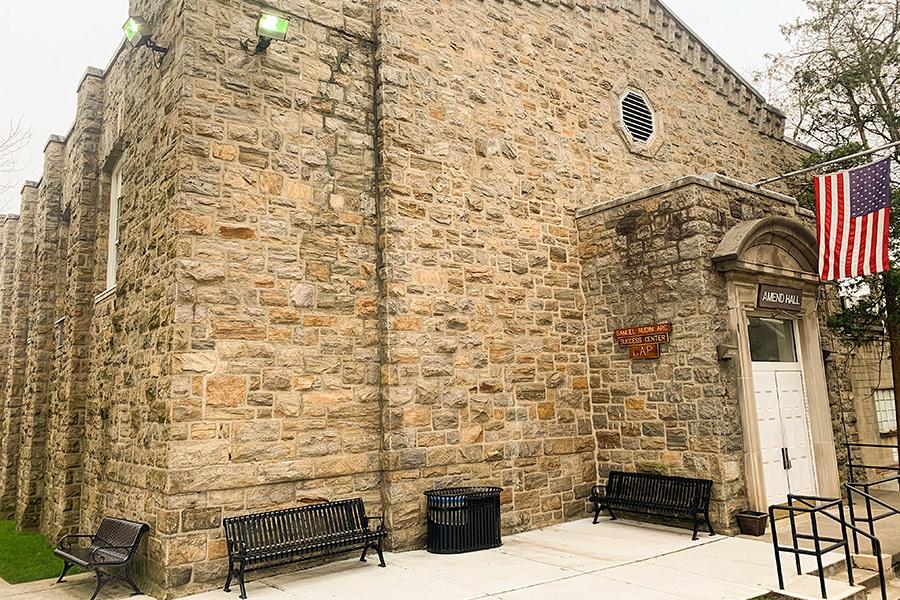 Named for Myles B. Amend - a former Trustee and legal counsel of the University - Amend Hall, built in 1930, was the original gymnasium for Iona Prep and Elementary Schools. Amend Hall now houses the Samuel Rudin Academic Resource Center, named in honor of the father of Jack Rudin, '86H.
---
Arrigoni Center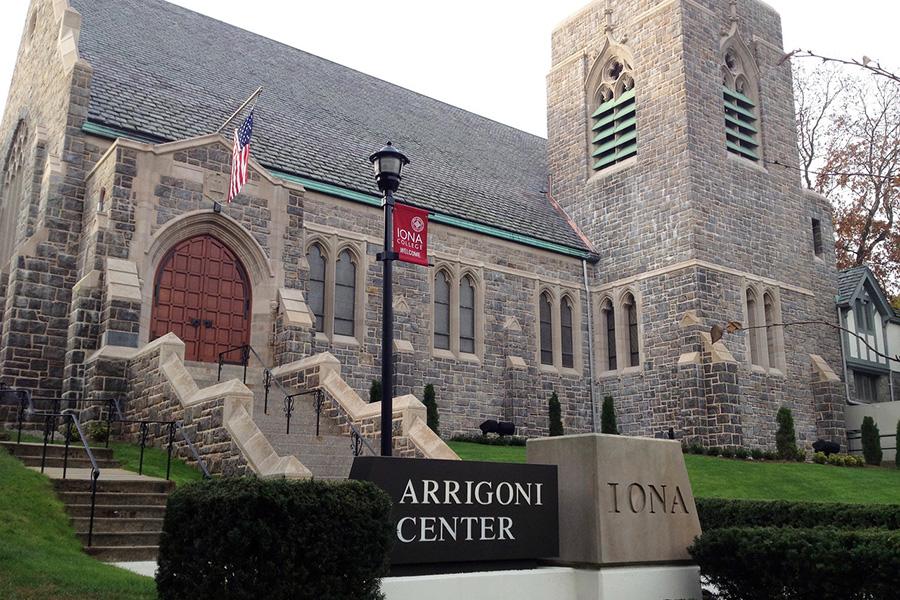 Named in loving memory of Ferdinand E. Arrigoni by his son, Edward F. Arrigoni '56, '91H, the Arrigoni Center houses the Queen of Peace Chapel and is home to Sunday evening Masses (Office of Mission and Ministry). Built in 1905, the Arrigoni Center was formerly the Episcopal Church of St. Paul. With its stained glass windows, high ceilings and dramatic arches, it is an impressive venue for conferences and special events.
---
Blessed Edmund Ignatius Rice Chapel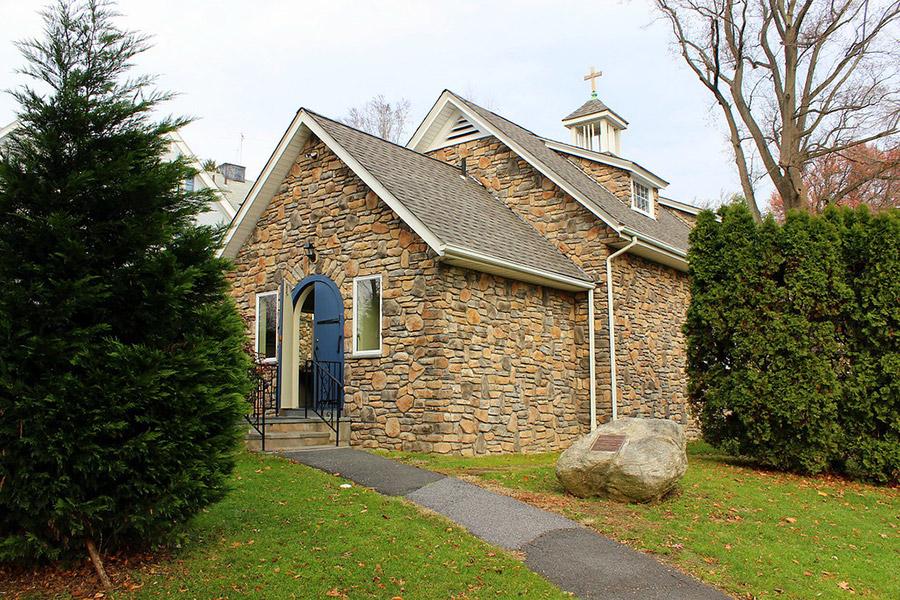 Formerly: St. Mary's Chapel
Named for the founder of the Christian Brothers, the Chapel, a 19th century carriage house, was renovated and redesigned by Br. Chapman in 2003. Daily Mass is celebrated at the Chapel on weekdays during the semester, and the Iona Community of Christian Brothers meets here daily for morning & evening prayer and community Mass.
---
Cornelia Hall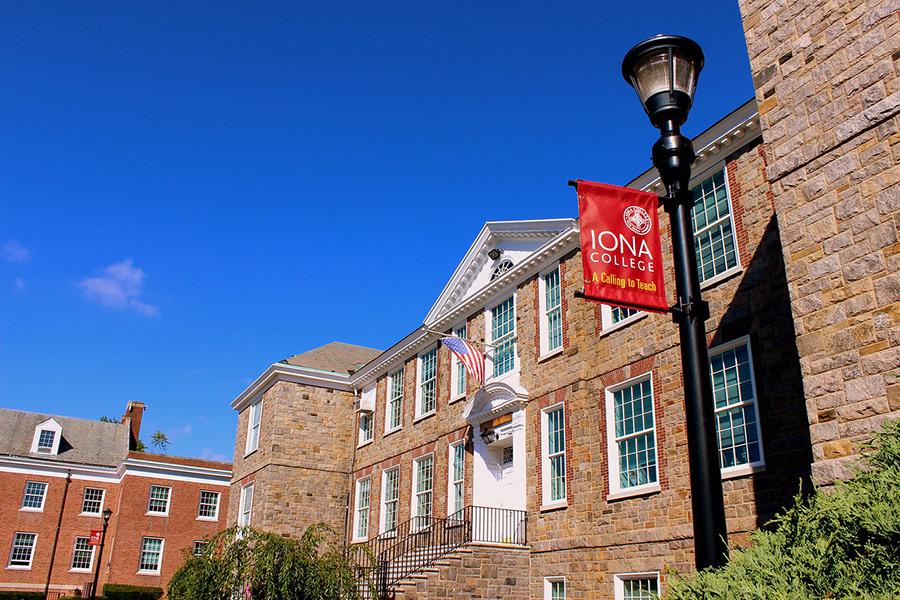 Named for Br. William Barnabas Cornelia (1885-1955), who was Iona's first president, one of the Founding Brothers of the University and a professor of Romance and Classical Languages, Cornelia Hall was built in 1940 as a science building for Iona Prep, but was claimed in a friendly take-over by the brand-new University – making it the first Iona University building. It continues to house the University's science programs.
---
Doorley Hall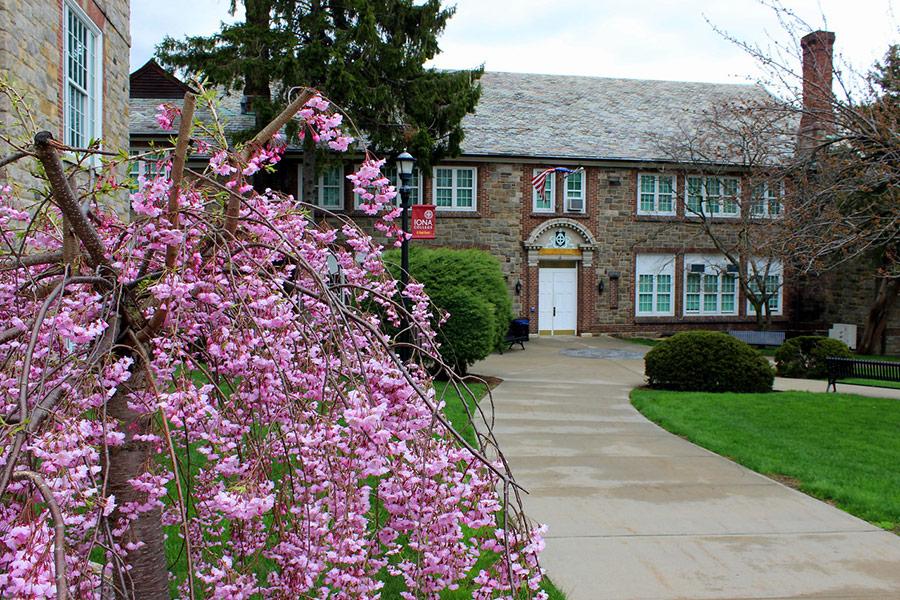 Named for Br. Joseph Ignatius Doorley (1878-1950) -- founder of the Iona Schools in 1916, Trustee of Iona University at its founding in 1940, founder of Cardinal Newman High School in Buenos Aires (1948), and a teacher of Modern Languages -- Doorley Hall was built in 1925 and was the first building erected for the Iona Schools.
Doorley Hall houses an auditorium and is home to the Iona University Theatre Ensemble which provides vast opportunities for students to develop and cultivate a passion for the performing arts at Iona.
---
Driscoll Hall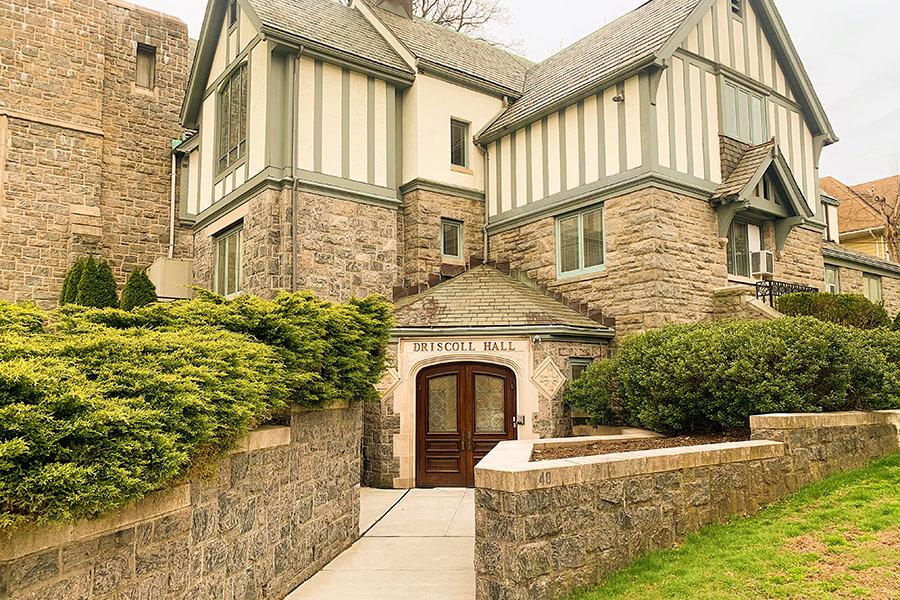 Named for Br. John G. Driscoll who served as Iona's President from 1971-1994, Driscoll Hall was originally the Parish House of the Episcopal Church of St. Paul. Driscoll Hall, which was built in 1905, is home to the Department of Sociology. It also houses a multi-purpose space, ideal for board meetings, small conferences, receptions and training sessions.
---
Egan Hall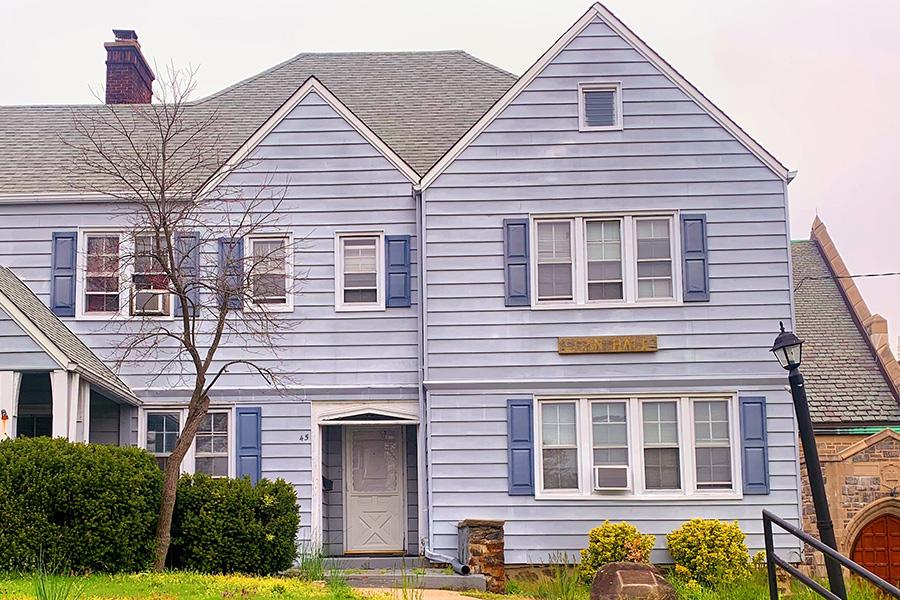 Named in honor of Br. John M. Egan, professor of Psychology, counselor, co-founder of Pastoral Counseling Institute and vice president of Iona University from 1961 – 1963, Egan Hall was once the Rectory of the Episcopal Church of St. Paul. Built in 1923, Egan Hall is currently the home of the Department of Marriage & Family Therapy Department and the location of a community clinic, which has offered low-cost individual, couple and family therapy to New Rochelle and the surrounding area since 1971.
---
Hynes Athletics Center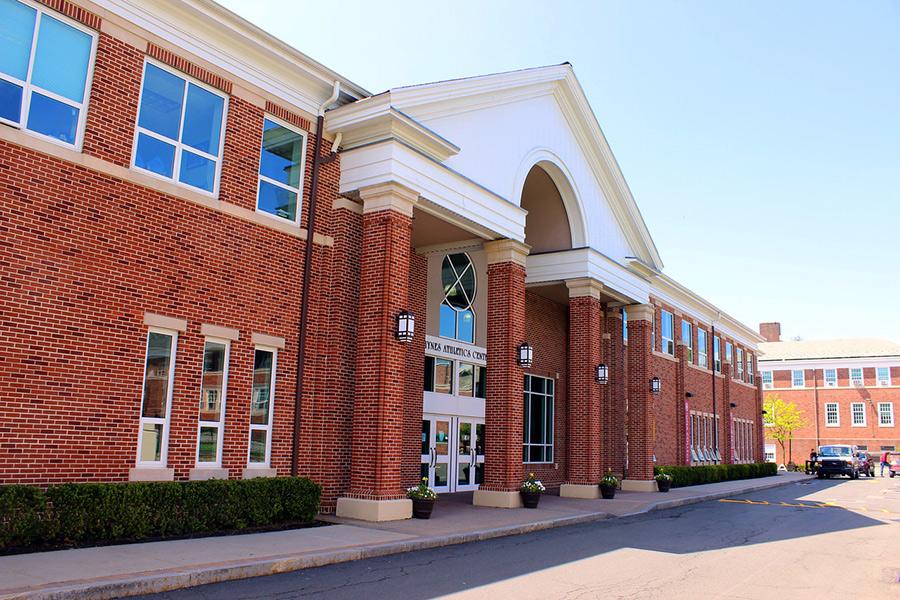 Named for James P. Hynes, '69, '01H: Former Chairman of the University Board of Trustees and a generous benefactor (together with his wife Anne Marie Hynes), the Hynes Athletics Center is devoted to serving the recreational and fitness needs of the Iona University student body and is home court to the Gael's men's and women's basketball and volleyball programs. Built in 1974, the Hynes Athletics Center was dramatically upgraded in 2019, significantly enhancing the game experience for the athletes and the fans. Iona is home to 21 varsity and NCAA division athletics teams.
---
Hynes Institute for Entrepreneurship & Innovation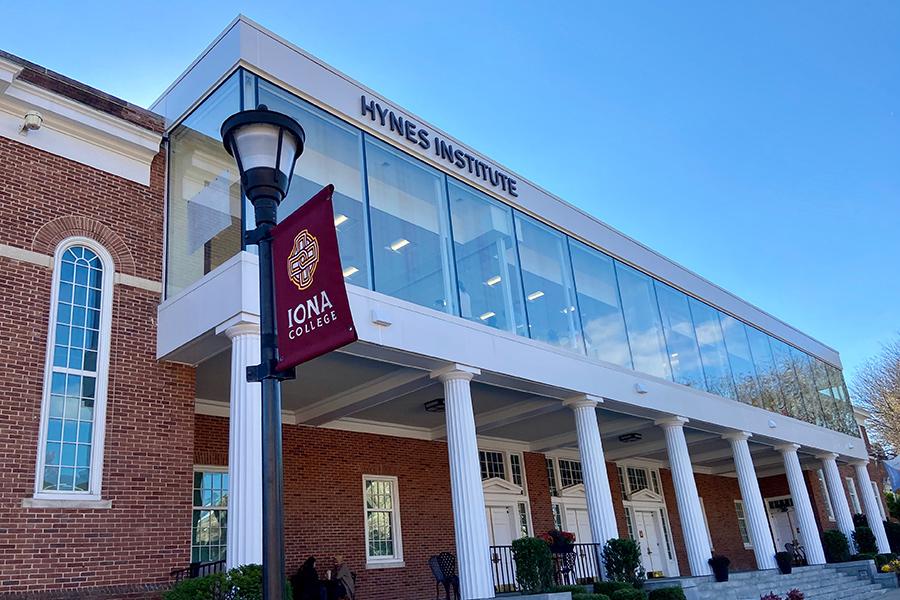 Named for Anne Marie and James P. Hynes, '69, '01H, Board of Trustees Former Chairman, the Hynes Institute for Entrepreneurship & Innovation was founded in 2017 with a $15 million gift to Iona from the Hynes. The Institute ensures that students develop the knowledge, skills and experience required to create, innovate and lead in a global economy. Students from all disciplines engage with hands-on learning experiences to support them in identifying, approaching and solving problems in all aspects of life. In 2019, the Institute moved to a new, glass-enclosed space which was added to Spellman Hall. The move to its spectacular home at the center of campus reflects the success and transformational impact of the Hynes Institute of Entrepreneurship & Innovation.
---
JoAnn Mazzella Murphy '98H Arts Center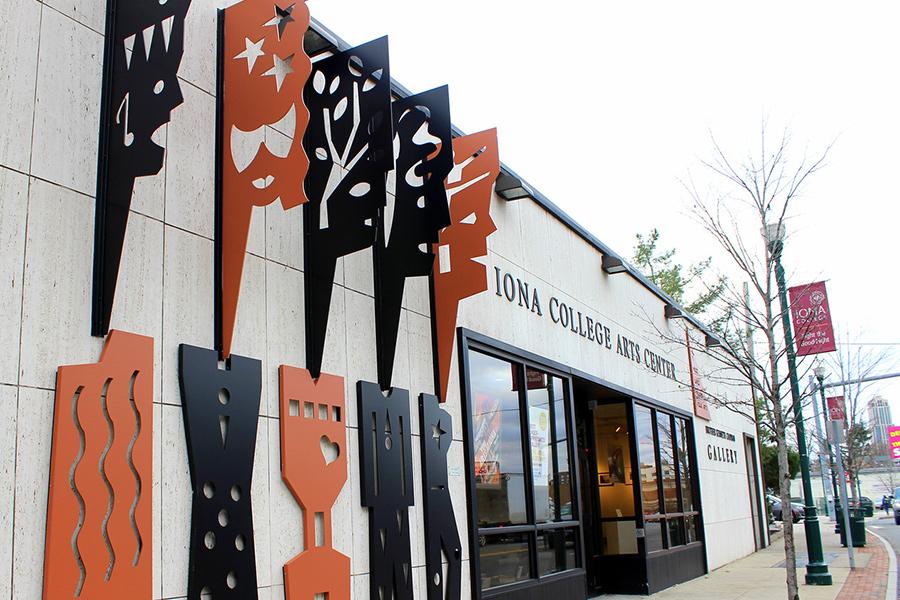 A gift of Joseph M. Murphy, '59, '83H, and his wife, JoAnn Mazzella Murphy, '98H, both long-serving Iona trustees, the JoAnn Mazzella Murphy '98H Arts Center, built in 2000, houses the Br. Kenneth F. Chapman Art Gallery, as well as dance studios, art studios, and a sound studio. The Brother Kenneth Chapman Gallery was an Editor's pick in Westchester Magazine's 2018 Best of Westchester Issue for "Best Under-appreciated Gallery."
In 1998, JoAnn Mazzella Murphy received an Honorary Doctor of Humane Letters for her dedication and support of the arts and cultural events at Iona. She was chair of the Iona University Council on the Arts and a 2006 recipient of the Brother Driscoll Award for Heroic Humanitarian Service. Mrs. Murphy was vice chair of Country Bank, the broker-owner of Ellinghouse & Stacy, and a former art and antiques gallery owner. In 2020, she was presented with the Iona University Legacy Award for her lifetime achievements and contributions to her community. The arts center was named in honor of her memory in 2021.
---
Mazzella Field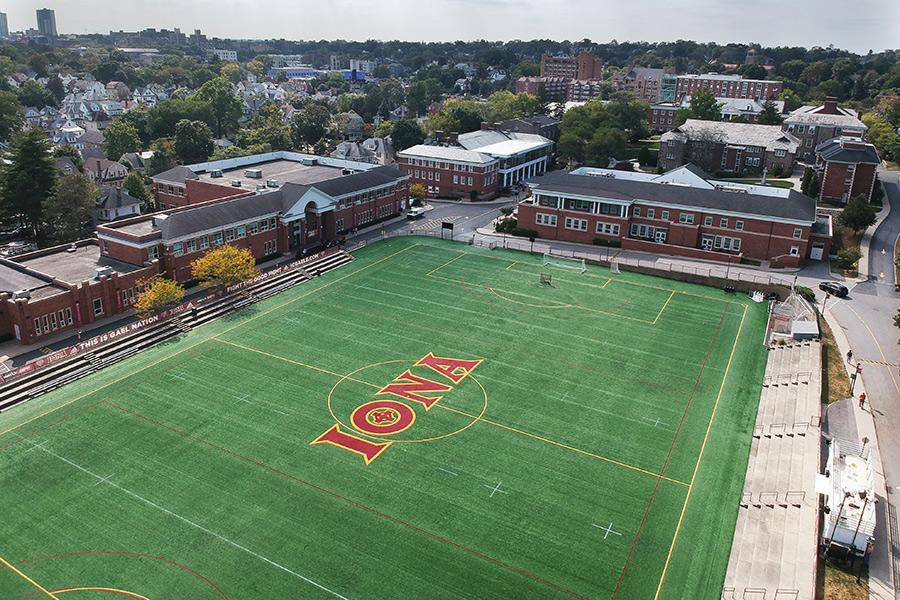 Named in honor of the parents of the late JoAnn Mazzella Murphy, '98H and Iona Trustee, Mazzella field was first donated to Iona Prep in 1927. Until its renovation in 1989, the field held two baseball diamonds, a football gridiron, and a quarter-mile track. Today, Mazzella Field is the home field for varsity soccer and lacrosse, and club rugby. It also provides a place for drills and conditioning for all athletes.
---
McSpedon Hall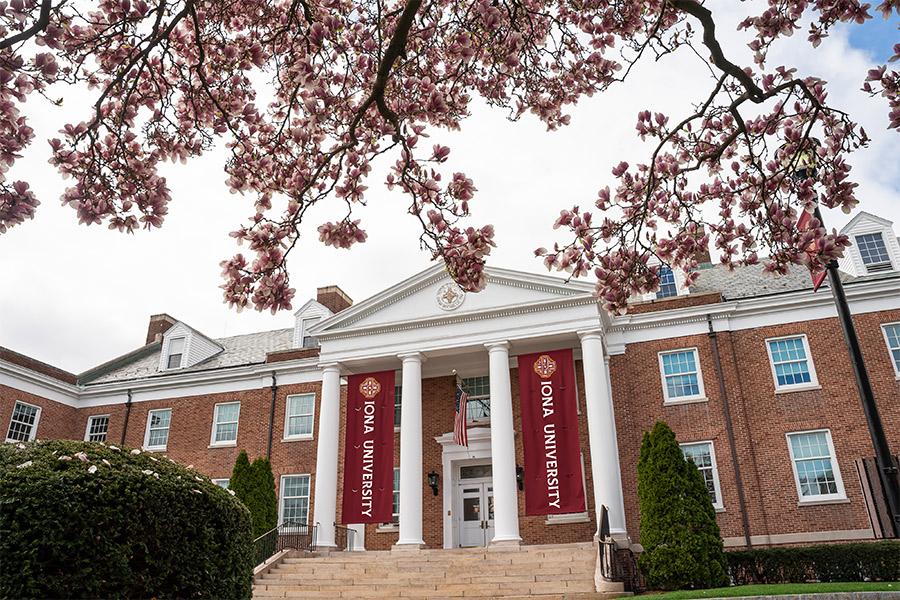 Named for Joseph Howard McSpedon, a member of the International Brotherhood of Electrical Workers (Local 3); president of the New York City and New York State Building and Construction Trades Council, McSpedon Hall, built in 1960, is the main administrative building of Iona University and houses the Offices of the President and Provost. It is also home to Iona's Welcome Center and Admissions offices.
---
Murphy Green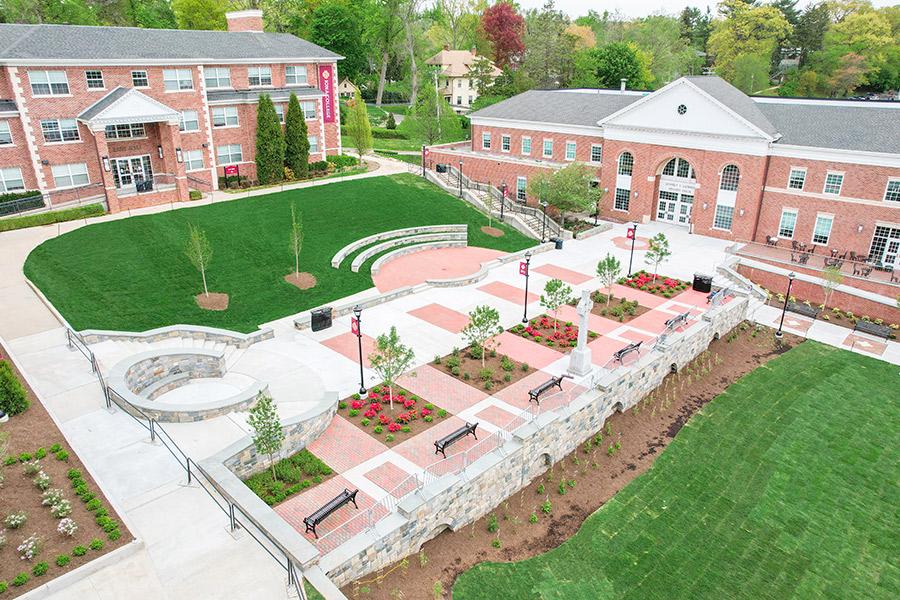 Completed in May 2022, Murphy Green was made possible thanks to a generous gift from Joseph M. Murphy '59, '83H and his late wife, JoAnn M. Murphy '98H, a longtime Iona trustee. Previously a parking lot, Murphy Green is a vibrant landscape that serves to unite the campus complete with benches, trees, stone walkways and a terrace area.
---
Robert V. LaPenta School of Business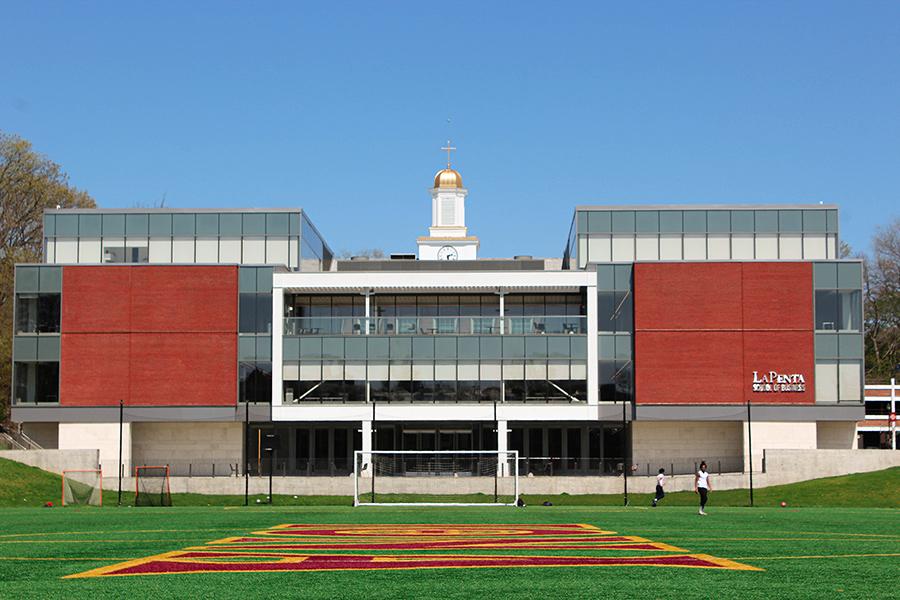 Formerly Hagan Hall, named for trustee and benefactor, John G. Hagan, the building was built in 1950, was home to Iona Prep from 1950 - 1967 and housed the School of Business until 2019. In 2020, the building was expanded, dramatically updated and renamed for Robert V. LaPenta '67, '00H, University Trustee and benefactor. LaPenta laid the foundation for the new building with a transformational gift of $17.5 million. Designed with an iconic blend of the original, brick façade and a sleek, glass addition, the new LaPenta School of Business doubled the building's academic space to more than 68,000 square feet, including: state of the art classrooms and an expanded LaPenta-Lynch Trading Floor with 27 desktop computers, 16 Bloomberg Terminals and a live, wrap-around stock ticker. Mr. LaPenta called the building "a beacon that is going to attract talented students and teachers from around the country."
---
Robert V. LaPenta Student Union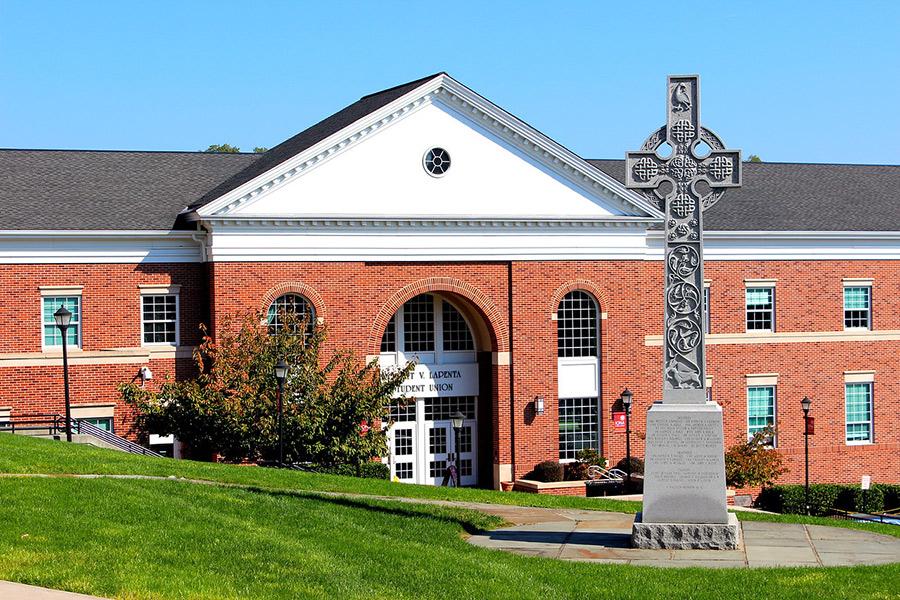 Named for Robert V. LaPenta ('67, '00H), University Trustee and generous benefactor, the Robert V. LaPenta Student Union is a 41,000 square foot Georgian-brick facility, which was completed in August of 2005. Mr. LaPenta, who attributes much of his success to his Iona education, wanted to give back to his alma mater and provide students with expanded and enhanced dining and social opportunities. The Robert V. LaPenta Student Union features a campus store, commons/lounge areas, a food court, a bistro, a state-of-the-art media center and offices for student services and campus organizations.
---
Ryan Library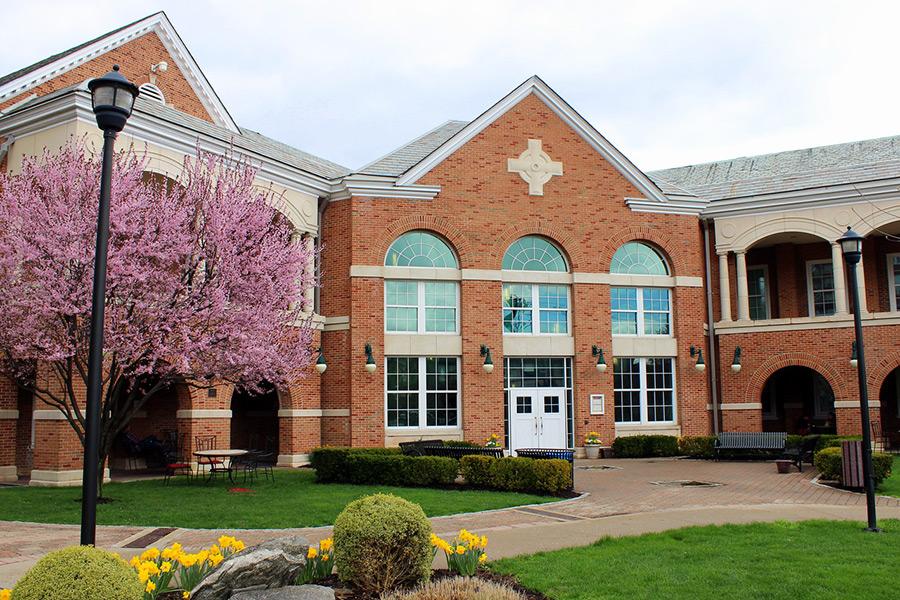 Named for Br. Patrick Joachim Ryan (1867-1948) who was the first provincial of the Christian Brothers in North America, and Trustee of the University at its founding in 1940, Ryan Library first opened in 1949. Trustee and benefactor Patrick J. Lynch '59, '08H, and the Lynch family, made extensive additions and renovations to the library possible in 2009 – 2010.
The Iona University Libraries hold over 250,000 volumes and multimedia resources, as well as 500 current print periodicals. In addition, the libraries provide access to thousands of electronic resources and journals for both on and off-campus users.
The Archives Room for rare books houses special editions, the Iona Archives, and special collections relating to Irish life and literature. Special Collections also include the Thomas Paine National Historical Association Collection, the complete Sean MacBride Collection, the Brother Edmund Rice Collection, and a select number of items from the Br. Charles B. Quinn Collection (Irish Collection).
Ryan Library also houses Romita Auditorium, which seats over 200 people and is a perfect venue for performances, conferences and panel discussions.
---
Spellman Hall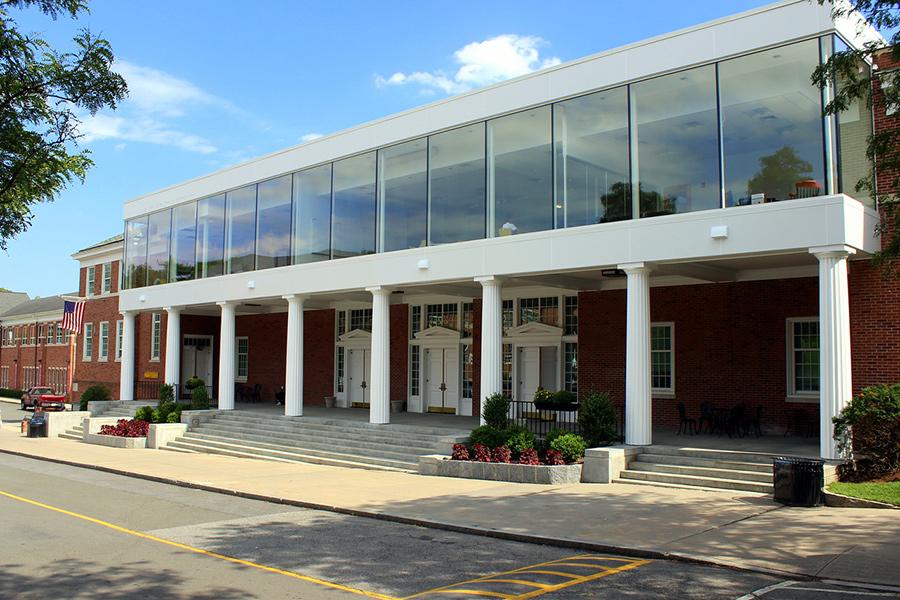 Named for Francis Joseph Cardinal Spellman (1889-1967), Archbishop of New York (1939-1967), one of the most powerful bishops in the history of the American Church, and a staunch supporter of Iona University, Spellman Hall was the former Student Union and site of Iona commencements from 1944 to 2004. In 2019, Iona celebrated the opening of a spectacular, 3,800 square-foot glass-enclosed space, which was added to Spellman Hall to accommodate the thriving Hynes Institute for Entrepreneurship & Innovation. Spellman Hall also houses Vitanza Commons, a bustling student dining venue; and the Thomas J. Burke Lounge, which is one of the largest open spaces on campus, and is ideal for receptions, dinners, luncheons or large meetings.
---
Residence Halls
Conese Hall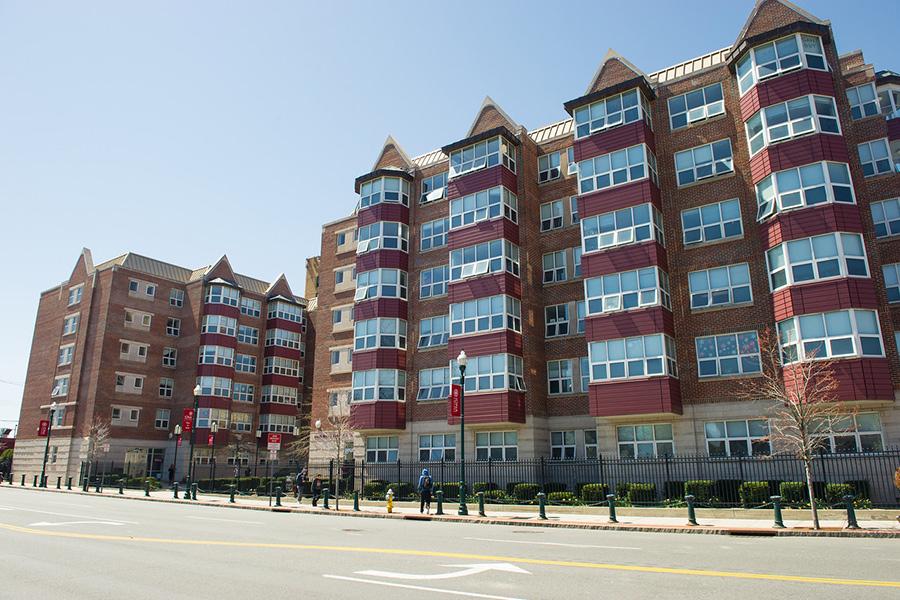 Named for Eugene P. Conese Sr. '51, '01H and built in 1960, Conese Hall a six-floor building on North Avenue, which provides several floors for living and learning communities for science and honors students. Eugene Conese was the first person in his family to go to college, and a long-serving Iona Trustee. He and his wife, Anna May Conese, were generous Iona benefactors.
---
East Hall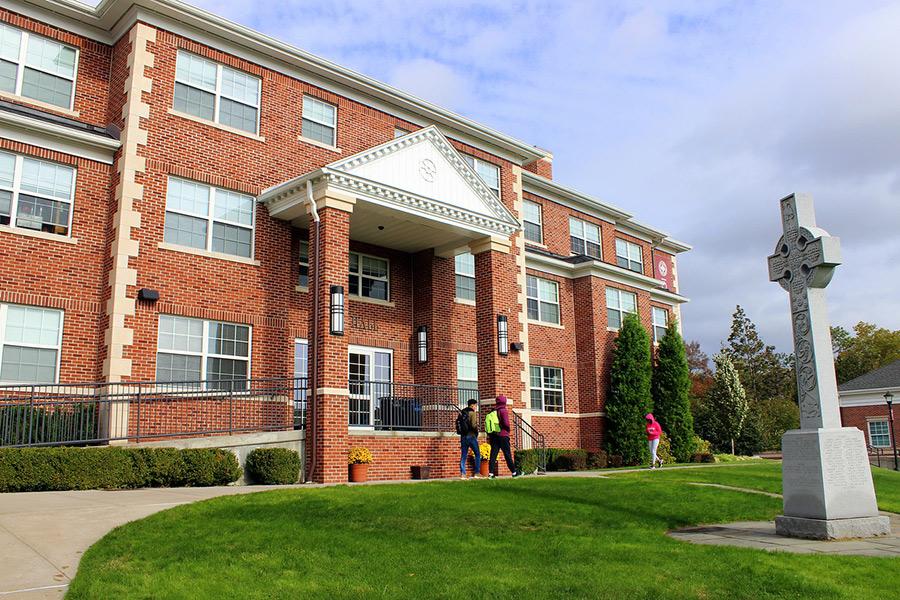 East Hall was erected on the foundation of Walsh Hall, a government surplus building donated to the Brothers after World War II. The old Walsh Hall was named after Pfc. Charles T. Walsh, an Iona student killed in action in 1942. East Hall consists of three stories and is located centrally on campus.
---
Hales Hall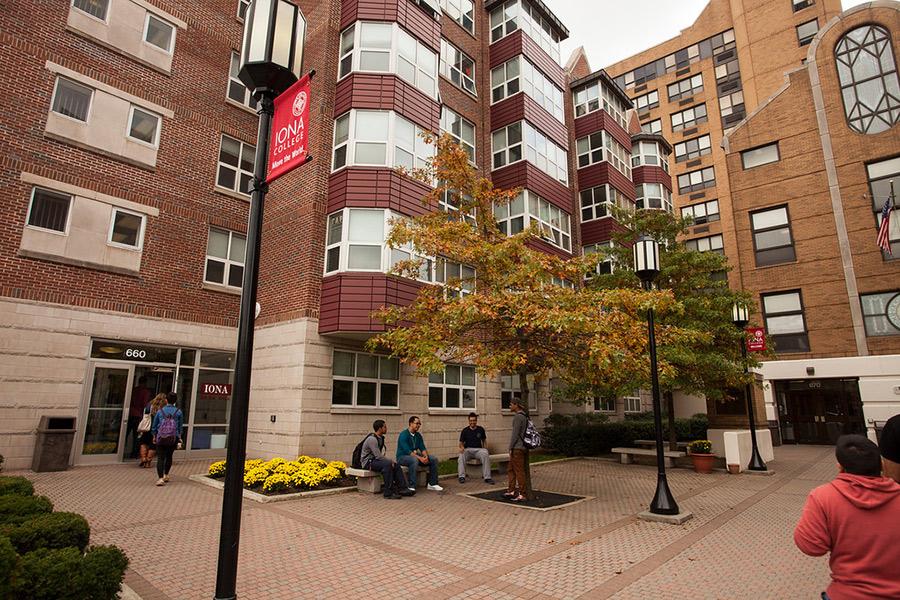 Built in 2003 and previously named South Hall, Hales Hall, a six-story residence, was renamed in 2017 in recognition of Alice Marie and Thomas E. Hales '58, '04H for their leadership commitment and lifetime support to the University. Hales Hall, together with Conese, transformed life at Iona in 2003 by making the undergraduate student body majority residential for the first time.
---
Loftus Hall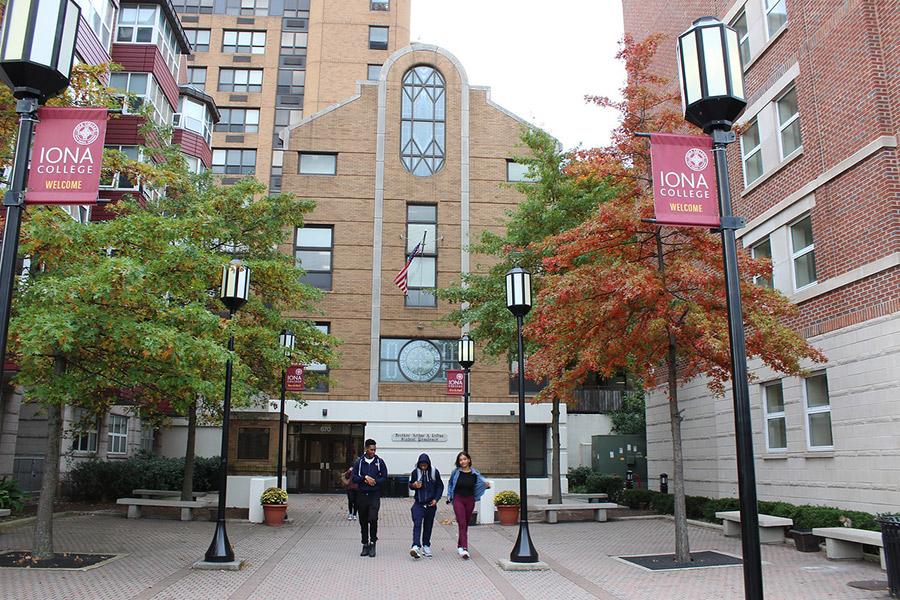 Built in 1990 and named for Br. Arthur Austin Loftus (1904-1979), one of the Founding Brothers and Iona's second President, professor of philosophy and religion, coach of the basketball and baseball teams, and first non-Irish-born Brother elected Superior General of the Congregation, Loftus Hall is a 10-story building on North Avenue, which features suite-style living accommodations.
---
North Avenue Residence Hall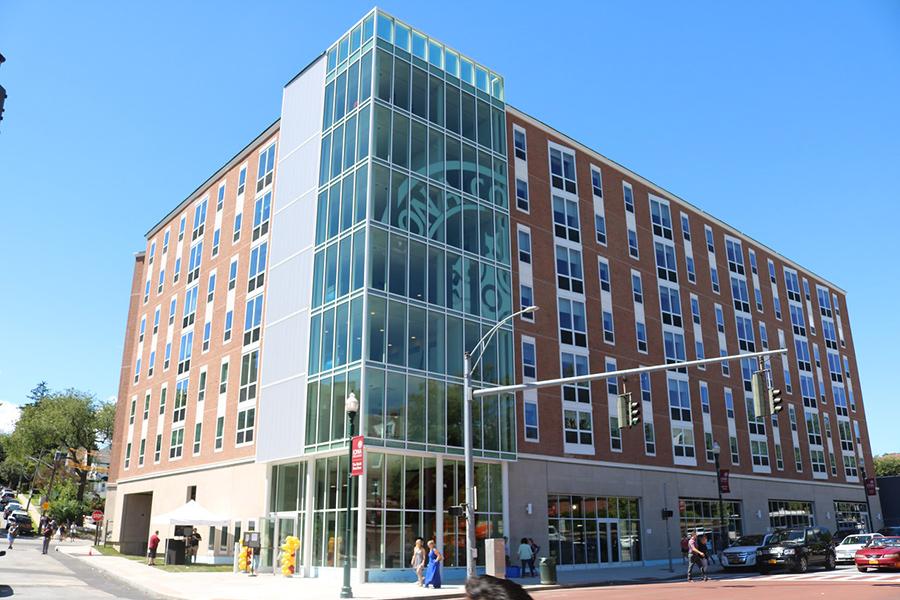 Iona's newest residence hall, North Avenue Residence Hall, is located across from the campus' main entrance at the corner of North and Summit Avenues. The cutting-edge living space, with public retail and restaurant space on the ground level, was opened in the fall of 2016. The site was previously home of the University Diner and later the Mirage Diner.
---
Rice Hall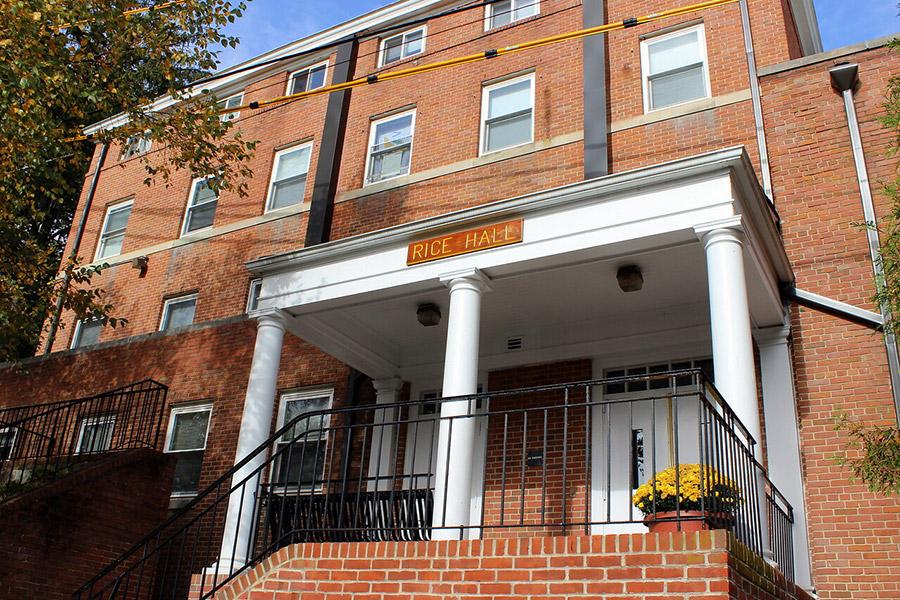 Named for Blessed Edmund Ignatius Rice (1762-1844), founder of the Christian Brothers, Rice Hall was originally called Edmund Hall. The dormitory was built to house student Brothers in 1958; 15 years later, it was converted to a standard residence hall.
---
Statues and Memorials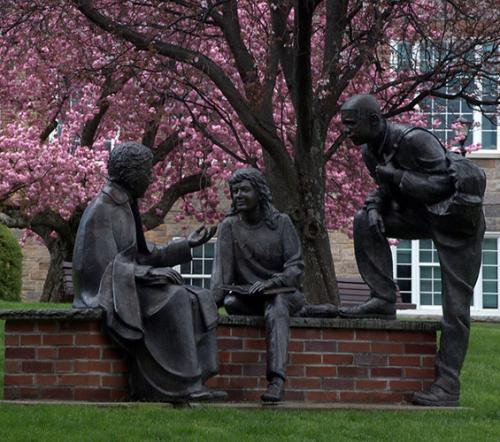 Blessed Edmund Ignatius Rice
Founder of the Christian Brothers, Blessed Edmund Ignatius Rice (1762-1844) gave poor Irish children liberation through education. Sculpted by Sr. Margaret Beaudette, S.C. of the De Paul Sculpture Studio, the statue of Blessed Edmund Rice, is located in the Campus Quad, near St. Columba. It was erected in 2009 as a gift of the Iona Community of the Christian Brothers.
---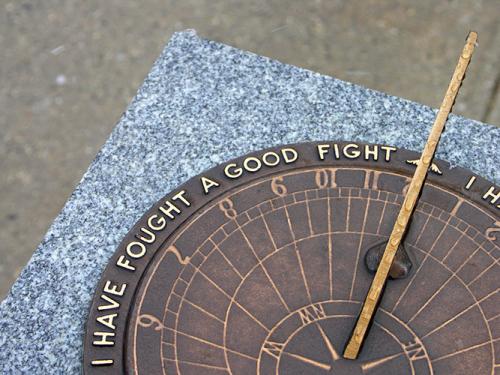 Burns Sundial
On May 20, 1944, Br. Cornelia awarded James Francis Burns '44 (1922-1988) Iona's first degree (Bachelor of Business Administration). The Burns Sundial, dedicated in 1988, is located on the Campus Quad near St. Columba, honors Burns and commemorates the beginning of years of successful graduates.
---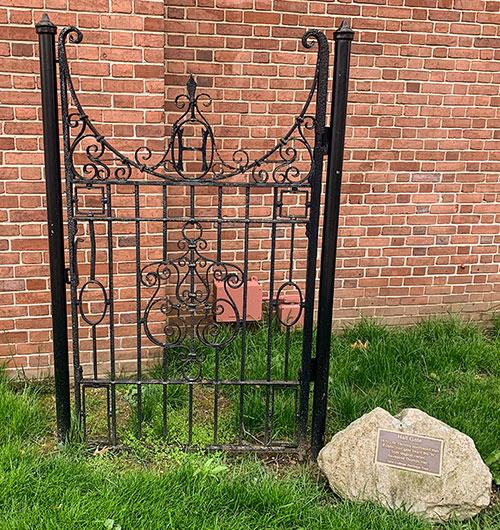 Hall Gate
The wrought-iron gate surmounted by the letter "H", which stands next to the walkway leading to the entrance to Ryan Library, is the only artifact remaining from the Hall Estate, purchased from the Rev. Thomas Hall in 1919 to start the first "Iona School."
---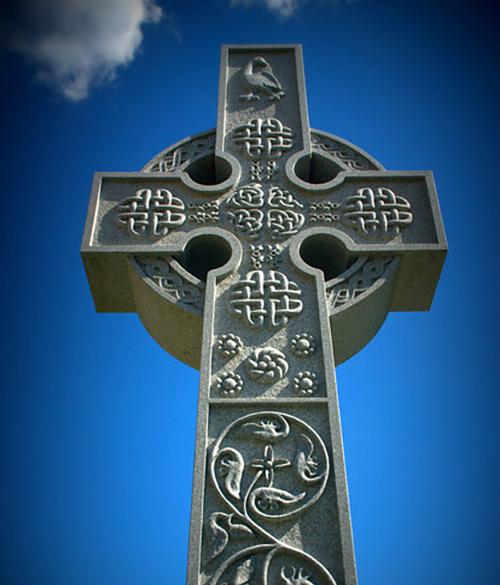 Iona High Cross
Erected to celebrate Iona's Jubilee year of 1990-91, the Iona High Cross is modeled on the high crosses erected by Irish monks in early medieval times, especially those on the Island of Iona. Inscribed on the base are the names of the University's first undergraduates – enrolled in September 1940 – together with the founding Trustees, Brothers, and lay faculty. Located on the hill between Doorley and Walsh Halls, the Iona High Cross was a gift from the Class of 1960.
---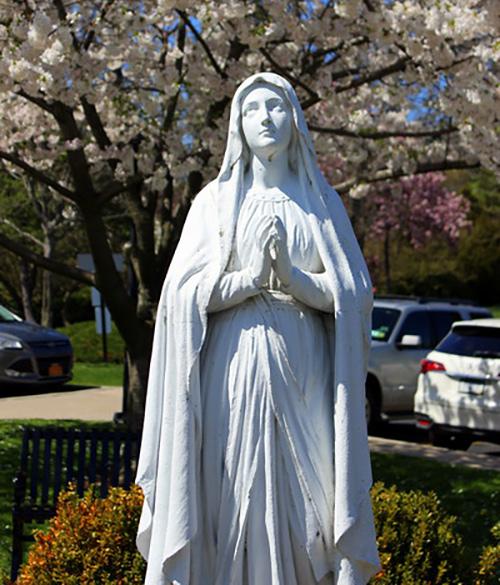 Mary, the Mother of God
The mother of Jesus is depicted in sculpture in three spots on campus: next to Blessed Edmund Ignatius Rice Chapel, overlooking the drive leading to the LaPenta School of Business, and in the small park at the center of the Columba Lot.
---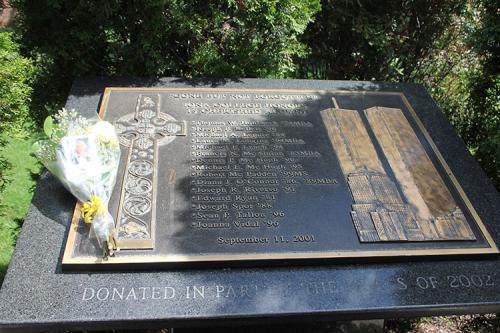 September 11 Memorial
On September 11, 2001, 15 Iona alumni died in the attacks on the World Trade Center. The names of those lost on that day are inscribed on the September 11 Memorial monument, which is set in the peaceful Memorial Park at the entrance of Ryan Library. Office of Mission and Ministry leads an annual September 11 Memorial Service in the Park.
---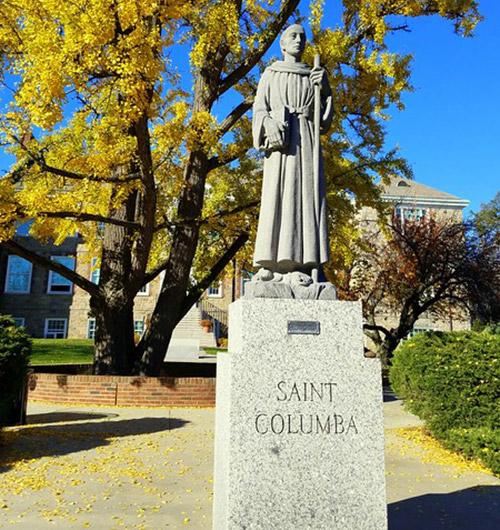 St. Columba
Patron saint of the University (Irish name: St. Colmcille), St. Columba was an Irish monk, bard, statesman, artist, and abbot. He founded the monastery of Iona in 563 on a small island off Scotland. Spirituality and scholarship flourished there. Sculpted by A.J. Breen in Dublin, 1961-62, the statue is located in the Campus Quad in front of the ginkgo tree. It was a gift of the Class of 1960.
---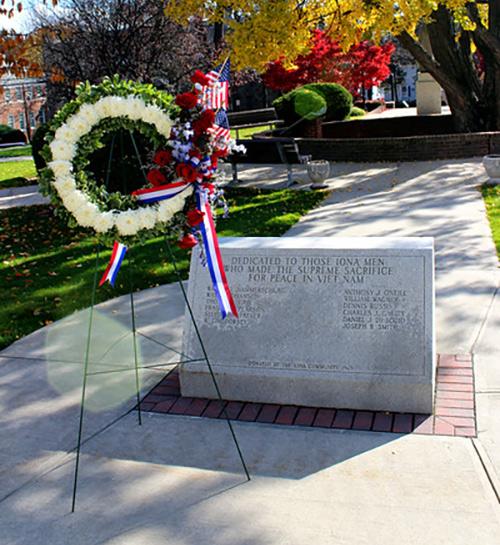 Vietnam Memorial
Located beneath the ginkgo tree facing Cornelia Hall, the Vietnam Memorial honors the 12 Iona men who gave their lives in the service of peace in Vietnam from 1966-1970.
---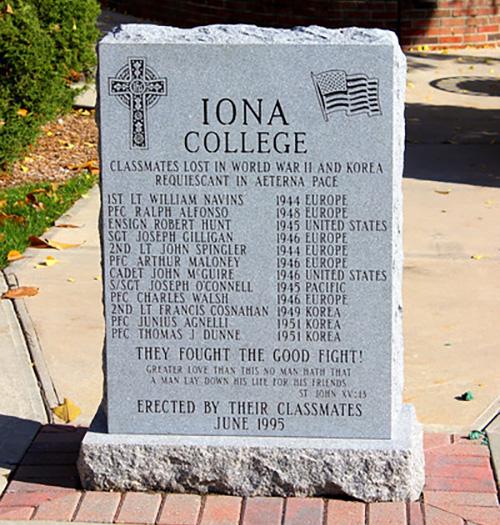 World War II and Korea Memorial
The World War II and Korea Memorial honors the nine Iona men who gave their lives in World War II, and the three Iona men who gave their lives in Korea. Located beneath the ginkgo tree facing McSpedon Hall, the Memorial is inscribed with the words: "They fought the good fight!"