Office of the President
Seamus Carey, Ph.D.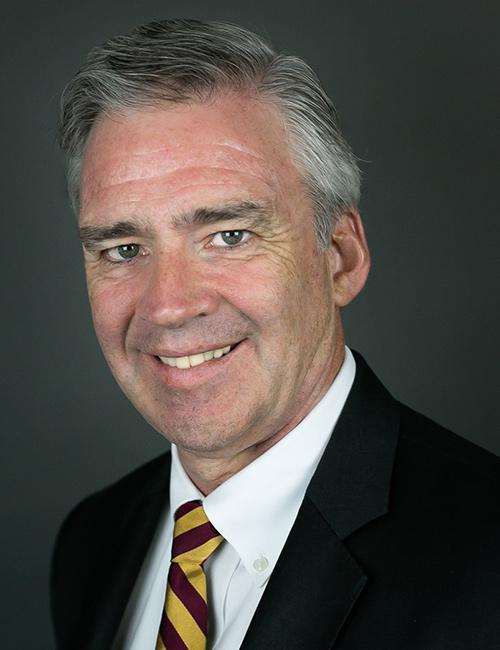 Seamus Carey, Ph.D., has served as the ninth president of Iona University since July 1, 2019. Carey is a national leader in higher education who has propelled the University on a path of innovation and explosive growth, executing a vision that expands student opportunities both inside and outside of the classroom.
Despite being on the frontlines of COVID-19 when the virus first hit New Rochelle in March 2020, Iona nevertheless pushed ahead under Carey's leadership, resulting in a remarkable 32 percent spike in new-student enrollment over the past two years. From adding new programs and degrees to introducing new extracurricular offerings, Carey's foresight has established Iona as a school on the rise, defying all odds in the face of the pandemic.  
ACADEMIC INNOVATION & ADVANCEMENT
Most notably, in May 2021, Carey finalized an agreement for Iona to nearly double its footprint by acquiring a new 28-acre campus in nearby Bronxville, N.Y., formerly home to Concordia College. Soon thereafter, Carey announced the establishment of the NewYork-Presbyterian Iona School of Health Sciences, to be principally located on Iona's new Bronxville campus.
Supported by a $20 million gift, the NewYork-Presbyterian Iona School of Health Science is a unique opportunity to shape the future of Iona University while training the next generation of health care professionals in collaboration with New York's #1 hospital, as ranked by U.S. News and World Report's Best Hospitals. The new school offers students an opportunity to learn from top professionals in state-of-the-art facilities, while offering unparalleled access to clinical placements and full-time career opportunities. Carey expects it will become a model for mission-based collaboration between higher education and health care in the service of the public good moving forward.
Among other innovative academic programs, new degrees introduced under Carey's leadership include a Bachelor of Science in Nursing, with both a traditional undergraduate program as well as an accelerated program. The Hynes Institute for Entrepreneurship & Innovation, meanwhile, launched its first two majors, offering students a solid pathway to entrepreneurial leadership.
A NEW PAGE FOR IONA
Outside of the classroom, Carey has also made bold moves. Carey hired Hall of Fame men's basketball coach Rick Pitino, who recently achieved his 800th college career win at the Hynes Athletics Center in front of a packed crowd, and is eager to take the team further than it's ever been in the NCAA Tournament. In addition, Carey launched a new Club Sports program, offering students an opportunity to compete and stay engaged, even if it's not at Iona's Division I level. Similarly, opportunities in the performing arts have also expanded under Carey's watch, highlighted by the University's inaugural director of performing arts and the addition of an Irish dance team.
At the same time, Carey is also beautifying the heart of Iona's New Rochelle campus, recently breaking ground on the "Murphy Green," which will add a vibrant social hub for outdoor activity by Spring 2022.
Private support also reached record highs as Carey oversaw the conclusion of the Iona Forever campaign, the most successful campaign in Iona's history, raising $150 million for transformational changes across campus while supporting student scholarships, faculty enrichment and innovative new programming.
Additionally, Iona cut the ribbon on its new $38 million LaPenta School of Business in January 2020, doubling the building's academic space to more than 68,000 square feet and offering modern classrooms as well as an expanded LaPenta-Lynch Trading Floor with 27 desktop computers, 16 Bloomberg Terminals and a live, wrap-around stock ticker.
The new Gaels Go Further Mentoring Program, meanwhile, developed as one of President Carey's strategic initiatives, taps into Iona's network of over 50,000 alumni across a wide range of industries to advance students' personal and professional goals while giving alumni an impactful new way to support the next generation. The initiative includes a mixture of both long-term mentorships based upon common career paths, interests and affiliations, as well as "flash mentoring" sessions.
To update the University's brand to reflect the new chapter in Iona's story, while staying true to Iona's history and traditions – Carey championed the rebranding of Iona, with the creation of a fresh new logo and website; the launch also showcased a new brand promise to "Learn Outside the Lines," highlighting the significance of the valuable experiences Iona offers students beyond the classroom.
DISTINGUISHED ACCOLADES & ACCOMPLISHMENTS
Accolades under Carey's leadership include Iona's emergence on the "Top 20 Most Innovative Schools" rankings by U.S. News & World Report, as well as other notable rankings such as The Princeton Review 2022 Best Northeastern Colleges, Forbes 2021 Top Colleges, and The Wall Street Journal/THE 2022 College Ranking List. The value of an Iona education was also highlighted by Georgetown University's Center on Education and the Workforce (CEW), which ranked Iona in the top six percent of all 4,500 colleges and universities nationwide based on its long-term return on investment. This was reinforced by Money.com's ranking of "Most Transformative Colleges," which ranked Iona at #19 nationally. Carey has personally been named in City & State's Westchester Power 100 for three consecutive years.
The University has also received prestigious grants during Carey's presidency to further serve its students and surrounding communities. Iona University's Hynes Institute for Entrepreneurship & Innovation was selected by Syracuse University's Institute for Veterans and Military Families (IVMF) to support their Community Navigator Pilot Program, generously funded by a $5 million grant from the U.S. Small Business Administration (SBA). Iona University received over $350,000 in funding and works with the IVMF in support of the veteran entrepreneurship community both locally and nationally.
Similarly, graduate students were surprised with $10,000 stipends for pursuing degrees in Marriage and Family Therapy (MFT) or School Psychology, part of a new, four-year, $1.9 million Behavioral Health Workforce Education & Training (BHWET) grant from the federal Human Resources Service Administration.
Iona was also awarded a Mother Cabrini Health Foundation grant for an innovative new training model that will help to improve and expand access to high-quality health services in New York's most vulnerable communities. The grant came as Iona continues to build upon its presence in the field.
BACKGROUND
A Bronx native and first-generation college student, Carey earned a Ph.D. in Philosophy and a Master of Arts from Fordham University, and a bachelor's degree from Vassar College. He attended Harvard's Management Development Program and the Executive Leadership Academy sponsored by the Council of Independent Colleges.
President Carey has a long and successful tenure in higher education, serving five impressive years as president of Transylvania University in Kentucky. While there, he transformed the campus; successfully led the school's commitment to diversity and inclusion efforts; and developed a mentorship program that connected students with alumni and the local business community, forging strong ties and creating career opportunities for students. Previously, President Carey led as dean of Arts and Sciences at Sacred Heart University in Fairfield, Conn., for four years. Prior to Sacred Heart, he was chairman of the philosophy department at Manhattan College where he taught for nine years.
Carey currently serves on the board of the Business Council of Westchester, the county's largest and most prestigious business membership organization representing more than 1,000 members, including multinational corporations, hospitals, universities, biotech pioneers, not-for-profits, entrepreneurs and companies of all sizes.
Additionally, President Carey has published three books, Growing Up with Your Children: 7 Turning Points in the Lives of Parents, The Faithful Parent: Discovering the Spirit of Purposeful Parenting and The Whole Child: Restoring Wonder to the Art of Parenting, all of which have focused on the intersection of philosophy, parenting and family life.