Ariana Visentini '16
Iona LSB Alumni Spotlight – Where are they now?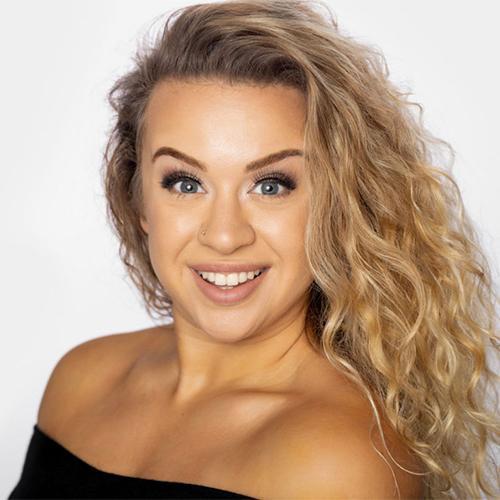 Name: Ariana Visentini '16
Major: Marketing
Current Job Title and Company: Sales Team Lead at Indeed.com
Hometown: Hawthorne, NJ
Why did you decide to study your particular major?
I've had the "gift of gab" since I was little and being in business and sales runs in my family.
I even remember making pie charts and putting together slideshows as a child to persuade my family into going on specific family vacations, so persuasion runs in my blood.
I have always been fascinated by consumer behavior and the psychology behind what makes people want to buy specific products or services. Sales and marketing make the world go round, so it felt like the perfect major for me as I could let my personality and creative flow shine while also understanding the mechanics and logistics of being in business.
What is a day in the life like at your company?
As a Sales Team Lead at Indeed, I have two main responsibilities. I am expected to acquire, retain and grow my current book of business and clientele by making outbound phone calls, setting up phone and Zoom meetings and educating clients on the benefits of working with Indeed.
Because Indeed is currently remote, we have a team huddle at 9 a.m. Then I jump into answering inbound emails, responding to voicemails and setting up materials and pitch decks for all of the scheduled meetings I have for the day. We have quotas to hit every three months, so I am measured by the revenue I bring in as a result of these meetings.
The other half of my day consists of meeting with my 11 Account Executives one-on-one to coach them personally and professionally, help them hit their KPIs and targets and assist them with managing their own books of business.
What do you love most about what you're currently doing?
Indeed's company mission is "I Help People Get Jobs," and that mission is something that I am very passionate about as I know first-hand how stressful it could be when it comes to looking for employment. Although I don't work directly with job seekers, I am seen as a partner to my clients because I help them hire the people they need for their businesses. Whether it's helping them write job descriptions, helping them set up accounts or giving them tips on how to best use Indeed, I see I'm making a direct and positive impact. I make their lives easier when it comes to alleviating the stresses of hiring and I get to form awesome relationships with them. There is no better feeling than hearing a client tell me they finally hired someone because of my assistance. It's so rewarding.
I also love the fact that I can control my income. In sales, if you work hard, you'll always be rewarded, and I love the ability to be able to push myself and make more money because of my hard work.
What activities were you involved in at Iona?
Gamma Lambda Rho Sorority
Tara Knights Society
Golden Key Honor Society
Tour Guide for Admissions
Iona in Mission trip to Zambia
Kairos 8 & Kairos 9 Retreats
What's your fondest Iona memory?
This is hard! But if I had to pick, I would have to say giving the Luminera Speech at the Relay for Life in 2015 or going on Kairos. Both were awesome experiences that I will never forget. But I don't think there was a day that went by where I didn't make a memory at Iona.
Was there a professor, staff member, or peer who made an impact on you while you were at Iona?  If so, who and why?
This is even harder! I would have to say for the professors, Chrissy Martins and Maria Vittoria – they are powerhouses and really helped me become super confident in my ability to kill it in the business world, especially as a woman.
As for a peer, my best friend, Shannon Andrews. We're still just as close to this day even years later. We started as Freshman Orientation roommates back in 2012, became sorority sisters, graduated together and just recently I was one of her bridesmaids at her wedding. When things were rough during my junior and senior years of college due to personal reasons, she was my rock and supported me through it all, even when I thought all hope was lost. I'm so thankful Iona brought us together. [Former] president Nyer always said, "the proof is in the people at Iona."
How did Iona prepare you to get where you are today?
I attribute a lot of my success to Iona as a whole because of everything I learned there - inside and outside the classroom. I actually found Indeed through Gael Link because they were looking for interns during my senior year, so if it wasn't for that, I wouldn't have found Indeed! Here I am six years later and still loving my job, which is a blessing.
Iona truly embraced diversity and individuality and that alone helped me come into my own as a professional and as an individual.
What does being an Iona alumnus/a mean to you?
Humbly speaking, I am one of the proudest Gaels you'll ever meet. I truly don't think I would be where I am today if it wasn't for Iona and for all of the people I met there.
Iona gave me a lot of guidance and support during my 4 years, so as an alumna, I feel like it's my duty to be a mentor to the students now and for the students to come! I am so open to collaboration and happy to connect with anyone who wants some guidance, advice or support. (Also, Indeed is hiring!)
What advice do you have for a current Iona student who wants to follow a similar path?
It's completely okay to not know exactly what you want to do before or even as soon as you graduate. I stumbled upon the internship opportunity at Indeed only a few months before graduation, and before that, I was anxious about the future and felt like I had no plan. Life comes at you fast, so network as much as you can, get involved and enjoy your time - it goes by so fast! Get that LinkedIn profile updated and your resume on Indeed (shameless plug)!
I think the true key to success, though, is having faith in yourself. Be confident in who you are because the right company will want to hire you for the person you are and what you bring to the table. Don't be afraid to try something different and always, always follow your gut. You are your best asset and no one knows you better than you know yourself – own that.
What seven words would your family and friends use to describe you?
Fun fact, I ask this question to candidates when I am interviewing them for openings on my sales team.
Driven. Outgoing. Optimistic. Confident. Empathetic. Adaptable. And last but not least: Enthusiastic, because it's a good day to have a good day - everyday!