Holly DeRosa '18, '19MA
"Working in Dr. Sarah Wong-Goodrich's lab taught me the techniques and afforded me the training I needed to pursue a graduate degree. "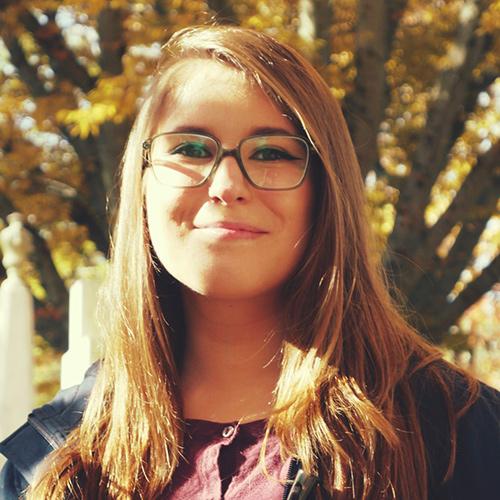 Major: BA-Psychology, MA-Experimental Psychology
Hometown: Long Island, N.Y.
High School: St. Anthony's High School, Huntington, N.Y.
Holly is pursuing a Ph.D. in Development and Brain Sciences at University of Massachusetts, Boston.
Why did you choose Iona?
I chose Iona solely because I wanted to play in the pipe band.
What did you accomplish at Iona that you are most proud of? 
Working in the lab of Dr. Sarah Wong-Goodrich taught me the techniques and afforded me the training I needed to pursue a graduate degree. I was extremely fortunate and humbled to work for her as a research assistant, and I'm very proud of the work we've done together. I was able to participate in several projects that targeted learning, memory and brain plasticity. My master's thesis assessed menstrual cycle effects on spatial processing and memory.
Is there a particular area of study in your major that you are most interested in right now? 
I'm very excited to have brought my interests in sex differences, hormones and brain plasticity to my work in my Ph.D. program at University of Massachusetts and to the lab of Dr. Susan Zup. We are currently studying the biological underpinnings of developmental sex differences using rodent models.
Tell us about something you learned (in or out of the classroom) that really surprised or excited you. 
To be honest, I realized midway through completing my psychology degree that I didn't want to be a therapist. I was really grateful for Iona's multidisciplinary approach to psychology, as it ultimately allowed me to explore other parts of the field that I didn't know were even available to me. I finally found what I was looking for when I took my first undergraduate neuroscience course, and it is all history from there.
Tell us about your experiences and unique opportunities (course work, research, etc.) that you had through the Psychology department.
I presented my research at multiple conferences in the northeast, as well as at on-campus events like the Psychology Poster Session. Doing this forced me to translate my work into more easily digestible content, and this is a critical technique to have both in grad school and when I come home for Christmas and try to explain to my grandmother what I work on.
Tell us about your experience in the Iona College Pipe Band. How did you get involved?
I knew I wanted to play in the pipe band since high school. I was a member of the St. Anthony's Celtic Friars pipe band and Iona seemed like the perfect place to advance my playing. The pipe band is the cornerstone of Iona College, and getting to participate in this important legacy on campus is definitely something special.
I was the Pipe Sergeant from 2017-2018, after working as an officer in the band since the end of my freshman year. Playing and marching in the Yonkers, N.Y., St. Patrick's Day Parade is a favorite memory for me. But overall, I'm most grateful for having met some of the most amazing individuals through playing in the Iona College Pipe Band.