Rita Mabli '74, '76MBA
The Qualities of a Strong Leader: Community Engagement, Service to Others, and Lifelong Learning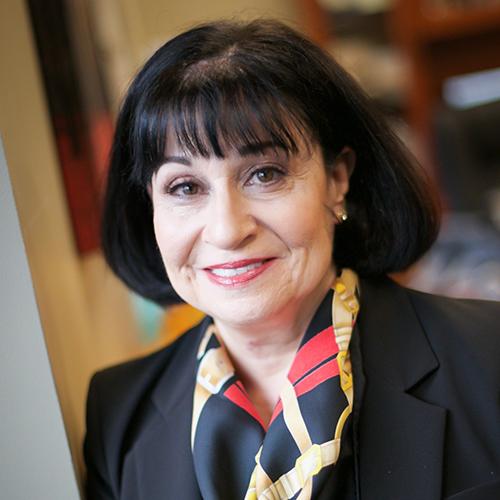 Although it's been more than four decades since she was a student at Iona, Rita Mabli's life remains firmly rooted in New Rochelle. After earning her bachelor's degree in 1974, then her MBA at Iona in 1976 (as the program's lone female student), Rita was hired as a recruiter for United Hebrew of New Rochelle, just two miles down the road from the College. Today, Rita serves as United Hebrew's President and CEO and is responsible for 800 staff members who serve 1,000 residents and clients. A recognized leader in the New Rochelle business community, Rita is often spotted on Iona's campus, to which her ties are still strong.
"When I started in 1976, United Hebrew was a modest home for the aged," Rita explained. She earned her nursing home administrator's license while working full time and became United Hebrew's first female administrator. Rita was named CEO in 1994 and President in 2007. She credits her Iona education with helping to prepare her to head this $100+ million enterprise. "I was challenged. I learned the value of being engaged with community and being of service to others. Importantly, I learned how to stay on a path of lifelong learning."
Rita also credits her parents with instilling their values of kindness and service to others. "I lost my father when I was 12 years old. I never forgot how lovingly his doctors and nurses cared for him. That motivated me to care for others. To be able to support older adults and help them preserve their dignity and quality of life is incredibly rewarding."
Rita has since led United Hebrew through a period of rapid growth and expansion. In the past 20 years, she has built award-winning assisted living, memory care, and affordable living facilities, as well as added rehabilitation, long-term, and home care services.
Understanding how changes in healthcare policy impact United Hebrew and its residents, advocating for the needs of seniors, ensuring that the organization remains true to its nonprofit mission, and leading her hardworking staff all fall under Rita's purview. She brings out the best in her staff by fostering a culture of kindness. "I strive to create a supportive work environment that balances the needs of families with the needs of our organization, and as a result, our staff members are incredibly committed to their work." Rita makes sure women have opportunities to advance. Women lead six out of seven departments at United Hebrew and make up 83 percent of the staff.
"I'm thrilled to be at the helm as United Hebrew enters its second century, poised to meet the ever-evolving needs of the elderly. What a privilege, and it all started because Iona said yes to my application!"