Robert Greifeld '79, '16H
Iona Alumnus and Former CEO of NASDAQ Recounts Experiences in New Book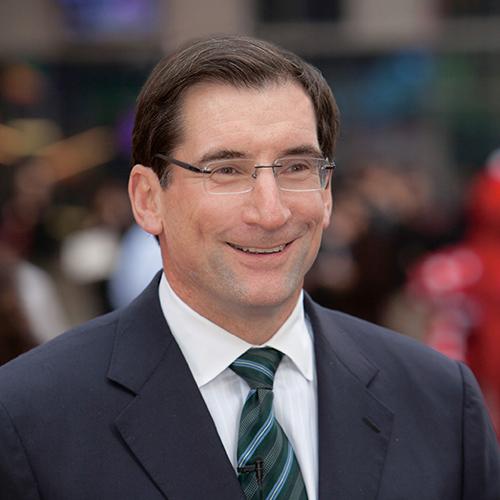 Stock market crashes and the Bernie Madoff Ponzi scheme are just a few of the news-making events chronicled in Market Mover: Lessons from a Decade of Change at Nasdaq, a new book by Robert Greifeld '79, '16H, former CEO of Nasdaq.
Greifeld, who majored in English at Iona, led the exchange from 2003 to 2016 and served as chairman of the board of The Nasdaq Stock Market LLC until May 2017. During that time, he transformed Nasdaq from a single U.S. equity exchange to a global financial technology company, quadrupling its size and growing its market value to over $11 billion.
In January 2009, Nasdaq was named "Company of the Year" by Forbes magazine, one of many such recognitions Nasdaq earned with Greifeld at the helm.
In an interview in Leadersmag.com, Greifeld spoke of his time at Nasdaq and his interest in writing about it, saying, "I was so very fortunate to be put into an interesting seat at an interesting time. I got to live through it, manage through it, and experience it, and I thought there were good stories associated with my experience that would have general interest."
In the same interview, he stated that he learned that "success and failure are two different sides of a very thin dime. You are never preordained to succeed nor are you preordained to fail. So it's really about how you execute on the ground and with the intensity and the consistency of effort."
After his success with Nasdaq, he went on to become co-founder of Cornerstone Investment Capital LLC and chairman of Virtu Financial Inc., a financial services and products provider.
As an Iona alumnus, committed to service, he is also founder and chairman of the USA Track & Field Foundation, which supports young and emerging athletes and helps Olympic hopefuls realize their dreams. He earned his MBA at New York University where he serves on the NYU Stern Board of Overseers.
He and his wife, Julia, who also graduated from Iona, were honored at the College's 49th Annual Trustee Award Dinner in 2010.
Greifeld returned to Iona in 2016 as the commencement speaker when he advised graduates, "You have the opportunity to define your own success. You can measure success in any of the dimensions you want. I break it down into personal, professional, and my impact on giving back to society." For his leadership in the field of finance, his contributions to ethical international securities trading, and his involvement in civic and athletic organizations in New York City and nationally, Iona College conferred on Greifeld an honorary degree of Doctor of Business Administration.