Iona College Announces Generous New Scholarship, Strengthening its Commitment to Edmund Rice Christian Brothers High Schools
Eligible students qualify for 50% tuition scholarship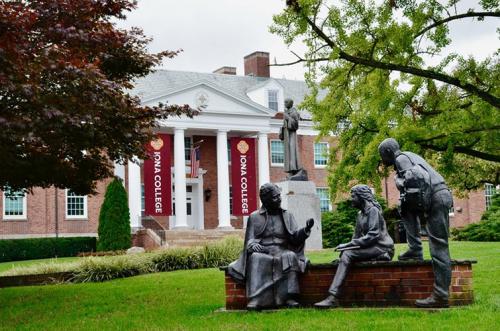 NEW ROCHELLE, N.Y. (December 2020) — Founded by the Congregation of Christian Brothers in 1940, Iona College today announced a new Christian Brothers Legacy Scholarship that would cut the cost of tuition in half for eligible students.
All graduates of an Edmund Rice Christian Brothers high school who are admitted to Iona as first-time, full-time freshman will be eligible to receive at least a 50 percent tuition scholarship to Iona, renewable each year upon continuous full-time enrollment at the College.
"Our goal in developing this scholarship was to help attract and support the most talented students in coming to Iona, while deepening our commitment to the Christian Brothers' mission and strengthening our relationship with Edmund Rice Christian Brothers high schools throughout North America," said Kevin O'Sullivan, senior vice president for Enrollment and Student Affairs. "The new scholarship helps Iona deliver on our foundational promise of providing a transformative education for a great value."
There are 17 Edmund Rice high schools throughout North America today, united in Iona's shared mission of service, faith, justice and opportunity through education.
Iona on the Rise
Building on a tradition from Saint Columba on the Isle of Iona, to Blessed Edmund Rice in Ireland, to the Congregation of Christian Brothers in New Rochelle, Iona has established a legacy of opportunity, inclusion and the liberating power of education. It is a legacy that continues to inspire, fueled by a spirit of innovation that keeps Iona on the forefront of high education.
In fact, the College this past fall grew new student enrollment by an impressive 15 percent. Such a strong performance was nearly unprecedented in higher education, which saw a 16 percent national decline. Iona also consistently ranks on prestigious national lists highlighting the College as one of the nation's top academic institutions, delivering a transformative experience for the best value.
Among its many accolades, Iona this year ranked in U.S. News & World Report's "Best Colleges," The Princeton Review's "Best Business Schools," Money.com's "Most Transformative Colleges," and Colleges of Distinction's Best for Business, Education, Career Development and Equity & Inclusion, among many others. Iona also ranked in the top six percent of all 4,500 colleges and universities nationwide based on its long-term return on investment, based on a new report, A First Try at ROI: Ranking 4,500 Colleges, released by Georgetown University's Center on Education and the Workforce (CEW).
Despite the challenges presented by COVID-19, Iona this year was also one of the first in the nation to successfully resume and complete a safe, on-campus living and learning experience for students who wished to return to campus. All classes, support services and activities were also offered online for those who wished to remain virtual.
Value and Opportunity
In recognition of the financial strain that COVID-19 presented to many families, and in an effort to reduce barriers to college while alleviating unnecessary stress, Iona previously announced that it was waiving the application fee for any student requesting it this year. In addition, Iona continues to utilize a test-optional admission policy, no longer requiring students to submit ACT or SAT scores to be considered for admission.
The College is also offering every applicant the ability to have a one-on-one meeting, virtually or in-person (socially distant), with an Admissions and Financial Aid counselor to provide personalized attention throughout the application process to ensure the College is best serving the needs of each individual student.
For additional information, please contact Ryan DePuy, senior director of Undergraduate Admissions, at rdepuy@iona.edu or (914) 633-2275. The Early Action application deadline is December 15 and the Regular Decision application deadline is February 15, 2021.
Faith and Partnership
Br. Kevin Griffith, province leader, Edmund Rice Christian Brothers North America, said: "Iona College and the Christian Brothers have had a close relationship with one another since the founding of the College in 1940. When the College first opened, it was greatly supported by the local Christian Brother high schools in New York City and New Rochelle. I am delighted that Iona College has extended this generous offer to students from our high schools across the North American continent. The value of these Christian Brothers Legacy scholarships is immeasurable and can only cause to strengthen the already strong relationship between the participating schools, the Edmund Rice Christian Brothers North America Province and Iona College. I am most grateful to Iona for making these scholarships possible, as they will surely be of great benefit to countless deserving young scholars."
Br. Tom Leto '74, CFC, president, Iona Preparatory School, said: "For many years Iona Prep has sent some amazing graduates to Iona College. For me, as an Iona College alum, I know the excellent quality of an Edmund Rice Christian Brother education. Iona College's launching of the Christian Brothers Scholarship will enable more Prep graduates the opportunity to further enhance their education in the Blessed Edmund Rice tradition. The College is making a first-class education affordable for many more graduates of Edmund Rice Christian Brother schools. They continue to build God's kingdom, one student at a time. God bless the work."
Beth Walter, director of college counseling, Bergen Catholic High School, said: "This unique partnership will give students who have been taught in the charism of Blessed Edmund Rice the chance to continue at a renowned educational institution at a significantly discounted price. The scholarship opportunity is a wonderful addition to our other collaborative programs, which allow Bergen Catholic students to earn college credits at Iona while enrolled in their Bergen Catholic courses. Our relationship with Iona fosters the Essential Elements of an Edmund Rice Christian Brother Education and promotes the strong bond between both schools."