Iona College Bucks the Trend and Grows Enrollment 15% Amid Pandemic
Innovation, value and opportunity lead to strong results for private Catholic college in New Rochelle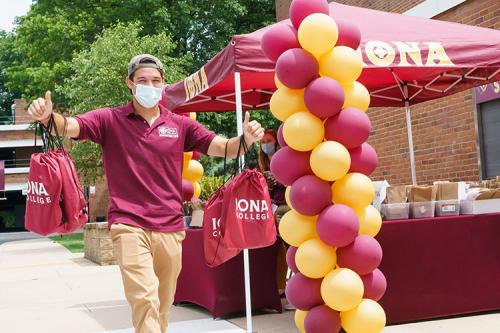 NEW ROCHELLE, N.Y. — Building upon the momentum of being named one of the nation's top colleges, delivering a transformative experience for the best value, Iona College today announced that new student enrollment increased 15 percent year-over-year for 2020-21.
Such a strong performance is nearly unprecedented given the challenges of the COVID-19 pandemic, especially among private and Catholic institutions throughout the region, where many experienced significant enrollment declines this fall.
"Our enrollment growth is a testament to the extraordinary effort of the entire Iona community and the value that prospective students and families see in an Iona education," said Kevin O'Sullivan, senior vice president for Enrollment and Student Affairs. "We are so excited to welcome the Iona College Class of 2024 to the Gael community. This is a tremendously talented class. We look forward to all that they will accomplish both on campus and beyond as they 'Learn Outside the Lines' at Iona."
Nakayla Thomas, a Business major in the Honors Program and a member of Iona's NCAA Division I women's soccer team, said she knew Iona was the right fit after visiting campus for the first time in February. Now as a student, she said the new facilities, especially the study rooms in the new LaPenta School of Business, have been great places to get work done. She and her teammates have enjoyed being able to practice again, working hard toward a common goal as they hope for a spring season.
"After my visit, I knew I wanted to be at Iona. Iona just felt like it was a place that could be home," said Thomas, a graduate of The Taft School in Watertown, Conn. "While visiting, I had the opportunity to sit in on a business class and I really enjoyed the small classroom and having the opportunity to engage with my professor and classmate in some great discussions. Everyone on campus was friendly."
QUALITY, VALUE & OPPORTUNITY
Among its many accolades, Iona College ranks in prestigious national lists including but not limited to U.S. News & World Report's "Best Colleges," The Princeton Review's "Best Business Schools," Money.com's "Most Transformative Colleges," and Colleges of Distinction's Best for Business, Education, Career Development and Equity & Inclusion. Iona also ranks in the top six percent of all 4,500 colleges and universities nationwide based on its long-term return on investment, based on a new report, A First Try at ROI: Ranking 4,500 Colleges, released by Georgetown University's Center on Education and the Workforce (CEW).
"We are pleased with the recognitions and industry endorsements, as they serve as an affirmation of what we've known at Iona for a long time – that Iona offers an affordable, outstanding education that leads to significant employment and graduate school opportunities, which facilitate upward social mobility for all students," said O'Sullivan. "Inspired by Saint Columba, Blessed Edmund Rice and the Congregation of Christian Brothers, Iona is built upon a legacy of opportunity, inclusion and the liberating power of education."
INNOVATION & LEADERSHIP
With a focus on pedagogical and curricular innovation, Iona not only revamped many of its traditional course offerings, but also launched several brand new degrees this year.
Iona's new bachelor's degree program in nursing offers both a traditional four-year program and an accelerated second-degree program. The nursing program adds to Iona's already vibrant health sciences offerings, including Occupational Therapy, Speech-Language Pathology & Audiology, and Marriage & Family Therapy. Iona this year also welcomed its first cohort of students for the direct-entry BA/MA dual degree in Speech-Language Pathology, which is tailored for students intent on pursuing a career in the field.
The Hynes Institute for Entrepreneurship & Innovation, meanwhile, expanded to launch its first two dynamic new majors this year – a BA in Entrepreneurial Leadership and a BBA in Entrepreneurship. Also new to the Hynes Institute is an online advanced certificate in Entrepreneurship & Innovation. Programs are designed to inspire students to be innovative leaders and problem-solvers, empowering them to be agents of change in the world.
New buildings and facilities, completely renovated classrooms and simulation labs, and comprehensive technology and equipment upgrades have also been a critical component of Iona's success. The College recently completed a $37 million renovation of its renowned LaPenta School of Business, just months after cutting the ribbon on the new Hynes Institute for Entrepreneurship & Innovation and the dramatically upgraded Hynes Athletics Center.
Meanwhile, as COVID-19 forced many other colleges and universities to shift entirely to virtual platforms, Iona worked diligently to prepare for a safe and successful return to campus. Proactive planning and innovative testing, monitoring and other safety policies allowed Iona to move up the start of the fall semester to August 10, allowing for the full conclusion of classes and finals by Thanksgiving.
TALENT, SERVICE & STUDENT SUCCESS
For the incoming freshman class at Iona, the numbers not only improved, but so did the academic profile. The average incoming GPA rose to 3.4, up from 3.2 last year. Additionally, Iona saw significant growth in its Honors Program, where the average incoming GPA was just under 4.0.
This was also the first enrollment cycle in which Iona was a "test optional" institution, furthering its commitment to a holistic review process as opposed to relying on standardized SAT or ACT scores.
"As evidenced by the strength of the academic quality of the incoming class, our admissions committee sought to identify students with strong moral compasses, who demonstrated strong academic achievement, who value compassionate service to others and who take leading roles in the communities to uphold our motto that 'Gaels Take Care of Gaels,'" said Ryan DePuy, senior director of Undergraduate Admissions.
ABOUT IONA
Founded in 1940, Iona University is a master's-granting private, Catholic, coeducational institution of learning in the tradition of the Edmund Rice Christian Brothers. Iona's 45-acre New Rochelle campus and 28-acre Bronxville campus are just 20 miles north of Midtown Manhattan. With a total enrollment of nearly 4,000 students and an alumni base of over 50,000 around the world, Iona is a diverse community of learners and scholars dedicated to academic excellence and the values of justice, peace and service. Iona is highly accredited, offering undergraduate degrees in liberal arts, science, and business administration, as well as Master of Arts, Master of Science and Master of Business Administration degrees and numerous advanced certificate programs. Iona's LaPenta School of Business is accredited by AACSB International, a prestigious recognition awarded to just five percent of business schools worldwide. The Princeton Review recognized Iona's on-campus MBA program as a "Best Business School for 2023." Iona University also recently launched a new, fully online MBA program for even greater flexibility. In July 2021, Iona University and NewYork-Presbyterian announced the establishment of the NewYork-Presbyterian Iona School of Health Sciences, to be principally located on the University's new campus in Bronxville, N.Y. Supported by a $20 million gift from NewYork-Presbyterian, the NewYork-Presbyterian Iona School of Health Sciences offers a new vision for collaborative health care education, modern workforce development, and community care. On July 1, 2022, Iona officially changed its status from College to University, reflecting the growth of its academic programs and the prestige of an Iona education.