Iona University 2023 Trustees Award Gala Raises Over $800,000 for Student Scholarships
Distinguished Alumni and Community Leaders Honored in New York City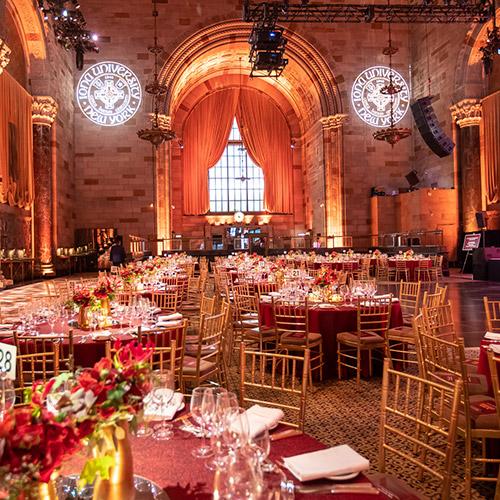 New Rochelle & Bronxville, N.Y. – Iona University hosted its annual Trustees Scholarship Award Gala on April 21, 2023, raising over $800,000 to support student scholarships. Gathered at Cipriani 42nd Street in New York City, this year's gala honored the outstanding accomplishments of distinguished business and community leaders who have contributed to the success of Iona in various ways over the years.
The Iona Legacy Award was presented to Jerome C. Cifarelli '77, ANC Sports Enterprises chairman and founder; and Daniel F. Doyle '93, '95MBA, an accomplished executive in the fintech and credit card industry. This award honors exceptional individuals in recognition of their lifetime accomplishments and commitment to Iona.
The Blessed Edmund Rice Humanitarian Award was presented to the V Foundation for Cancer Research, founded by ESPN broadcaster and legendary Iona basketball coach Jim Valvano, and the Valvano Family. The award recognizes those who, by their activities and service to others, have reinforced Iona's identity as a University founded in the tradition of the Christian Brothers and American Catholic higher education. It is named after Blessed Edmund Rice, founder of the Christian Brothers.
"Congratulations and thank you to all of this year's extraordinary honorees," said Iona President Seamus Carey, Ph.D. "The money raised will directly support scholarships at Iona and will have a tremendous impact on students' lives and families for generations to come. Iona is blessed to have such distinguished and dedicated alumni who continue to champion our mission and believe in the importance of giving back."
Past honorees represent a "who's who" of prominent and successful leaders, including His Eminence Timothy Cardinal Dolan '14H, Francis Cardinal Spellman, New York Governor Malcolm Wilson, U.S. Senator Edward Kennedy, former New York Yankee Mariano Rivera P'15, New York City Police Commissioner Ray Kelly, and world-renowned Ice Bucket Challenge co-founder Pat Quinn '06, among many others.
Read more about the honorees here