Iona University Student Leah Figueroa '23 Travels to Portugal for European Innovation Academy, Explores Immersive Startup Experience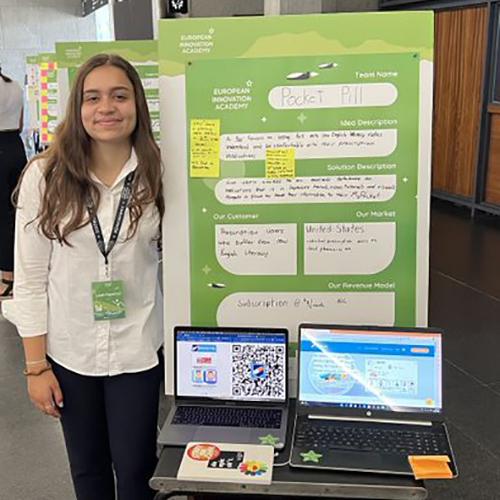 Leah Figueroa '23, a marketing and entrepreneurship major from Mount Kisco, N.Y., spent a month in Porto, Portugal, expanding her experience, knowledge and skills at the European Innovation Academy (EIA). The EIA allows students to create a business using their own ideas, build a team of their choice and take full responsibility over the success of the idea they presented. In addition to unforgettable memories, invaluable experiences and meaningful connections, Leah returned from her trip with a new perspective and fresh enthusiasm for her future career.
How long were you in Portugal and what did you do there?
I was in Porto, Portugal for about a month—from July to early August 2022. I was in the European Innovation Academy, a three-week long incubator program that allows students to start a business from scratch; people from all around the world participate in it.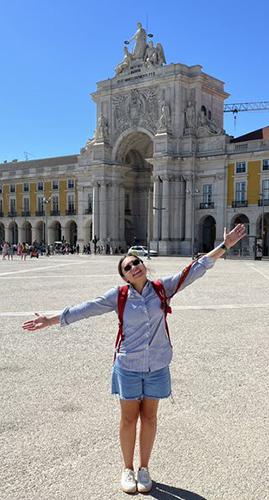 How did you land this opportunity?
I was exposed to this opportunity because of my involvement in the Hynes Institute for Entrepreneurship & Innovation. Lendynette Pacheco-Jorge, assistant director at the Hynes Institute, would often mention the opportunity to me, saying that this would be a more intense version of the Iona Innovation Challenge (IIC) – which I won second place in during the spring 2022 semester.
Because I won second place in the IIC, and therefore the prize money that came with it, I was able to buy the plane ticket to Porto. If it didn't participate in the IIC, I probably wouldn't have been able to go.
What was one thing you learned while you were in Portugal through the program?
I learned valuable leadership skills. In the EIA, everyone works as a team and I was elected to be CEO of my group – I was the one who had the business idea, so people approached me to join my team and launch my idea with me. I really pushed myself to make sure my team communicated, was always aligned and made all of our deadlines. Additionally, I learned each teammates strengths and areas of study so that I could assign their roles accordingly.
What was your business idea?
My business was called Pocket Pill, and the problem that my group and I wanted to solve was that the average reading level on a prescription medication packet is at 12th grade or higher, and the average reading level for Americans is at 8th grade or lower. This creates a discrepancy for really understanding your medication and all the side effects and warnings that come with it. We wanted to make an app that would make it easier for people with low literacy levels to understand and read their medication.
What was the most challenging part of coming up with a business idea?
The most challenging part was validating the problem I wanted to solve. During the program, we all have to go around and survey people to find out if the issue we came up with is one that everyone else faces and/or agrees is an issue.
What was the most fun thing you did in Portugal?
There was a lot of eating and socializing, but one of the most fun things we did was take a weekend trip to Lisbon. We took a bus there and spent the day eating good food, walking around and taking a lot of pictures.