Karabrann Williams '21
"Knowing that my peers and the professional staff at Iona believe in me and support me is motivation to keep going."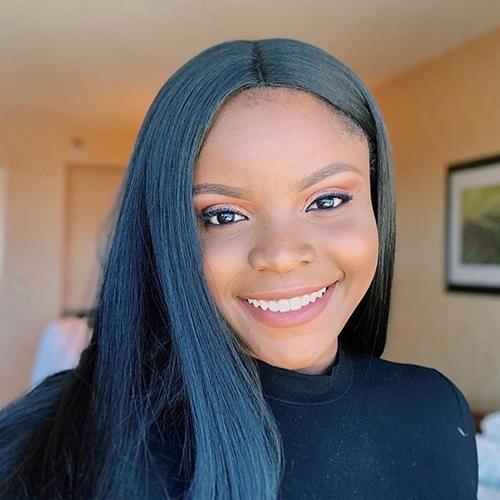 Major: Marketing
Minor: Management
Hometown: Bronx, N.Y.
High School: Cardinal Spellman High School, Bronx. N.Y.
Clubs and Activities:
Honors Program
General member - Marketing Club
Treasurer - American Sign Language Club
Community Service Chair - Delta Theta Beta Sorority
Honors Mentor to freshmen students
Resident Assistant
Shift Supervisor and employee for Front Desk Operations
Digital Marketing Assistant - Marketing Communications Department
Participate in and host fundraisers for Relay for Life every year with my organization Delta Theta Beta.
Attend basketball games to spend time with my friends, de-stress and support my fellow Gaels!
What have you accomplished so far that you are most proud of?
Coming into college I was very shy and did not see myself holding any leadership positions on campus. As I have grown and gotten more comfortable at Iona, I have pushed myself to step out of my comfort zone and get involved. Knowing that my peers and the professional staff at Iona believe in me and support me having important responsibilities is motivation to keep going.
Is there a particular area of study in your major that you are most interested in right now?
I love the idea of working in consumer behavior. I learned about that particular area with Dr. Chrissy Martins. I read her research and later asked her to become my honors thesis advisor. She is a big inspiration to me, and I would love to follow her path in learning about why people shop the way they do and what motivates people to consume certain items.
Why did you apply to the Iona College Honors Program?
I honestly applied to the Honors Program because there was a chance that I could receive a larger scholarship. I hadn't heard about the Program when I took a campus tour so when I got the letter inviting me to apply after I had been accepted to Iona, I took a chance.
What opportunities or experiences did you have in the ICHP?
My favorite experience with the Honors Program was being a part of a community because I was with the same group of people very often. Our friendships got stronger during the time we spent together outside of the classroom which made attending classes something to look forward to. We were also encouraged to attend various arts events on and off campus or take day trips together around New York. Something else that stands out are the Major Oral Presentations we were required to give every semester for our first two years. You're essentially spending an hour of class time presenting your topic then leading a discussion. For someone who doesn't enjoy public speaking, this really pushed me out of my comfort zone and while I wasn't too fond of them at the time, I am now really grateful. And I appreciate my friends who spent a lot of time listening to me rehearse my presentations and providing feedback. I am now working on my thesis and while that has been very stressful, it's something that again pushes me out of my comfort zone and will be rewarding in the end.
How would you say the ICHP impacted your experience as a student at Iona?
The Honors Program definitely made adjusting to college much easier. Coming in as a freshman, I remember being nervous and scared about making friends, but seeing the same group of people in class then choosing to spend time together out of the classroom really made me feel more at home at Iona. When we had papers due for the class, we'd stay up late together trying to get our work done. It made me feel like I wasn't alone because we were all going through the same thing. In addition, the Program not only requires students to maintain a certain GPA, but also requires that we take some higher-level courses regardless of our majors. While I can say taking these courses was stressful, the GPA requirement pushed me to work extra hard to succeed. Looking back, I think about all of the stressful nights I spent studying and all the time I spent complaining that I couldn't do it. However, the hard work paid off with the help from my friends in the Program. I think the Program pushes students to show us that we are capable of more than we think and not everything we try to accomplish will be easy, but if we are dedicated and have a support system, we can get through anything.
Tell us something you've learned about yourself since coming to Iona.
One thing that I have learned about myself since coming to Iona is that if I put my mind to it, I can do it. There have been countless times when I considered giving up or being complacent. However, I always try to remind myself that I am here at Iona for a reason and need to make the most of it. Whether it be pushing myself to run for a leadership position, or studying just a little more for a test, I have become more motivated and definitely push myself more now than I ever have before.
Any advice to prospective students?
Get involved! Starting a new school can be nerve-wracking at first but as long as you figure out what you like and who your people are, you will do just fine.