Led by Faith and Family, Javier Raudales '23 Aspires to Make a Difference in the World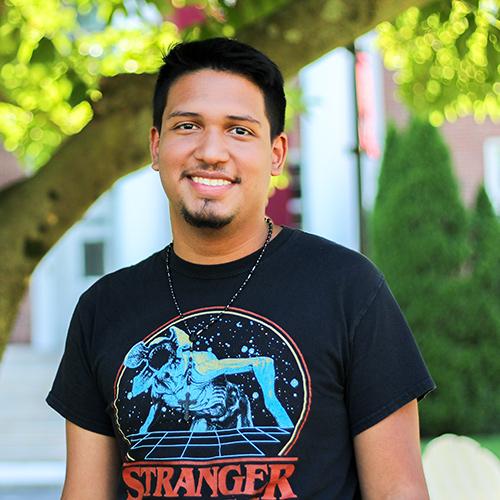 Name: Javier Raudales
Hometown: Bronx New York
High School: Cardinal Hayes High School
Activities: Men's basketball team manager, Campus Minister
Major: Business Management
Favorite Spot on Campus: Hynes Athletics Center
Parents often play a large role in being a student's motivation to succeed. Javier Raudales '23 carries his mother's inspiration with him throughout his studies at Iona, as she continuously encourages him to work hard and achieve his dreams.
"My mom used to always tell me, 'Work hard for everything because not everything is given to you,'" he said. "If somebody is working hard, you have to work twice as hard as them."
A Business Management major in the LaPenta School of Business, Javier is on a path to being a first-generation college graduate in his family. Both of his parents immigrated from Honduras, and he said his drive to achieve this proud milestone comes from his mother. His mother was also the person who inspired his spiritual awakening.
"Before high school, I wasn't that religious," he said. "Toward the end of high school and through the start of college, I started to believe it through her words."
Javier not only found hope within his mother's faith, but also was inspired to deepen his service and commitment as a Campus Minister at Iona. He is a Eucharistic Minister, setting up Masses on campus, and also coordinates the Midnight Runs, feeding those in need. Javier is also a team manager for men's basketball under Hall of Fame coach Rick Pitino, which he said is an unbelievable life experience. He is also known for always wearing a rosary around his neck.
"The rosary I always wear is my good luck. I got it through high school, and I think that was the start of my good years all the way until now, so ever since then, I've been wearing it," he said.
While Javier proudly carries his culture and beliefs with him every day, he also hopes he can inspire others to embrace and celebrate their own personal identities.
"The way I've always tried to approach that is to make sure everyone is welcome and is treated the same," he said. "When I do Midnight Runs, I connect with everyone, and the same for my classes. I always try to make sure everyone is accepted and feels welcome."