Backed by a $2.4 Million Grant, Iona College Professor Joins Global Team Researching Migration Trends
Dr. Derese Kassa and a team of leading researchers won a seven-year grant from the Canadian Social Sciences and Humanities Research Council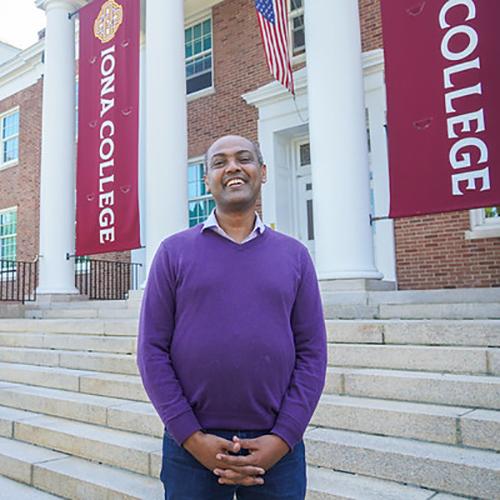 NEW ROCHELLE, N.Y.—Dr. Derese Kassa, associate professor of sociology at Iona College, has joined a team of researchers studying global migration trends thanks to a $2.4 million grant from the Canadian Social Sciences and Humanities Research Council (SSHRC).
The project – "Urban Sanctuary, Migrant Solidarity, and Hospitality in Global Perspective" – launched in February 2020. Dr. Harald Bauder, professor in the Geography & Environmental Studies Department at Ryerson University in Toronto, Canada, organized a team of over 45 researchers, who together are spanning the globe. Now, with funding from this prestigious grant, they have seven years to conduct field work starting in 2022.
Joining the project provided Kassa with an opportunity to delve into two important humanitarian-based themes: recent trends in global migration, and the different global responses to refugees by city governments. His focus will primarily be in West Africa, though he will travel across the continent to conduct his studies.
Thus far, he has found that trends in global migration have shifted: where immigrants once typically left their countries fleeing from conflict and crisis, research has found more frequent migration due to natural calamities such as drought, famine and flood. Kassa is also studying how various local governments respond to refugees in hospitable ways, such as providing protection and refuge for undocumented immigrants.
"Dr. Bauder brought me into the team after my reading book, Refugee Spaces in Urban Citizenship," said Kassa. "He thought I would be an asset to the research he wanted to conduct, and now the SSHRC has awarded us with seven years and $2.4 million to expand our studies even more. I will be a senior research collaborator with the Africa team of this global project, which is based in the University of Ghana, Accra. In addition to the research work, members will also help advise graduate and Ph.D. level students while studying contemporary developments surrounding migration in Africa as well as what sanctuary policies exist there."
The grant will also allow the team to have hubs based in Canada, Chile, and Germany, where they will spend the first year studying literature and then launch into field work. Training opportunities will be available for 110 students and emerging scholars from a range of disciplines such as criminology, geography, law, political science, social work and sociology.  
Kassa looks forward to bringing all that he learns from his research back into his classroom, allowing students to have an even more diverse learning experience.
"We talk about class, race, ethnicity, gender, and we talk about migration and immigrants," said Kassa. "One way you can naturally benefit the students is, as you do more research, you can use that material to inform and enlighten."
Kassa is one of many Iona College professors who have recently been awarded grants to conduct valuable research abroad. Dr. Nadine Cosby, assistant professor in the Media & Strategic Communication Department, was named a 2020 Fulbright Scholar in the Africa Regional Research Program; and Dr. Galen Barry, assistant professor of philosophy, received a 2021 Fulbright U.S. Scholar Flex Award to explore philosophical trends in Brazil.