Why Criminal Justice?
Make a real difference in your community by ensuring public safety. Policies and laws exist in our society to keep order. Effective leaders who understand, investigate and enforce these rules and standards, keep communities running smoothly.
The criminal justice field offers many paths where you can customize your career based on your interests: law enforcement, probation & parole services, justice administration, criminology, community services, corrections, victims' services and more.
Why Study Criminal Justice at Iona?
You will be taught by outstanding faculty members who are actively engaged and sought-after experts in the field. You will work alongside them in hands-on criminal justice research and be connected to their network of industry professionals who can help you in your career.
You'll have opportunities for internships at leading law enforcement agencies.
Our faculty provide one-on-one advising and mentoring and help with your professional development. You will be exposed to current research and evidence-based practices for a well-rounded understanding of the industry.
What You'll Learn
You'll explore the root causes of crime, law enforcement policies, correctional institutions and the court system. You'll focus on timely issues such as corporate and white-collar crime, profiling violent crime and victimology, environmental crime and species justice, organized crime, and terrorism.
You will also gain the communication and technology skills necessary to access, analyze and share information in a multi-faceted criminal justice arena.
Unique Elements of Program Format
Five-year Dual Degree (BA-MS) available
---
Program Highlights
Faculty Experts
Our faculty are experienced professionals and sought-after experts on criminal justice topics. Agencies such as the NYPD seek the expertise of our faculty, and many have appeared on the news as expert sources. You will be working with some of the best!
Valuable Internships
You will have valuable internship opportunities at over 100 local, state, federal agencies as well as law offices, including U.S. Secret Service, U.S. Marshals Service, FBI, Department of Homeland Security, state and local policy agencies, victim services, county jails and mental health units.
Thriving Community
You will be part of an active community with opportunities to participate in community service, our Criminal Justice Club, the American Criminal Justice Association, the National Criminal Justice Honor Society and more!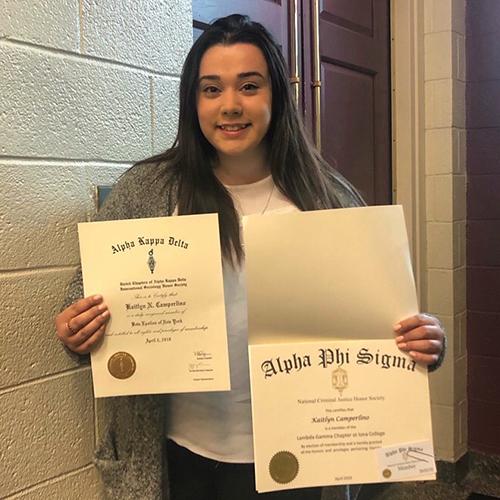 Iona made me realize that putting in the hard work pays off. My first internship was with the Westchester County DA's Office in the Investigations Division. I worked with high technology and cybercrime, public corruption, and organized crime.
Kaitlyn Camperlino '20
Read More About Kaitlyn
Careers & Outcomes
We are proud of our excellent track record in helping students successfully move their careers forward, whether the next step is graduate school or the workplace. Iona graduates go on to serve justice in many different ways. Our graduates have been handpicked to work in federal and local agencies, serving as police commissioners and high-ranking federal agents.
Our Graduates are Serving as:
Deputy Sheriff
Domestic Violence Victim Advocate
Fraud Analyst
Park Ranger
Police Officer
Prevention Family Specialist
Our Graduates Have Worked at: