Why Sociology?
Why do humans behave the way they do? How do different types of relationships, like friends, family, and teachers impact your behavior?
We are all shaped and influenced by the societies and groups we belong to, and the relationships we have with others. Knowing the underlying forces that shape and change our world provides critical insights for careers working with and supporting the community, such as non-profit agencies, counselors, teachers, criminal justice professionals, human resources, and social and public health researchers.
Why Study Sociology at Iona?
Our small classes will provide individual attention and opportunities to work closely with faculty and fellow students.
Our faculty are experts in their fields – scholars who are regularly researching and publishing in all areas of sociology. They are supportive of your success, and you can depend on them for mentoring and invaluable guidance on internships and research opportunities, even after you graduate.
You will be prepared for success in a wide variety of careers, from research and academia to law, medicine, business, non-profit management and criminal justice.
What You'll Learn
Sociology will give you unique insight into America's rich diversity of cultures. You'll learn about racial and ethnic groups, health and medicine, families, migration and urban life, deviance and crime, gender, economic class, media and popular culture, among other topics.
You will gain an awareness of different ways in which human situations are defined on the basis of sex, social class, age, race and ethnic group. You will also explore people's complex relationships with politics, religion, economics, law and culture.
As a sociology student, you will learn to conduct and compile research, and you will have opportunities for independent research.
Unique Elements of Program
---
Careers & Outcomes
Sociologists are an integral part in understanding why and how people operate in society. Use your skill set to help the world operate through peace and justice in various career paths from social work to research. 
Job Titles:
Case Manager
Community Health Coordinator
Human Resource Manager
Market Research Analyst
Rehabilitation Counselor
Social Services Manager
Our Graduates Have Worked At: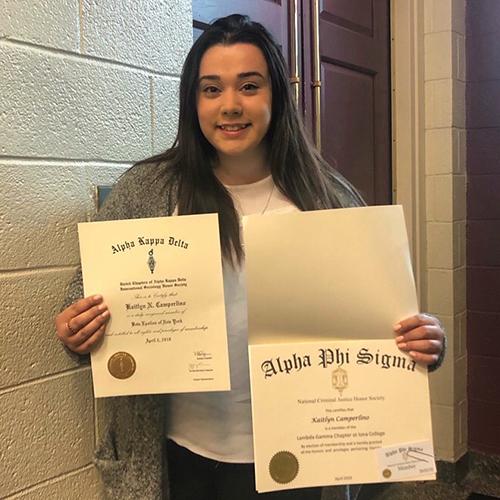 When I took a sociology class as part of the core curriculum, the subject matter piqued my interest immensely. I learned that criminal justice and sociology have concepts that go hand-in-hand, so I decided to do a double major.
Kaitlyn Camperlino '20
Read More About Kaitlyn
Program Highlights
Independent Research
You will have opportunities to participate in hands-on research focused on emerging topics in the sociology field. Sociology students are regular participants in our annual Iona Scholar's Day, sharing results of sociology research projects and participating in panel discussions.
Eye-opening Courses
Students have been astounded by some of the discoveries they've made in our popular sociology courses, applying theories and concepts in new innovative ways in the field. Popular courses include:
Deviant Behavior
Family
Popular Culture
Race and Ethnic Relations
Sex and Gender Roles in Modern Society
Gaels Help Gaels
You will be supported by our active alumni network of more than 50,000: accomplished professionals who welcome our students into their organizations for instruction, internships, and employment opportunities!
Find Out what an Iona Education Can Do For You
Visit Campus
Our scenic campuses, located just 20 miles from midtown Manhattan, truly do offer the "best of both worlds." Let us show you around, answer your questions and give you a feel of our tight-knit community.
Apply Today
If you're considering applying to Iona, you're not alone! Since 2019, our new-student enrollment is up nearly 30%. Additionally, 99% of our first-year students receive institutional scholarships or grant aid.
Request More Information
Learn more about Iona University today!