Why Economics?
Economics studies how people confront the fundamental human problem of scarcity and achieve the best possible outcomes. Families, businesses and organizations all make decisions every day in regard to resources. These complex decisions shape the world we live and work in.
Governments, corporations, retail, banks, non-profits and many others all need leaders who can analyze and make sound economic decisions.
Why Study Economics at Iona?
You'll gain the analytical and quantitative skills highly valued by today's employers, along with hands-on experience with economic data. You will build your problem-solving abilities, learn how to express these skills orally and in writing, and have opportunities to conduct and present independent research.
You will learn from and be mentored by award-winning faculty who provide individualized attention and critical connections to the world outside.
What You'll Learn
You will gain a solid foundation in economic theory challenging you to think critically about a variety of micro and macro issues – ranging from what shapes individual decisions to how the global economy responds to the latest economic crisis.
You will learn how to support your economic arguments with real-world evidence provided by economic data. With a background knowledge on how the economic landscape changes over time, you will be taught to understand the importance of current economic headlines within a much broader social context.
You will develop the skills that are in demand by businesses and government organizations.
Unique Elements of Program Format
---
Program Highlights
Gaels Help Gaels
You will be supported by Iona's active alumni network: accomplished professionals who devote their time to help you gain internships and employment opportunities.
Internships with Renowned Firms
With midtown Manhattan just 20 miles away, you'll have internships available to you in a wide variety of fields, from sports marketing to investment banking, at firms such as Ernst and Young, Morgan Stanley, Lincoln Financial, AEG and IBM.
College Fed Challenge
Iona Economics students participate in the College Fed Challenge, an intercollegiate competition in which students research and report on current economic trends and present their recommendations to Federal Reserve officials in downtown Manhattan.
Through months of rigorous preparation for the competition, students develop a deep understanding of how policy interacts with the real world from their study of macroeconomic theory and data!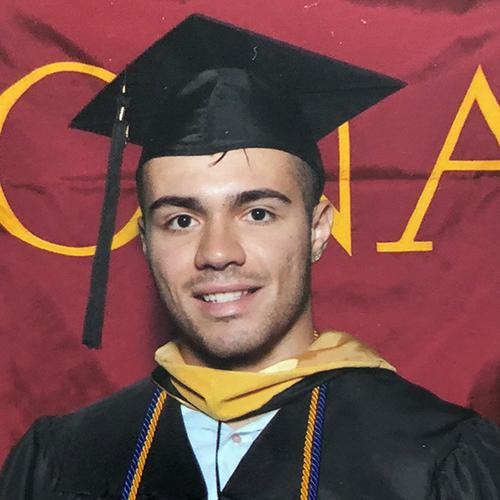 As an Economics student, I developed skills and a way of thinking that has allowed me to flourish in several internships and land a position in the job market. The ability to examine data and make accurate conclusions is highly valued in many fields.
Lewis Derenzis III '18
Careers & Outcomes
Make an impact on a global level by helping businesses and individuals use and distribute resources strategically. You will use your in-demand skills to collect and analyze data, research trends, and evaluate economic issues for governments, corporations, banks, non-profits and more.
Job Titles:
Actuary
Data Analyst
Economist
Financial Adviser
Investment Analyst
Market Research Analyst
Employers:
Chase Bank
Morgan Stanley
Bloomberg LP
RBC Capital Markets