Why Theatre?
Let your creativity flow as you gain skills in leadership, communication, teamwork and so much more. A minor in theatre allows you to major in another area while still pursuing your interest in performance art!
Why Study Theatre at Iona?
Through our program, you will be mentored by caring faculty who encourage your creativity and help you develop your knowledge of theatre, as well as your skills. Our faculty are creative individuals who are integrated into the arts community and can provide you with valuable connections.
Along with a wide variety of courses to choose from, you will have performance opportunities on campus and the benefit of NYC – just 20 miles away – and all its cultural offerings.
What You'll Learn
You will take courses focused on theatre history, acting, play production and you will develop an awareness of design, composition, techniques and elements of theatre.
Your courses, performance opportunities and collaboration with faculty and fellow students will help you gain a deeper knowledge and acceptance of self and others, as well as an understanding of the ethical and moral meanings in the arts.
---
Program Highlights
Creative Community
Share your passion with our active and supportive arts community of theatre people, dancers, musicians and visual artists.
Perform on Stage
As part of our Theatre Ensemble, you will have a hand in several performances throughout the year. You will learn to work with a director, an ensemble, theatre designers and more – or be on stage yourself!
Valuable Career Skills
Through theatre, you will develop skills in problem-solving skills, time management, adaptability, confidence and teamwork – lifelong skills sought-after by many employers.
Get Involved with Performing Arts!
Whether you sing, dance, play an instrument, ACT - or all of the above - you're sure to find your creative outlet at Iona!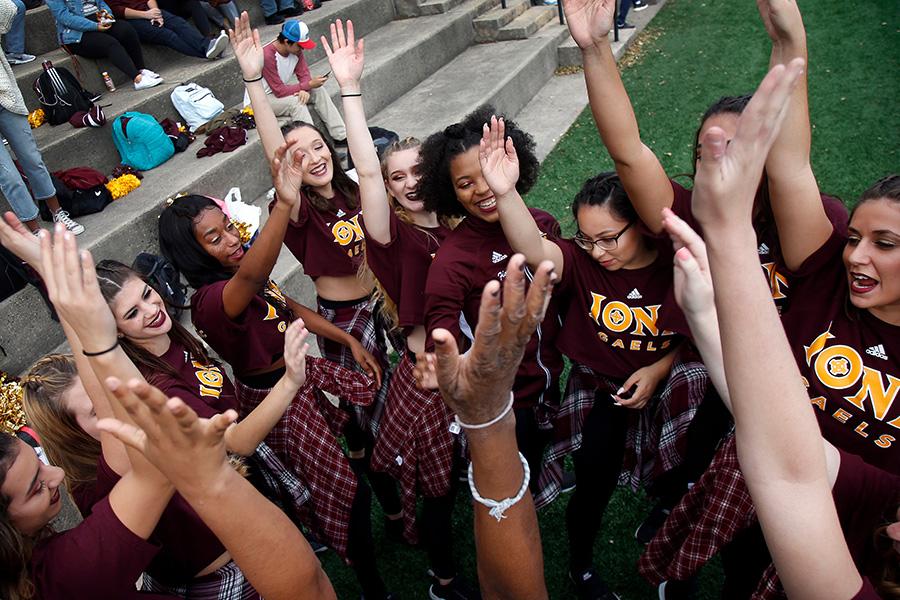 Careers & Outcomes
There are many elements that go into putting on a production. Take your theatre skills to the big stage from acting, writing, producing and more. Put your skills to the test and showcase your art! 
Job Titles
Actor
Costume Designer
Stage Producer
Theatre Operations Manager
Playwright