The Golden Gaels Society
The Golden Gaels Society recognizes Iona alumni who graduated 50 years ago or more. This group is the cornerstone of our alumni family and we are proud to recognize and celebrate their importance to the Iona community. Currently, there are over 4,100 Golden Gaels made up of alumni from the Classes of 1948 through 1972.
For any questions on involvement or participation, please reach out to Miranda Kozak Senior Director of Alumni Engagement and Annual Giving at mkozak@iona.edu or (914) 633-2003.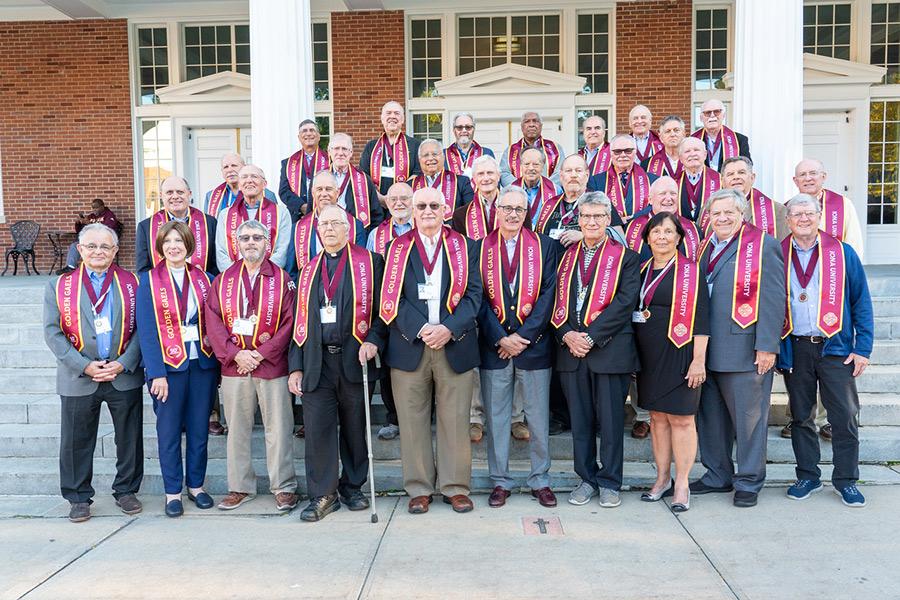 Golden Gaels Class Representatives

| Class Year | Name |
| --- | --- |
| 1949 | Eugene P. Kuhn  '49 |
| 1950 | John F. McGowan '50 |
| 1952 | Robert F. Callahan, Ph.D.  '52 |
| 1953 | Thomas M. McDermott  '53 |
| 1955 | Joseph R. Quinn '55 |
| 1956 | Richard T. Close, Ph.D. '56 |
| 1956 | John P. Gill, Esq.  '56 |
| 1957 | Andrew J. Dolce  '57,  '19H |
| 1958 | Robert J. McGuire, Esq. '58, '78H |
| 1959 | Richard A. Lovisolo '59 |
| 1959 | Robert J. McKenna '59 |
| 1960 | George R. Grasser, Esq. '60 |
| 1960 | Victor A. Stanionis, Ph.D. '60 |
| 1961 | Br. J. Kevin Devlin, CFC, Ed.D. '61 |
| 1961 | Alfred A. Rottino, Jr. '61 |
| 1962 | Brendan J. Walsh '62, '64MBA |
| 1963 | John J. Battista '63 |
| 1964 | Al J. Maiolo '64 |
| 1965 | Richard J. Armitage  '65 |
| 1966 | Dennis P. Flood  '66, '76MBA |
| 1967 | Terry  J. McCormack '67 |
| 1968 | Albert J. DeCristino  '68, '74MBA, '81MS |
| 1970 | George J. Morris '70, '74MS |
| 1971 | John  J. McGowan  '71, '93MS |