A Message for Our Students
Denise Hopkins, Vice President for Student Life addresses Iona students regarding the murder of George Floyd and student supports.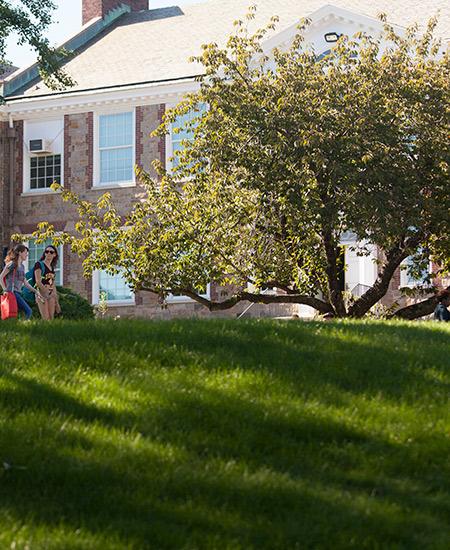 Dear Students,
As protests continue across the nation over the horrific murder of George Floyd, an unarmed Black man killed by police in Minneapolis, Iona College stands firmly with our Black community as we acknowledge that we all have a role to play in the change we want to see. We must do better. Generations pass, and yet systemic, institutional racism continues to plague our country and our communities. Tensions had already been mounting over the deaths of other innocent Black Americans including Ahmaud Arbery, Breonna Taylor and far too many others. At Iona, we must and we will act swiftly to make sure our College is one where people of all races, religions and sexual orientations can live and learn free from discrimination, bigotry and oppression in any and all forms. I reach out to you today with a message of concern for the well-being of all Iona students, and a special message of support for our students of color and other marginalized populations. 
I want to state clearly to our Black community members: your lives matter, we hear you, and we care for you. How we respond as an institution of higher learning matters. We are not perfect as an institution, but we are committed to getting better, and we will do more to support you as we build a better future for all Gaels. I understand that the unrest impacting our nation is complex and that there are a wide range of political and personal viewpoints held by members of our campus community. I also know at the same time that the Iona community is bonded by shared values that emphasize the inherent dignity of all people. I often say that "Gaels take care of Gaels," and that means that we are here, ready to listen and support you. Below you will find actions already underway, as well as resources for students, advocacy organizations and ways to stay engaged. 
I ask that you join in the fight against systemic racism, injustice and violence. In addition to "Gaels take care of Gaels," I often cite the Iona motto, "Fight the Good Fight." We are part of a legacy of thousands of Gaels who have done so since 1940. Iona was founded to offer an education and social mobility to people who were oppressively denied that opportunity at other institutions. Many immigrant, first-generation students from humble circumstances had to fight – and fight hard – to make a good life. That said, some members of today's Iona community are more marginalized, discriminated against, vulnerable, and have greater obstacles to overcome than others. Racialized violence and systemic racism are real, and represent a multi-layered, ever-present obstacle and threat to the success and well-being of our students, faculty and staff of color. We need to understand systems of privilege and oppression if we are to make any real progress in fostering a more just world. Again, we recognize the significant and often overwhelming hardships faced by others in our community, and we are not minimizing those struggles. But, the current realities of our nation call us to rally in support of our Black peers and colleagues. 
Please know that the following actions are underway at Iona College: 
The College president, provost and senior vice president for Academic Affairs, vice president for Student Life, and vice president for Marketing & Communications met with student leaders from the Student Leader Alliance for Multiculturalism (SLAM) and the Student Government Association (SGA) to help ensure that the College's responses incorporate and address their concerns and feedback. 
We are asking Iona's Diversity Committee to assess the overall environment that students of color face at Iona and identify root causes that need to be addressed. The scope of the assessment will include a review of racially connected allegations of misconduct to identify how we may refine, clarify and improve the process of reporting allegations of misconduct and address policies, communications and resources moving forward. 
Just as we needed to do in response to the COVID-19 pandemic, Iona will form a working group or task force, the details of which will be soon determined, to coordinate and advise on immediate next steps needed to combat the virulent racism we are confronting. This group will consist of students, representatives from SGA, SLAM and the Black Student Union (BSU), and key administration. 
Iona will further develop its cultural humility training so that it is integrated and implemented throughout the College. We are fortunate to have a national leader in this field in our provost and senior vice president for Academic Affairs, Darrell P. Wheeler, Ph.D., MPH, ACSW. Dr. Wheeler has been training on this topic since 1995, when he helped to develop the model used at Columbia University, which became a NYC-wide model for training social work faculty, staff and students. 
Iona will consult with the above groups to create effective forums to continue open conversations where students of color will be empowered to directly communicate with administrators about what they are experiencing and where there are concerns. Iona will also create forums where all students can learn from and talk to each other about their experiences, especially as it relates to race, justice and privilege, so that solutions can be built from the ground up. We appreciate that this must be an ongoing conversation, not a one-time event.
We realize there is still a very long way to go in the fight for racial justice and equality. But I want to make it absolutely clear that we stand united at Iona College as we walk this path together, not afraid to confront racism, bigotry and discrimination in any and all forms. We also fully acknowledge that each person walks a unique path, especially when it comes to trauma and healing. Wherever you are on your journey, Iona will always be ready to meet you. Please know that our professional, confidential and trusted counselors are available for appointments and/or walk-ins. Visit www.iona.edu/counseling-center or call (914) 633-2038 to learn more. 
We will be victorious in creating a better campus and world if we fight united together, not against one another. Together, and fueled by a deep desire to effect positive change in our community and the world, we are stronger. 
CAMPUS RESOURCES
Diversity & Inclusion
Counseling Center
Office of Mission & Ministry
GET ENGAGED
Official George Floyd Memorial Fund
Black Futures Lab  
Black Lives Matter
Campaign Zero
Center for Policing Equity 
Color of Change
Movement For Black Lives
National Black Justice Coalition
NAACP Legal Defense Fund
New York City Anti-Violence Project (AVP)