Iona University Women's Club Basketball
The Iona University Women's Club Basketball team is a member of the National Intramural National Club Basketball Association (NCBBA). We compete in the Mid-Atlantic Division against the following colleges and universities:
Drexel
Villanova
Montclair State
St. Joe's
Rutgers
The College of New Jersey
Montclair State
Join the Team!
The Iona University women's basketball club is excited to announce that we are still looking to fill a few positions. The goal is to continue developing an exciting and competitive team and we would love for you to join us! This is the perfect opportunity for those who have some basketball experience to hone their skills, work out, participate in some competition and be recognized at the collegiate level.
Anyone interested in joining the team should contact Coach Nesta Felix at nfelix@iona.edu. She will contact you directly with further details on practice times and information about the team.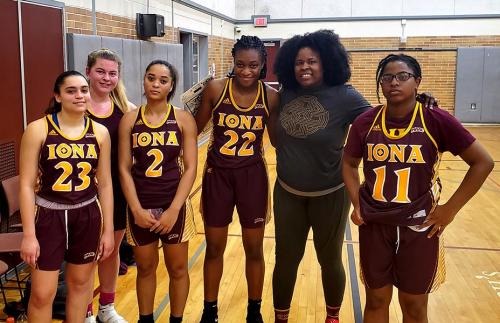 2021-2022 Club Roster
Christine Argentieri
Amber Caputo
Mary Fay
Leah Figuerora
Gorgina George
Toni Kinard
Emily Loughran
Brianna Maldonado
Rose Sandford