Return to Campus
Welcome back to campus! Please check the return to campus protocols and ensure your medical records are up to date.
Why Biology?
Biology is the study of life, from the smallest molecules required for cellular life to entire ecosystems and communities. A degree in Biology opens doors to careers in medicine, dentistry, veterinary science, research, conservation, environmental science, and many other fascinating areas.
Why Study Biology at Iona?
You will learn the latest concepts of biology in a student-centered environment that pushes you to explore, ask questions and share ideas. Our faculty will lead you to think like a scientist – critically, analytically and ethically.
Your educational experience will extend beyond the classroom, with valuable opportunities, including:
Working in the laboratory alongside dedicated faculty and learning modern and relevant techniques for research projects;
Attending conferences;
Publishing in academic journals; and
Connecting with the wider biology field through internships, volunteering and service-learning classes.
What You'll Learn
You will learn the foundations of biology and be pushed to think outside the box, learning concepts and ideas that will take you to the next level as a student and biologist.
You will also gain critical skills such as: researching, collecting and analyzing data, communicating complex ideas, collaborating, and presenting findings.
You will learn to appreciate the role of science in today's world.
Unique Elements of Program Format
---
Program Highlights
Flexible Program
Our flexible program allows you to customize your degree by concentrating in an area that interests you most:
Pre-Physical Therapy/Pre-Physician Assistant: Prepares you for graduate programs in physical therapy and physician assistant
Pre-Medical/Pre-Dental: Designed for students who wish to go on to medical, dental, and other professional schools.
Ecology and Environmental Biology: Designed for students who wish to enter graduate programs in ecology, environmental sciences, and related subjects and/or enter the green industry
General Biology: Provides the most flexibility in terms of the career options. Students who choose this concentration have pursued careers in medicine, dentistry, pharmacy, education, research, and business; in other words, everything!
Early Acceptance Programs
Our program has early acceptance articulation agreements with where graduates of our program can be accepted as high school seniors or college freshman, if they meet certain qualifications, and automatically reserve a seat in medical school. Iona College has agreements with the following programs:
Lake Erie College of Osteopathic Medicine
New York College of Podiatric Medicine
New York College of Chiropractic Medicine.
Hands-on Fieldwork and Internships
Thanks to our affiliation with St. Vincent's Hospital in Bridgeport, Conn., our extensive alumni network, and our dedicated faculty, you'll have hands-on fieldwork opportunities and internships that will broaden your skills and career connections.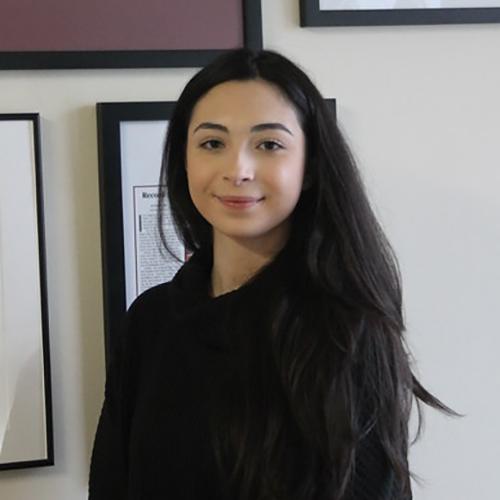 Iona's biology faculty welcome students who want to be involved in research, which led me to perform laboratory research with Dr. Zuckerman. By being in the lab outside of class time, I was allowed to further expand my knowledge on lab techniques.
Melissa Rowan '20
Careers & Outcomes
Our graduates leave ready to excel in graduate programs or in a wide range of career opportunities. Over 60% of Biology graduates take the next step in graduate programs in medicine, dentistry, physician assistant, physical therapy, and others.
Our Alumni Have Attended:
Weill-Cornell School of Medicine
New York Medical College
Chicago Medical School
SUNY Stony Brook
Yale University
Howard University (DDS)
New York University (DDS)
Tufts University (DDS)
Employers