Master of Business Administration Degree (MBA)
Why get your MBA?
Iona University's Master of Business Administration (MBA) program prepares you to move into leadership positions or make a change in your career.
Offered at our New Rochelle, New York campus located just 20 miles north of Midtown Manhattan, Iona's 36-credit MBA program develops management skills and business savvy through the option to specialize your MBA with a concentration or graduate certificate.
Why Earn Your MBA Degree at Iona?
Iona's on-campus MBA program is designed for your flexibility, offering a streamlined 12-15 months of coursework. Our rolling admissions allows you to enter the MBA program during any of five start terms during the year—June, July, August, November or February. In addition, we do not require standardized test scores for admission like the GMAT or GRE.
Iona's MBA curriculum provides an expansive choice of electives taught by our LaPenta School of Business faculty that have dynamic combinations of industry and academic experiences. As part of 12 credits of electives, you have the option to complete one of the following MBA concentrations:
In addition, any of the following LaPenta School of Business graduate certificates can be pursued in lieu of other MBA electives:
MBA students also earning a graduate certificate will retain both credentials—the Master of Business Administration and their specialized certificate. Graduate certificates can also be pursued as stand-alone credentials if students are not ready to pursue an entire MBA degree.
We do not require a GMAT for applicants into the MBA program, and our rolling admissions allows entry in the program at any of five terms during the year – June, July, August, November or February.
The program can also be completed fully online! Students can experience the benefits of the in-person MBA with the flexibility of online courses.
What You'll Learn
During the on-campus Master of Business Administration at Iona, you will explore how businesses operate and manage teams and build your understanding of finance and information systems. You will sharpen your critical thinking, quantitative analyzing, problem solving and communication skills. Our MBA concentration or graduate certificate options expand your expertise in a particular area of business.
Unique Elements of Program
Begin in any of four terms per year, including summer
Complete the 36-credit MBA in 12-15 months
Tailor your MBA electives to your interests or use them toward one of nine concentrations or graduate certificates
Option to complete MBA fully-online
---
MBA Program Highlights
No MBA Prerequisites Required
Our MBA is open to students with any bachelor's degree; no additional coursework is needed to begin the program. Whether you already have a business background or you are thinking of changing careers, this graduate business degree is available to you.
State-of-the-Art Facilities
You will be taking classes in our new state-of-the-art, eco-friendly LaPenta School of Business. The floorplan features areas designed for collaboration and networking in addition to an expanded LaPenta-Lynch Trading Floor featuring Bloomberg Terminals and a live, wrap-around stock ticker.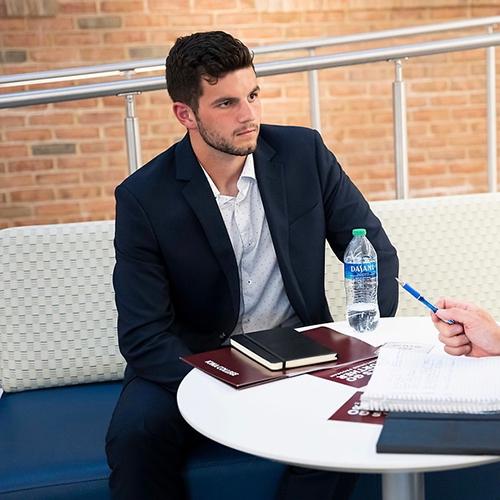 When I graduated with my BA in Accounting, I knew I wanted to pursue an MBA with a concentration in Financial Management. The accelerated one-year program at Iona works perfectly with my career goals and will also complete my study hours for the CPA exam.
Gabriel Cinanni '22, '23MBA
Careers & Outcomes
Transform your career and be prepared for leadership opportunities with Iona's Master of Business Administration. Students who pursue an optional MBA concentration or graduate certificate can further align their coursework with their career goals.
Job Titles
Digital Analyst
Financial Manager
Investment Banker
Financial Advisor
IT Director
Our Graduates Have Worked at:










MBA Application Process
Submit an online application and send us an updated resume, your college transcripts and one professional letter of recommendation.
Iona's MBA program requires no GMAT/GRE scores or prerequisites to apply. Due to our rolling admissions process, students can start their MBA more quickly.
Learn More About Iona's MBA
The Master of Business Administration at Iona University offers students the career-advancing knowledge and skills needed to build management careers or change industries. Our on-campus MBA offers the option to pursue a specialized MBA concentration or a graduate certificate.
No GMAT/GRE required to apply, and admissions are rolling with multiple entry terms a year. Learn more by requesting information, or take the next step by beginning your application.
Find Out what an Iona Education Can Do For You
Visit Campus
Our scenic campuses, located just 20 miles from midtown Manhattan, truly do offer the "best of both worlds." Let us show you around, answer your questions and give you a feel of our tight-knit community.
Apply Today
If you're considering applying to Iona, you're not alone! During the past two years, our new-student enrollment has spiked 32%. Additionally, graduate students automatically qualify for consideration of merit scholarships during their graduate program.
Request More Information
Learn more about Iona University today!