Computer Science and Cyber Security (BA/MS or BS/MS)
Why Computer Science and Cyber Security?
With the frequency of hacking and cyber security threats growing, specialists in the field of cyber security are in high demand.
Having the skills necessary to prevent attacks and protect people's data and privacy will open doors to a lucrative and rewarding career.
Why Study Computer Science with a Concentration in Cyber Security at Iona?
Our program will provide you with both the theoretical knowledge and the hands-on experience required in today's Cyber Security workforce. Plus, you will save a year of tuition and move into your career in just five years with this dual degree.
You will work closely with full-time faculty who are active researchers in the field. You will benefit from individualized attention, research opportunities and lasting connections you won't find in larger schools. Opportunities to present your research as national conferences will provide valuable connections to leaders in the industry.
Our location in the New York metropolitan area, a hub of technology, will provide you with unmatched access to a wide variety of internship opportunities at big-name companies.
What You'll Learn
You will take classes in software security, cryptography, network security, as well as in operating systems, computer organization, and data structures, giving you a depth of knowledge in both computer science and cyber security.
You will gain a wide range of skills, which will allow you to analyze computing problems and security issues and implement solutions using appropriate programming language and security tools.
---
Careers & Outcomes
With the frequency of hacking and cyber security threats growing, specialists in the field of cyber security are in high demand. Our program prepares graduates to meet that pressing demand
Job Titles
Cyber Security Analyst
Cryptanalyst
Software Security Engineer
Networking Security Specialist
Cybercrime Investigator
Mobile Security Engineer
Security Consultant
Employers





The ACSAC conference was truly an eye-opening experience. Being able to present my work and receive feedback from some of the top people in the field of computer security was a unique and valuable learning experience.
Joshua Gitter '18, '19MS, Concentration in Cyber Security
Innovative Collaboration
Our Computer Science programs offer collaborations with other academic areas, including psychology, chemistry, history, as well as the Hynes Institute for Entrepreneurship & Innovation. You will have opportunities to participate in ongoing projects that deal with topics from bullying to chemical reactions visualization. Chart your own creative projects and enlist the support of faculty and classmates to bring your vision to reality!
National Science Foundation Support
Iona University has been awarded funding from the National Science Foundation (NSF) to recruit, support and retain undergraduate students majoring in Biochemistry, Chemistry and Computer Science. The goal of NSF S-STEM Program – Scholarships in Science, Technology, Engineering and Math is to increase the number of undergraduates on a successful path to pursue further education and careers in STEM.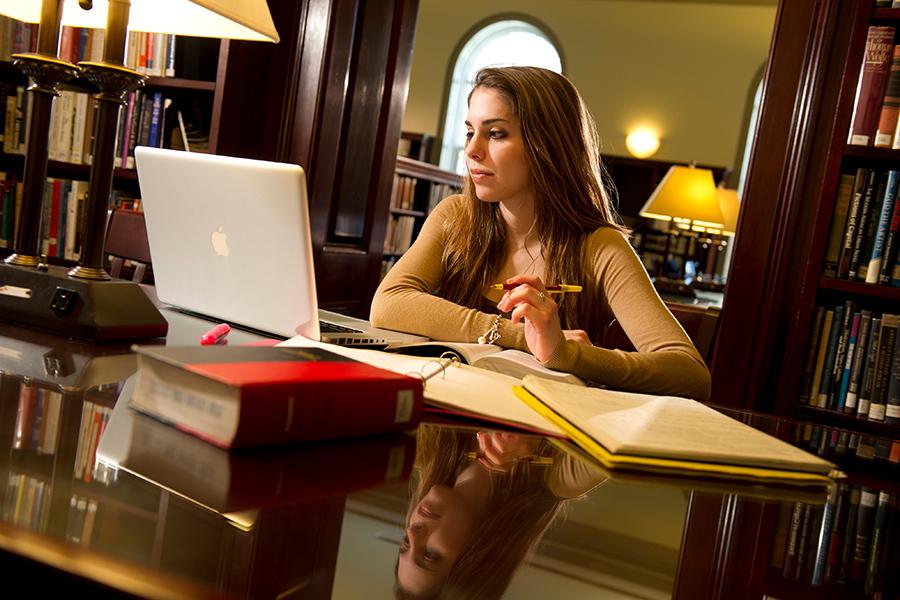 Find Out what an Iona Education Can Do For You
Visit Campus
Our scenic campuses, located just 20 miles from midtown Manhattan, truly do offer the "best of both worlds." Let us show you around, answer your questions and give you a feel of our tight-knit community.
Apply Today
If you're considering applying to Iona, you're not alone! Since 2019, our new-student enrollment is up nearly 30%. Additionally, 99% of our first-year students receive institutional scholarships or grant aid.
Request More Information
Learn more about Iona University today!