Computer Science and Game Development (BA/MS or BS/MS)
Why Computer Science and Game Development?
Did you know that your love of gaming could become a lucrative career? The fast-growing, multi billion-dollar gaming industry needs creative and innovative leaders who will push the boundaries of what is possible.
With virtual and augmented reality on the threshold of changing every aspect of the world around us, you could be at the forefront of true technological innovation that can make a difference in people's lives.
Why Study Computer Science and Game Development at Iona?
This program will give you the knowledge and skills of a computer scientist while unleashing your creativity and imagination. You will be able to create virtual worlds and experiences for entertainment purposes and serious applications. This blend of skills will open you up to a world of career opportunities.
You will work closely with full-time faculty who are experts in the field and will push you to think outside the box. You will be challenged to open your eyes to see beyond what is possible, instead defining what can be possible.
With New York City, a hub of technology, just 20 miles away, you will have unmatched access to a wide variety of internship opportunities at big-name companies to jump-start your career.
What You'll Learn
In addition to taking courses in software development, computer hardware, operating systems and programming languages, you will take specialized courses in computer graphics, artificial intelligence, mobile apps development, web design, game development and virtual/augmented reality.
You will experience the full design cycle of a typical game development project – from story/script creation and character design to animation, level design, user interface implementation, and sound editing. You will develop fully functional 3D, VR, and AR games for entertainment as well as for serious applications such as medical simulations, flight simulators, chemical reaction visualizations and more.
---
Careers & Outcomes
The game development industry is booming and is projected to grow 21% over the next decade according to the Bureau of Labor Statistics. With a degree that blends the science and art of creating an immersive and realistic experience for the user, you will be prepared to find a career in many diverse areas.
Career Opportunities
Entertainment & Gaming Industries
Training Software and Simulations
Defense
Manufacturing
Medical Devices and Software
Scientific Visualization Software
Innovative Collaboration
Our Computer Science programs offer collaborations with other academic areas, including psychology, chemistry, history, as well as the Hynes Institute for Entrepreneurship & Innovation. You will have opportunities to participate in ongoing projects that deal with topics from bullying to chemical reactions visualization. Chart your own creative projects and enlist the support of faculty and classmates to bring your vision to reality!
National Science Foundation Support
Iona University has been awarded funding from the National Science Foundation (NSF) to recruit, support and retain undergraduate students majoring in Biochemistry, Chemistry and Computer Science. The goal of NSF S-STEM Program – Scholarships in Science, Technology, Engineering and Math is to increase the number of undergraduates on a successful path to pursue further education and careers in STEM.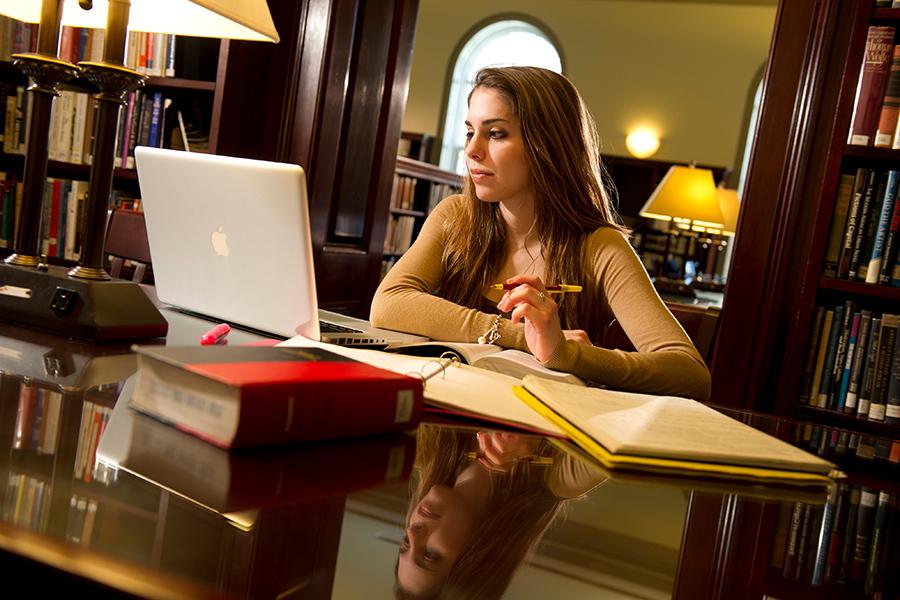 Find Out what an Iona Education Can Do For You
Visit Campus
Our scenic campuses, located just 20 miles from midtown Manhattan, truly do offer the "best of both worlds." Let us show you around, answer your questions and give you a feel of our tight-knit community.
Apply Today
If you're considering applying to Iona, you're not alone! Since 2019, our new-student enrollment is up nearly 30%. Additionally, 99% of our first-year students receive institutional scholarships or grant aid.
Request More Information
Learn more about Iona University today!