Why Marketing?
Marketing explains how companies build and manage relationships with their customers. This includes the study of how consumers make decisions, how companies communicate with the public, and how brands that you see every day in stores are established as meaningful symbols.
Why Study Marketing at Iona?
Our program offers a wide variety of classes that teach important concepts in the field. Our classes focus on a combination of theory and practice in order to prepare you for a successful career in marketing.
You will find a community of like-minded learners in the classroom, and you will have opportunities to participate in various activities outside of the classroom – including internships – which will allow you to put your marketing skills to use in solving real-world challenges.
Our faculty are experts in the field, and they are actively engaged in scholarly research across a variety of topics as well as in consulting on marketing campaigns across many different industries.
What You'll Learn
You will study all areas of marketing, from research and consumer behavior through strategy, branding and sales. You will learn how marketing is an integral part of every company and is used for products and services from soap to sporting events!
You will have opportunities to take marketing courses which focus on specific industries such as fashion and sports, and on issues such as sustainability and globalization, and many more.
Unique Elements of Program
---
Program Highlights
State-of-the-Art Facilities
You will be taking classes in our new state-of-the-art, eco-friendly LaPenta School of Business. An expanded LaPenta-Lynch Trading Floor features Bloomberg Terminals and a live, wrap-around stock ticker which keeps the pulse of business right at your fingertips!
Internships
Our proximity to New York City offers a wide variety of internship opportunities where you can gain invaluable hands-on experience while earning credit toward you degree. Students have landed coveted marketing internships at:
Madison Square Garden
SiriusXM Clear
NBC Universal
ESPN
Glamour Magazine
Michael Kors
Marketing Club
Our student-run Marketing Club hosts activities that enrich and expand upon your classroom experiences. You can explore careers in marketing and network with professionals who serve as guest speakers for industry-related topics!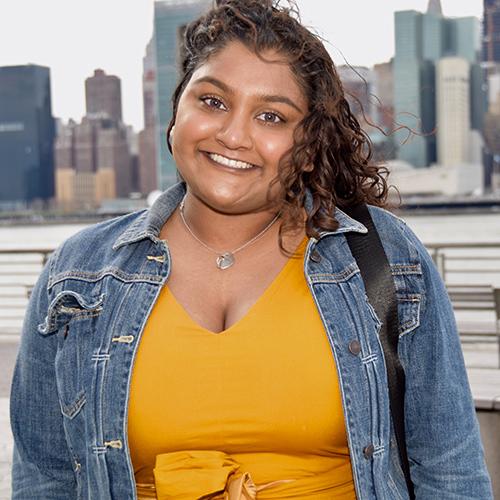 At Iona, I feel like I am constantly achieving my full potential. I chose Marketing because it challenged me, and through the Hynes Institute, I have found my new passion. Iona has enabled me to step out of my comfort zone and get involved.
Riana Khan '22
Read More About Riana
Careers & Outcomes
Apply your creativity and business skills to help develop winning marketing strategies that lead any company, small or large, to success. 
Job Titles
Brand Ambassador
Digital Marketing Manager
Marketing Coordinator
Sales and Marketing Associate
Social Media Marketing Director
Our Graduates Have Worked At: