Why Marketing?
Throughout your Bachelor of Business Administration in Marketing (BBA) degree, you will explore how companies build and manage relationships with their customers through marketing tactics. You will study how consumers make decisions, how companies communicate with the public and how brands that you see every day in stores are established as meaningful symbols. Nearly every industry utilizes marketing in some capacity, so a marketing-focused BBA degree can open many doors.
Why Study Marketing at Iona?
At Iona University, our BBA in Marketing offers a wide variety of classes that teach important marketing concepts while also providing a strong business core through our LaPenta School of Business. Our faculty are experts in the field, and they are actively engaged in consumer research in a variety of topics as well as consulting on marketing campaigns across different industries. They freely share that knowledge with their students through fieldwork-based courses, mentorship and student research opportunities.
Iona's Marketing (BBA) degree is accredited by the Association to Advance Collegiate Schools of Business (AACSB), an internationally recognized designation awarded to less than five percent of business schools, signifying our commitment to high-quality business education.
Through Iona's Marketing major, you will expand your skills with opportunities for career-building activities–including internships–that allow you to tackle real-world challenges in branding, messaging and marketing research. Additionally, you are also able to take advantage of the programs and resources offered by Iona's Hynes Institute for Entrepreneurship & Innovation, which explore the integration of business, design and technology.
What You'll Learn
Within your BBA in Marketing degree, you will study all areas of the field, from research and consumer behavior to strategy, branding and sales. You will learn how marketing is an integral part of every company and is used for products and services from soap to sporting events!
Our marketing classes focus on a combination of theory and practice in order to prepare you for a successful career working in this consumer-focused area of business. Exploring both the data-driven and creative aspects of marketing will offer you a well-rounded perspective of this continually innovating field. With our small class sizes, you will find a community of like-minded learners in the classroom who share your passion for marketing and business.
As a Marketing major, you will have opportunities to take a variety of elective marketing courses which focus on specific industries such as fashion and sports and on issues such as sustainability and globalization.
Marketing Minor at Iona
---
Marketing Program Highlights
State-of-the-Art Facilities
You will be taking classes in our new state-of-the-art, eco-friendly LaPenta School of Business; this central hub unites the business departments under one roof and offers collaborative spaces for students to connect with faculty and fellow business students. One exciting feature of our space is the LaPenta-Lynch Trading Floor featuring Bloomberg Terminals and a live, wrap-around stock ticker.
Marketing Internships
Iona's close proximity to New York City offers a wide variety of internship opportunities where you can gain invaluable hands-on experience while earning credit toward your BBA in Marketing degree. Marketing students have landed coveted internships at:
Madison Square Garden
SiriusXM Clear
NBC Universal
ESPN
Glamour Magazine
Michael Kors
Marketing Club
Our student-run Marketing Club hosts activities that enrich and expand upon your classroom experiences. You can explore careers in marketing and network with professionals who serve as guest speakers for industry-related topics!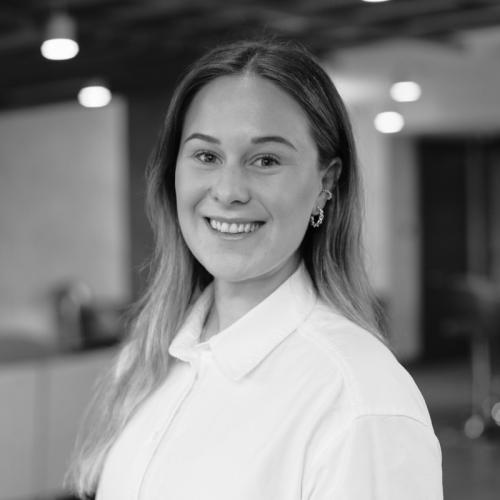 I chose to attend Iona due to its reputation of being a highly accredited business school. Iona also has a strong connection with its alumni who are willing to help current students in their career preparation.
Julia Lidnert '23, Marketing
Read more about Julia
Marketing Careers & Outcomes
After earning your Bachelor of Business Administration in Marketing, you will be fully prepared to apply your creativity and business skills to help develop winning marketing strategies that can lead any company, small or large, to success. A BBA degree in marketing also offers a comprehensive background in business that can lead you anywhere in the professional world.
Marketing Job Titles
Brand Ambassador
Digital Marketing Manager
Marketing Coordinator
Sales and Marketing Associate
Social Media Marketing Director
Our Graduates Have Worked At:









Learn more about Iona's BBA in Marketing program!
A Bachelor of Business Administration in Marketing combines fundamental business and creative skills that will prepare you for an exciting career in marketing.
Request information about pursuing the Marketing major at Iona or apply now.
Visit campus and tour our new state-of-the-art, eco-friendly LaPenta School of Business.
Find Out what an Iona Education Can Do For You
Visit Campus
Our scenic campuses, located just 20 miles from midtown Manhattan, truly do offer the "best of both worlds." Let us show you around, answer your questions and give you a feel of our tight-knit community.
Apply Today
If you're considering applying to Iona, you're not alone! Since 2019, our new-student enrollment is up nearly 30%. Additionally, 99% of our first-year students receive institutional scholarships or grant aid.
Request More Information
Learn more about Iona University today!