Award-winning CBS Executive, Jo Ann Ross, Shares Career Advice With Iona Students
Students, faculty and staff packed the room to hear Jo Ann Ross, president and chief advertising revenue officer for ViacomCBS Domestic Advertising Sales, talk about her career and how she has become one of the advertising industry's best-known executives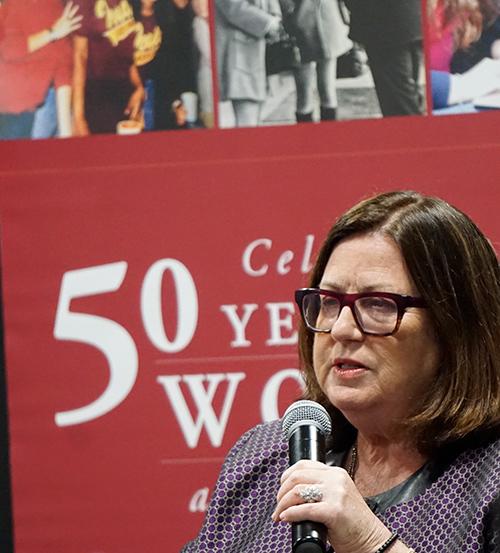 NEW ROCHELLE, N.Y. - Students, faculty and staff packed the room in the Robert V. LaPenta Student Union at Iona College to hear Jo Ann Ross, president and chief advertising revenue officer for ViacomCBS Domestic Advertising Sales, talk about her career and how she rose to become one of the advertising industry's best-known executives.
Hosted by Martin Daly '74, former senior vice president and director of News and Late-Night Sales for the CBS Television Network and now serving as executive-in-residence at Iona College, the event brought Ross and two other CBS executives, Colleen Gennett '11, an alumna who played volleyball at Iona and now is a CBS Network sales account executive; and Kelli Raftery, executive vice president, Communications, CBS Corporation, together to share their expertise.
Using humor to recount her rise through the ranks in what was a male-dominated industry, Ross spoke about her willingness to take detours in her career and to be open to taking on new roles and responsibilities, the excitement of being hired to sell advertising for the Olympic Games and to travel in that role to Norway in 1994 and Japan in 1998.
"Listening to Jo Ann Ross taught me how our paths may not always veer in the direction we expect. It is important to embrace change because it will lead us exactly where we are meant to be," commented Amarra Ziemba '20, an Iona College marketing major.
As a well-respected leader in the industry, Ross has been honored numerous times, including being named in Multichannel News' Wonder Women Class of 2019; The Hollywood Reporter's "100 Most Powerful Women in Entertainment;" one of the power women in Variety's 2018 Women's Impact Report; and Women in Sports and Entertainment "Woman of the Year" in 2005, among other honors.
During a Q&A, Ross remarked on how insightful and intelligent the Iona students' questions were. When asked how one goes about gaining the respect of peers, she advised, "Listen. Learn what you can from your peers, and if you have something to contribute, make your voice heard." She also recommended that students "get your foot in the door wherever you can. Be willing to take chances." She reminded students that she was a political science major in college and could never have predicted where she would be today.
"To be able to hear Jo Ann Ross' story of how she started at CBS at a time when there weren't many women in the industry and how she rose to her position as president and chief advertising revenue officer of ViacomCBS, inspires me as I start to look for my first job post-graduation. As a woman entering the field of media, Jo Ann inspired me to be confident in myself and take a chance and get my foot in the door," said Alison Robles '20, editor-in-chief of the Ionian, and a marketing and public relations major.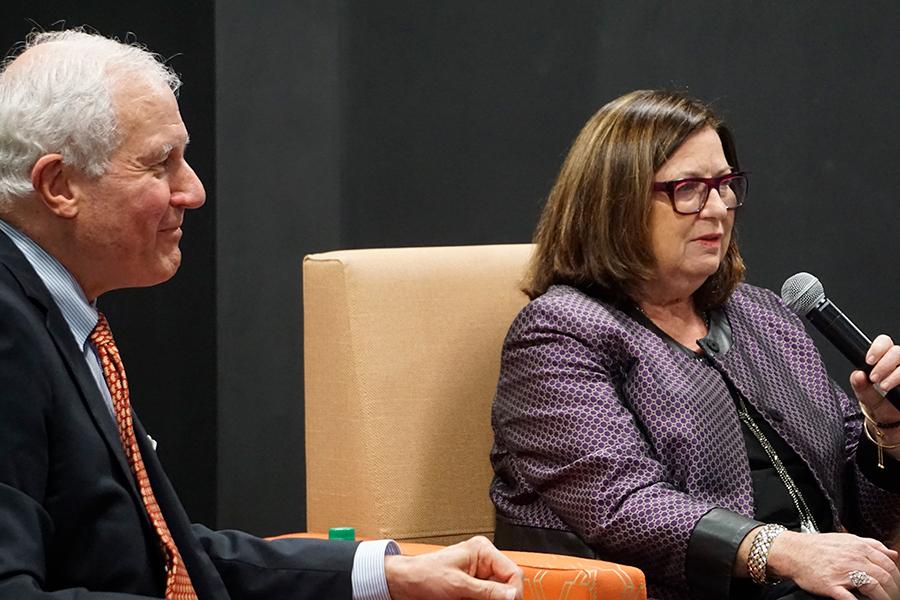 ABOUT IONA
Founded in 1940, Iona College is a master's-granting private, Catholic, coeducational institution of learning in the tradition of the Edmund Rice Christian Brothers. Iona's 45-acre campus is just 20 miles north of Midtown Manhattan. With a total enrollment of nearly 4,000 students and an alumni base of over 50,000 around the world, Iona is a diverse community of learners and scholars dedicated to academic excellence and the values of justice, peace and service. Iona is highly accredited, offering undergraduate degrees in liberal arts, science, and business administration, as well as Master of Arts, Master of Science and Master of Business Administration degrees and numerous advanced certificate programs. Iona's LaPenta School of Business is accredited by AACSB International, a prestigious recognition awarded to just five percent of business schools worldwide. The Princeton Review recognized Iona's on-campus MBA program as a "Best Business School for 2020." Iona College also recently launched a new, fully online MBA program for even greater flexibility.