As COVID-19 Closed Schools, Iona College Educators Thought Beyond the Campus to Support Local Schools, Families Online
Iona College's free, online tutoring program was recently featured on NBC Channel 4.

NEW ROCHELLE, N.Y. — As COVID-19 forced schools to close, Iona College's Education Department was quick not only to bring its own curriculum online, but also to look beyond the campus and see a greater need – supporting the community's K-12 students.
Emblematic of the College's mission of service, faculty engaged undergraduate Education majors to help support elementary students and ease the homeschooling burden for parents by offering free, online tutoring and literacy lessons. Originally piloted in partnership with two Eastchester schools, the Iona College Tutors Online program this week launched more broadly to the public and was the subject of a "Lesson in Giving" feature on NBC Channel 4.
At the same time, seniors and graduate students who normally would do their student teaching in an actual classroom have risen to the occasion and successfully shifted to online platforms as they plan and teach their classes remotely.
"Our continuous efforts, even prior to this pandemic, to foster and maintain personal relationships with the local schools and their teacher and student populations, has really made all of this possible," said Malissa Scheuring Leipold, Ed.D., chair of the Education Department. "In addition, we try to carry on the original mission of Iona's founders, the Christian Brothers – to educate those in most need. How fitting in this time! As an Education Department we are all really committed to this and work closely together to make this happen."
Twenty sophomores kicked off the online tutoring effort by working with 11 students in small, grade-level groups from two Eastchester elementary schools: Waverly (grades K-1) and Greendale (grades 2-5). Amanda Howerton-Fox, Ph.D., assistant professor, said the goal of these pairings is threefold: First, to help Iona students gain the practical skills they need to improve as teachers; second, to engage K-12 students in meaningful literacy experiences; and lastly, to relieve some of the burden of homeschooling that many parents are experiencing.
Meanwhile, 22 seniors are doing their online student teaching with seven local schools including Ward Elementary, New Rochelle High School, and Salesian High School in New Rochelle; St. Francis Xavier Universal Pre-K and Preston High School in the Bronx; Colonial Elementary in Pelham; and Sacred Heart High School in Yonkers.
Ellen Small, director of Student Teaching at Iona College, said that the student teachers were able to immediately transition to a virtual learning environment with the support of their classroom teachers, school administrators, parents, children, and college supervisors.
"The willingness of our 'village' to impart mutual support demonstrates the importance of fostering community relationships," said Small, a 45-year educator. "I recently read that success is based on your ability to be flexible, to adapt and to be able to pivot when faced with a challenge. The 22 student teachers have done just this. I could not be prouder of them. As the famous mathematician Peter Hilton said: Adaptation to change is itself a hallmark of a successful education."
Iona student teacher Maria Kalten'20MSEd said everyone's support allowed her to be more directly involved, and to know that the work being created was developmentally appropriate. "Once we had goals to work towards, the priority became providing curriculum to students in a way that was engaging and interactive," she said. "This experience made us feel empowered, in that we were deepening our skills as upcoming teachers and that students as well as teachers were seeing us as part of the education team."
Looking to expand its impact, the Iona College Tutors Online program launched this week to provide free, online tutoring for any students in grades 2 through 12. Developed between the Education Department and the Office of Mission and Ministry, online tutoring is available from 4-4:30 p.m., Monday through Friday. Parents can sign up via www.iona.edu/onlinetutoring for online, drop-in tutoring with Iona College volunteers.
Mark Kessler, an Eastchester parent of a kindergartner and 5th grader who are being tutored remotely, said: "These online classes have been great for the kids, especially my kindergartner who really needs some group learning right now. It's awesome that they're jumping in, just when we all need some help. Plus, it adds a touch of normalcy."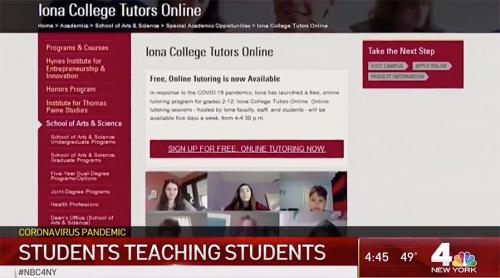 Juliana Barbieri'22, an Iona sophomore involved in the literacy tutoring, said: "I had never had any experience in distance learning until the coronavirus outbreak. It feels amazing to give back to the Westchester community, as we've been hit pretty hard with this pandemic. And getting positive feedback from parents was very reassuring, especially during times like this when there can be an overload of stress on parents/guardians."
ABOUT IONA
Founded in 1940, Iona College is a master's-granting private, Catholic, coeducational institution of learning in the tradition of the Edmund Rice Christian Brothers. Iona's 45-acre campus is just 20 miles north of Midtown Manhattan. With a total enrollment of nearly 4,000 students and an alumni base of over 50,000 around the world, Iona is a diverse community of learners and scholars dedicated to academic excellence and the values of justice, peace and service. Iona is highly accredited, offering undergraduate degrees in liberal arts, science, and business administration, as well as Master of Arts, Master of Science and Master of Business Administration degrees and numerous advanced certificate programs. Iona's LaPenta School of Business is accredited by AACSB International, a prestigious recognition awarded to just five percent of business schools worldwide. The Princeton Review recognized Iona's on-campus MBA program as a "Best Business School for 2021." Iona College also recently launched a new, fully online MBA program for even greater flexibility.