Crisis in America's Juvenile Justice System: Iona College Explores Solutions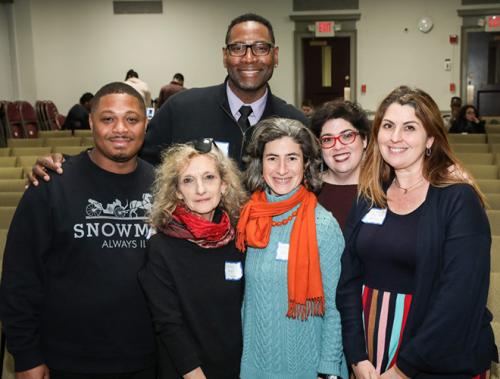 NEW ROCHELLE, N.Y. – Tackling the complex crisis facing America's juvenile detention system, Iona College recently welcomed filmmaker Victoria Mills for a screening of her acclaimed documentary, "Like Any Other Kid," followed by a panel discussion in front of a packed auditorium of students and advocates.  
"Rife with violence and proven to be ineffective, many of America's juvenile prisons are failing today's young people," said Dr. Cathryn Lavery, assistant chair of Iona College's highly regarded Department of Criminal Justice and Sociology, which presented the event. "Most depend on punishment, restraint and possibly even pepper spray, to treat children. For youth who have already faced unimaginable trauma, compounding that with punishment fosters mistrust and a sense of hopelessness. It is imperative that we offer positive solutions that will improve outcomes for our most vulnerable youth."   
According to the ACLU, nearly 60,000 youth under the age of 18 are incarcerated in juvenile jails and prisons in the United States.
"Like Any Other Kid" follows the intimate relationships that exist between incarcerated youth and staff in three secure facilities across the country. In particular, the facilities utilize the "Missouri Approach," which emphasizes love, structure and limits instead of punishment, and thereby teaches youth how to take responsibility for themselves and their future. It has proven to be an extremely successful model.
Moderated by Iona College faculty members Dr. Cathryn Lavery and Dr. Kimberly Spanjol, the panel discussion represented a broad range of experts, including:
Victoria Mills, director of the documentary "Like Any Other Kid" and a practicing psychoanalyst
Kimara S. Dawson, a juvenile justice trainer and a coordinator for the Mobile Crisis Team, a division of the Comprehensive Psychiatric Emergency Program (CPEP) at Jamaica Hospital Medical Center
Henry LeBeuf, Sr., founder of TGA's Independent Living, which helps individuals with temporary housing in Baton Rouge, La.
Liz Keller, founder of Glen Wild Animal Rescue, Rescue Dogs Rescue Soldiers and other pet therapy programs for incarcerated youth and adults
For more information, please contact Dr. Cathryn Lavery at CLavery@iona.edu or Dr. Kimberly Spanjol at kspanjol@iona.edu.
ABOUT IONA
Founded in 1940, Iona College is a master's-granting private, Catholic, coeducational institution of learning in the tradition of the Edmund Rice Christian Brothers. Iona's 45-acre campus is just 20 miles north of Midtown Manhattan. With a total enrollment of nearly 4,000 students and an alumni base of over 45,000 around the world, Iona is a diverse community of learners and scholars dedicated to academic excellence and the values of justice, peace and service. Iona is highly accredited, offering undergraduate degrees in liberal arts, science, and business administration, as well as Master of Arts, Master of Science and Master of Business Administration degrees and numerous advanced certificate programs. Iona's LaPenta School of Business is accredited by AACSB International, a prestigious recognition awarded to just five percent of business schools worldwide. The Princeton Review recognized Iona's on-campus MBA program as a "Best Business School for 2020." Iona College also recently launched a new, fully online MBA program for even greater flexibility.