Honoring Women: Iona College Kicked Off a '50 Years of Women at Iona' Celebration With Tours and a Reception on September 21
Events are part of a yearlong, campus-wide affirmation of the important role women play in all aspects of campus life and learning.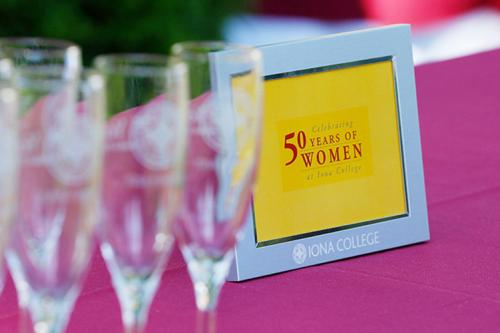 NEW ROCHELLE, N.Y. – Today most colleges and universities are coeducational. But it wasn't always that way. Happily, fifty years ago this fall, Iona College began welcoming female students into the full-time student body. The historic moment in 1969 triggered a sweeping change at the traditionally male institution. To commemorate "50 years of Women at Iona," the College has embarked on a yearlong celebration, beginning in September 2019 and culminating in May 2020.
"It's wonderful to celebrate the contributions and accomplishments of Iona alumnae who are an essential part of our institution's history," said President Seamus Carey. "Iona alumnae are a distinguished group of women who are making an impact in many different ways. We look forward to connecting with them and getting to know each of their stories."
Iona hosted a kick-off celebration of "50 Years of Women at Iona" on September 21 at 3 p.m. The day featured campus tours highlighting changes that have occurred over the years and A Walk Down Memory Lane reception took place at 4 p.m. where alumni met new president, Seamus Carey, Ph.D., and his wife, Noreen, along with current female students from diverse clubs and organizations.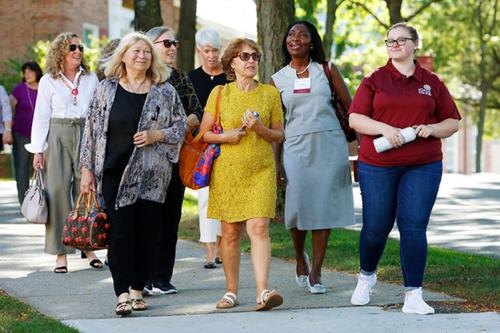 "Celebrating 50 years of women at Iona provides a wonderful opportunity to bring together generations of Iona women to acknowledge how far we've come, while also recognizing how much more we can accomplish together. There are so many Iona alumnae with incredible expertise, wisdom and perspectives that current and future Gaels will benefit from, and I am excited about opportunities to help us increase the engagement of Iona's alumnae in the life of Iona today," said Kathi Hurlie '77, '80MBA.
The kick-off event featured a wine tasting with Vintage Wine Estates and Anne Marie Harrison '80, and food stations featuring favorite blasts from the past. Special recognition was given to Iona's trailblazer alumnae from the classes of 1973-1978.
Iona trailblazer keynote speaker Rita Mabli '74, '76MBA noted, "Attending Iona was life-changing for me. I attribute much of the skills and opportunities I've had to the education I received at Iona. I am thrilled to pay that forward and provide career opportunities to fellow Gaels who share an Iona history. As a proud alumna I am delighted to be in the company of such a dynamic group of powerful, diverse, and inspiring women."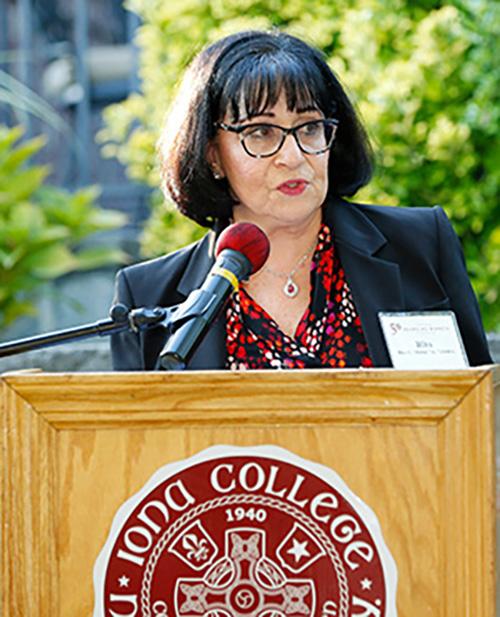 The "50 Years of Women at Iona" celebration includes lectures, exhibitions, and special events hosted by the LaPenta School of Business, the School of Arts & Science and various campus organizations. Programs will highlight women and their contributions to the College and the larger society.
A calendar with event listings is currently being developed. The alumni office is available for any questions, information or ideas at alumni@iona.edu.
Everyone is invited to participate by attending special events, visiting the Share A Story page, and providing photos to events@iona.edu.
ABOUT IONA
Founded in 1940, Iona College is a master's-granting private, Catholic, coeducational institution of learning in the tradition of the Edmund Rice Christian Brothers. Iona's 45-acre campus is just 20 miles north of Midtown Manhattan. With a total enrollment of nearly 4,000 students and an alumni base of over 50,000 around the world, Iona is a diverse community of learners and scholars dedicated to academic excellence and the values of justice, peace and service. Iona is highly accredited, offering undergraduate degrees in liberal arts, science, and business administration, as well as Master of Arts, Master of Science and Master of Business Administration degrees and numerous advanced certificate programs. Iona's LaPenta School of Business is accredited by AACSB International, a prestigious recognition awarded to just five percent of business schools worldwide. The Princeton Review recognized Iona's on-campus MBA program as a "Best Business School for 2021." Iona College also recently launched a new, fully online MBA program for even greater flexibility.