Iona College Announces Award-Winning Public Service Lawyer as College's First Chief Operating Officer
Kevin J. Curnin, founding attorney director of the Public Service Project, is renowned for pioneering systems to improve pro bono legal services to underserved communities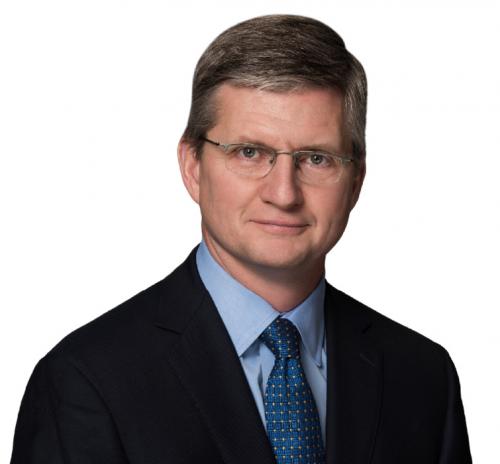 NEW ROCHELLE, N.Y. (May 24, 2021) — Iona College today announced that Kevin J. Curnin, partner at the leading national law firm of Stroock & Stroock & Lavan LLP, will serve as the College's first chief operating officer effective July 1, 2021. An award-winning attorney and sought-after speaker, Curnin is most notably founding attorney director of the Public Service Project, which provides a broad array of pro bono legal assistance and is the cornerstone of Stroock's longtime commitment to serving the public interest.
"It is an honor and a privilege to welcome Kevin Curnin to Iona College," said Iona President Seamus Carey, Ph.D. "His keen intellect, proven experience and shared commitment to service, justice and opportunity will help to elevate the Iona experience. Especially as we prepare to expand with the acquisition of the Concordia College campus, Mr. Curnin's leadership and experience building efficient, sustained service delivery systems will be critical factors in Iona's success."
The Public Service Project, which Curnin pioneered in 2001, offers a multidisciplinary approach to delivering legal services, concentrating on underserved and under-resourced communities. It is also a national leader in providing critical pro bono legal services in response to national disasters, including after 9/11, Hurricane Katrina, Superstorm Sandy and currently during the COVID-19 pandemic.
In this new role at Iona, Curnin will oversee operations in Human Resources, Facilities, Legal Services, Title IX, Campus Safety and Athletics. He also will serve as a top adviser to the president, spearheading key strategic initiatives.
"I can't think of a better workplace than one in which each member of the community has an opportunity to contribute and excel, and the community in turn welcomes and elevates authentic effort and diverse talent," Curnin said. "At this critical juncture in its history, Iona has managed the small miracle of proving its passion for community during a pandemic, and is now emerging the stronger for it. I am grateful to become a part of the Iona community."
Curnin and the Public Service Project have won dozens of awards, including from the American Bar Association and the National Legal Aid & Defender Association. Most recently, Curnin was awarded the New York State Bar Association's 2021 President's Pro Bono Service Award for providing pro bono legal services to some of New York State's most disadvantaged individuals and small businesses, particularly for founding and leading the Small Business Legal Relief Alliance, which has helped over 650 small businesses deal with the impact of the COVID-19 pandemic.
Curnin was one of the first and remains one of only a handful of pro bono counsel at the partner level. During his tenure at Stroock, Curnin has mentored hundreds of attorneys both inside and outside of the firm, ranging from specific representations in, for example, education equity, prisoner rights and immigration to systemic social justice issues and holistic professional development. He has been a core member of the firm's Diversity & Inclusion Council for 15 years and has written frequently about law and justice.
"The role of chief operating officer is brand-new at Iona, giving us some creative freedom in defining and filling the position. We ultimately chose someone with the vision and commitment to help build, from the ground up, an organization dedicated to the public good and lead it to acclaim, who has directed complex projects nationwide, and who has mentored and advanced a diverse range of gifted people," said Patrick Dunican Jr., Esq., '88, chair of the Iona Board of Trustees. "In addition, Mr. Curnin's distinguished background and renowned dedication are indicative of the caliber of talent Iona seeks to attract at every level — student, staff, faculty, and administration."
Curnin sits on the Advisory Board for the Feerick Center for Social Justice at Fordham Law School and on the Board of Directors for the Touch Foundation, an organization dedicated to saving lives and strengthening local health systems in sub-Saharan Africa. He is also active with organizations as varied as New York Lawyers for the Public Interest, Lawyers Alliance of New York, Lawyers Committee for Civil Rights, Human Rights First and Immigration Equity, among many others.
A native of Larchmont, Curnin graduated from Dartmouth College with a BA in English, earned an MA in Irish Literature from University College Dublin, and earned a JD from Fordham University School of Law. He and his wife, Annemarie, CNM and a DNP-MPH candidate at Johns Hopkins University, have three children.
ABOUT IONA
Founded in 1940, Iona College is a master's-granting private, Catholic, coeducational institution of learning in the tradition of the Edmund Rice Christian Brothers. Iona's 45-acre campus is just 20 miles north of Midtown Manhattan. With a total enrollment of nearly 4,000 students and an alumni base of over 50,000 around the world, Iona is a diverse community of learners and scholars dedicated to academic excellence and the values of justice, peace and service. Iona is highly accredited, offering undergraduate degrees in liberal arts, science, and business administration, as well as Master of Arts, Master of Science and Master of Business Administration degrees and numerous advanced certificate programs. Iona's LaPenta School of Business is accredited by AACSB International, a prestigious recognition awarded to just five percent of business schools worldwide. The Princeton Review recognized Iona's on-campus MBA program as a "Best Business School for 2021." Iona College also recently launched a new, fully online MBA program for even greater flexibility.