Iona College Creates Virtual Commencement Ceremony to Honor Graduates in the Age of COVID-19
Class of 2020 makes history as Iona's 76th annual Commencement ceremony was forced to go virtual.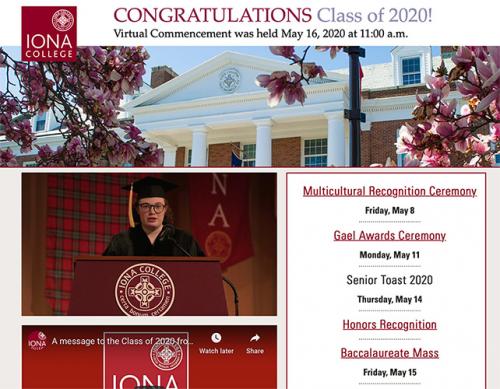 NEW ROCHELLE, N.Y.— It was a Commencement ceremony no one will soon – or ever – forget. As COVID-19 forced the Class of 2020 to socially distance, cherished events and pivotal milestones such as Commencement were forced to go online. But that did not stop the Iona College community from coming together to experience these special moments with their loved ones from home. In fact, many say, the shift stretched and strengthened the College's foundational mission of service, creativity and adaptability, as all united to celebrate a remarkable class in remarkable new ways.
From the Baccalaureate Mass to the Alumni Association Senior Toast; from the Student Leader Gael Awards to the Honors Recognition and Multicultural Ceremony – Iona students, families, faculty, staff and alumni joined in spirit over the past week to honor the Class of 2020.
The culminating event took place on Saturday, May 16, when Iona College held its 76th annual Commencement ceremony, virtually. In addition to producing and streaming a high-end video production on the College's custom Commencement website, the broadcast was also televised free of charge to the College, complements of Altice/Optimum, with just under 10,000 unique viewers watching throughout Westchester, Long Island, Rockland, New Jersey and Fairfield County, Conn.
Although confronted with limitations, Iona aimed to preserve as much of the traditional pomp and circumstance as was possible. This included a performance by the Iona College Pipe Band, the National Anthem sung by Oliva Berry '22, the alma mater sung by Allyson Kuppelmeyer '20, and an invocation from Fr. Gerard Mulvey.
Darrell P. Wheeler, Ph.D., MPH, ACSW, provost and senior vice president for Academic Affairs, served as Master of Ceremonies as the College conferred undergraduate and graduate degrees as well as awards and other distinctions. As each name was read, a personalized slide with the graduate's photo and a congratulatory message appeared on the screen. At home, meanwhile, graduates shared photos of themselves on social media wearing caps, gowns and regalia as they posed with family members on a proud, even if unexpected, day.
Maria Bartiromo, anchor and global markets editor, FOX Business Network – FOX News Channel, delivered the keynote address. Acknowledging that graduates are launching into the next era of their lives during a very difficult time, she remained optimistic. 
"You are truly living through history… There is so much need and opportunity in the world today to be a force for good. We will get through this," she said. "Work hard. There are no shortcuts. Find your passion. Love what you do. And always do the right thing – always."
For her outstanding achievements as a trailblazer for women in journalism, and for her deep dedication to truth in reporting, Iona College conferred upon Bartiromo the degree of Doctor of Humane Letters, Honoris Causa.
Iona College President Seamus Carey, Ph.D., started by sharing a quote by literary critic Hugh Kenner, which he called a "useful reminder in many different situations."
"He wrote: 'What you are taking for granted is always more important than whatever you have your mind fixed on,'" said Carey. "A new reality has forced us to look more deeply into who we are as individuals and as a community… This new reality may help you see, in a new light, how and why your Iona education is so valuable. Because of it, you don't just have a career path, but underlying skills, knowledge and values – things you may have been taking for granted – that will enable you to see the world differently and adapt to it.
"At this moment of uncertainty, as you're leaving and we reluctantly let go, I suggest you pay attention to what you can see with all the skills you have learned. But also, take the time to pay attention to all the things you typically don't see, all the things you take for granted. More than occasionally, walk away from your screens and look up in awe at the vast, wondrously strange universe you occupy," Carey continued. "Iona has prepared you to live a full life. We look forward to witnessing the many ways that you will carry forward the Iona legacy by fighting the good fight. We look forward to the world built on your love."
Hannah McGowan '20, president of the Student Government Association, delivered the welcoming remarks on behalf of the undergraduate class, saying: "Our college journey started…at our freshman orientation, when we were told the world is run by the people that show up. Little did we know that we'd show up and have to go home. As students, we have shown up and shaped the vision of our College's future. We have rolled with the punches and been able to transition in the face of uncontrollable change. Of course, this isn't how we pictured our college graduation; the world is asking us to show up in a different way… We can show up by living out Iona's mission, continuing to show our passion for service, dedicating ourselves to our community, and choosing to remember our fondest college memories. I'm honored to be part of this class that will move the world by showing up."
On behalf of graduate students, Jarlyne Batista Monzon '20MBA, community manager of the Hynes Institute for Entrepreneurship & Innovation, said: "Times like these remind me that I made the right decision to study and practice entrepreneurship since being an undergrad. Entrepreneurship reminds us to not look at problems as obstacles, but as opportunities to innovate and reimagine our ever changing world. Although it is bittersweet to be having graduation this way, nothing can take away our hard work."
Dimitris A. Halaris, associate vice provost for Information Technology at Iona College, thanked Altice/Optimum for generously broadcasting the Commencement free of charge, saying it was an important component in helping to ensure access, accessibility and social distancing.
"The convenience of the television broadcast enhanced the comfort and emotional benefits for our graduates while providing broader access for family members who may not have had the Internet at home. It also supported the safety aspect of social distancing," Halaris said. "At the same time, the broadcast offered an added benefit of being able to record the special event to a DVR. It was a wonderful addition, and we are so grateful for the partnership."
A tentative date of Saturday, Oct. 17, 2020, has been reserved to honor the Class of 2020 with an in-person ceremony on Iona's campus, circumstances permitting.
To view the virtual Commencement ceremony and other events, please visit graduation.iona.edu. For a full list of graduates, honors and awards, please see the Iona College Commencement 2020 Program.
ABOUT IONA
Founded in 1940, Iona University is a master's-granting private, Catholic, coeducational institution of learning in the tradition of the Edmund Rice Christian Brothers. Iona's 45-acre New Rochelle campus and 28-acre Bronxville campus are just 20 miles north of Midtown Manhattan. With a total enrollment of nearly 4,000 students and an alumni base of more than 50,000 around the world, Iona is a diverse community of learners and scholars dedicated to academic excellence and the values of justice, peace and service. Iona is highly accredited, offering undergraduate degrees in liberal arts, science and business administration, as well as Master of Arts, Master of Science and Master of Business Administration degrees and numerous advanced certificate programs. Iona students enjoy small class sizes, engaged professors and a wide array of academic programs across the School of Arts & Science; LaPenta School of Business; NewYork-Presbyterian Iona School of Health Sciences; and Hynes Institute for Entrepreneurship & Innovation. Iona is widely recognized in prestigious rankings, including The Princeton Review's 2024 national list of "The Best 389 Colleges" and The Wall Street Journal/College Pulse's "2024 Best Colleges in America," which ranked Iona at #66 in the nation overall and #8 in the nation among Catholic schools. Iona's LaPenta School of Business is also accredited by AACSB International, a recognition awarded to just five percent of business schools worldwide. In addition, The Princeton Review recognized Iona's on-campus MBA program as a "Best Business School for 2023." Iona also offers a fully online MBA program for even greater flexibility. In July 2021, Iona announced the establishment of the NewYork-Presbyterian Iona School of Health Sciences, which is now principally located on Iona's Bronxville campus in collaboration with NewYork-Presbyterian. Connecting to its Irish heritage, the University also recently announced it is expanding abroad with a new campus in County Mayo, Ireland. A school on the rise, Iona officially changed its status from College to University on July 1, 2022, reflecting the growth of its academic programs and the prestige of an Iona education.