Iona College Surprises Graduate Students with $10,000 Stipends
Up to 112 students could receive a $10,000 check in their final year thanks to a $1.9 million federal grant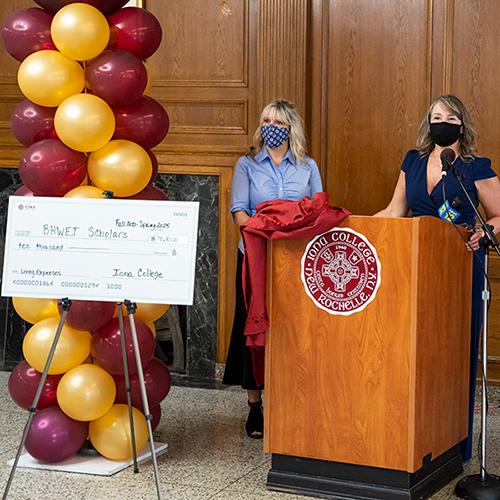 NEW ROCHELLE, N.Y. —Iona College officials surprised graduate students with $10,000 stipends for pursuing degrees in Marriage and Family Therapy (MFT) or School Psychology.
The stipends are part of a new, four-year, $1.9 million Behavioral Health Workforce Education & Training (BHWET) grant from the federal Human Resources Service Administration.
On their first day back, Iona awarded 24 stipends to current third-year MFT and School Psychology students. Ultimately, up to 112 Iona students could receive the $10,000 checks in their final year if they stay on track within their respective programs.
"We are thrilled to be sharing this good news with our graduate students as they return to campus," said Jeanne Matich-Maroney, Ph.D., LCSW-R, BHWET project director and director of interprofessional education. "This new grant will provide an opportunity for us to further enrich our MFT and School Psychology curricula, forge new community partnerships, and prepare future behavioral health professionals for interprofessional, collaborative practice with underserved communities. Our approach will be both trauma-informed and culturally sustaining, while also offering students financial support in their final year of study. Seeing their reactions is something I'll never forget."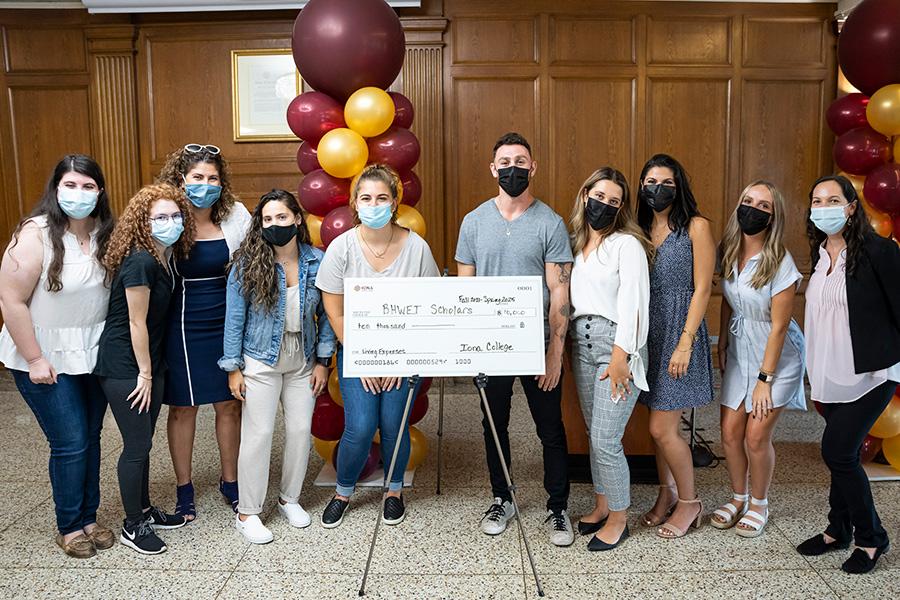 According to the U.S. Bureau of Labor Statistics (BLS), employment of marriage and family therapists is projected to grow 22 percent from 2019 to 2029, much faster than the average for all occupations. The BLS expects this growth due to an increasing use of teams for treatment, in which therapists work with other counselors to address patients' needs. Also according to the BLS, New York is the second highest employer of school psychologists in the nation, with a mean annual wage of nearly $90,000.
Iona won the grant to focus on building interprofessional, collaborative practice competency particularly within integrated care (health/mental health) settings, and bilingual service delivery capacity within underserved communities. Graduate students will receive the stipends in two disbursements – one early in the fall semester and one at the beginning of the spring semester. The money must be used for students' living expenses while completing their degrees.
"With the pandemic that just happened, we've all struggled – especially financially – so this will be such a weight lifted off all our shoulders," said School Psychology graduate student Mackenzie Boyle '23MA. "We're beyond blessed to have such an amazing staff who dedicate their time to creating opportunities for us like this. That's actually why I picked Iona, because I heard that the professors were so amazing."
The government's goal with the grant is to increase and improve the behavioral health workforce, thereby increasing access to behavioral health services. A special focus is placed on the knowledge and understanding of children, adolescents, and transitional-aged youth at risk for behavioral health disorders.
"I wanted to go into psychology because I've seen the detrimental effects of negative mental health stereotypes on young children and how that can go on to affect their education," said School Psychology graduate student Emily Lorber '23MA. "We're expected to work 40 hours per week in order to accomplish our goals, and without having a job on the side, this is definitely going to relieve my stress."
Iona's Marriage and Family Therapy program is one of only four programs in New York State accredited by the Commission on Accreditation for Marriage and Family Therapy Education. The College's School Psychology program is accredited by the National Association of School Psychologists.
The new grant aligns with the recently announced NewYork-Presbyterian Iona School of Health Sciences, which will be located primarily on the College's new campus in Bronxville. Iona anticipates commencing classes on the Iona Bronxville campus in the fall of 2022. Approximately 25 percent of Iona's 2021 incoming freshman class is expected to pursue health sciences.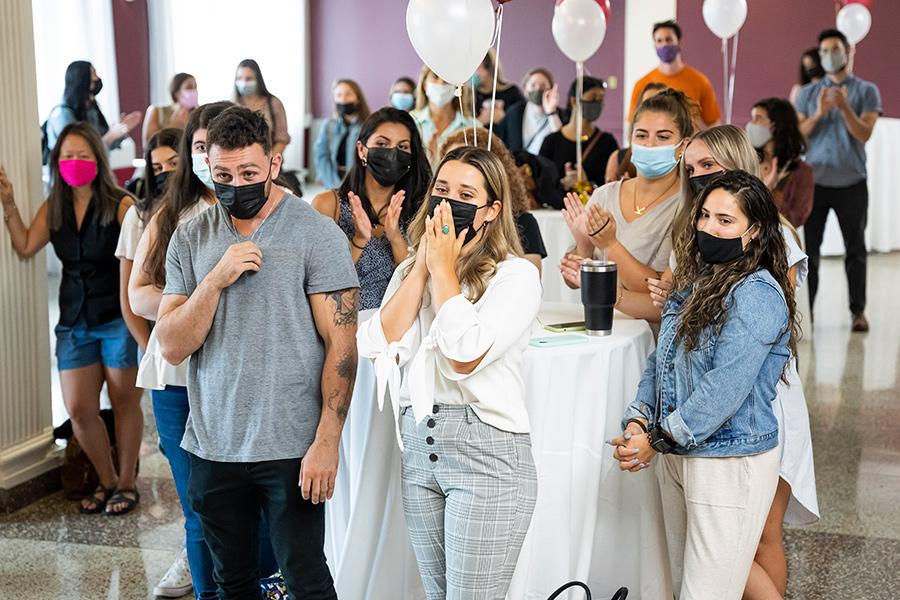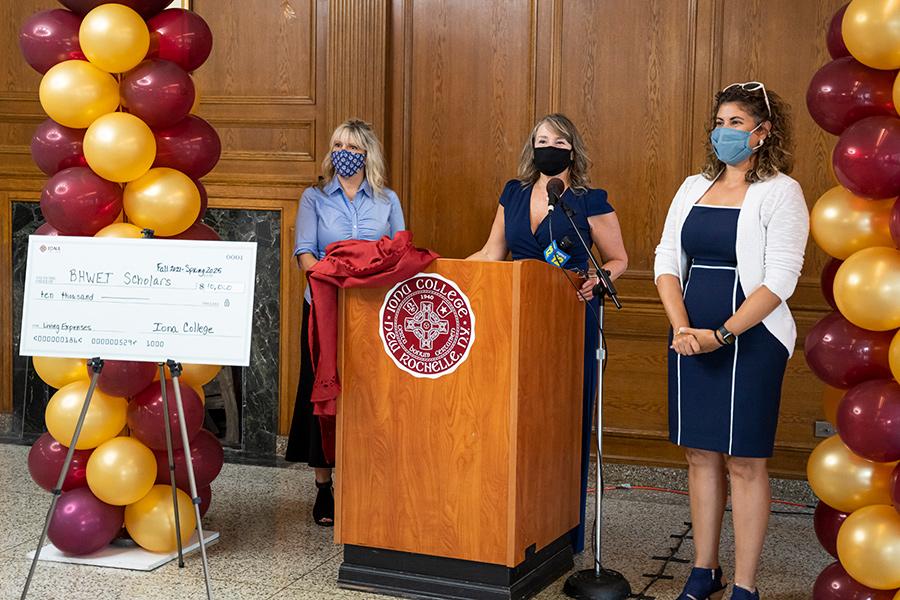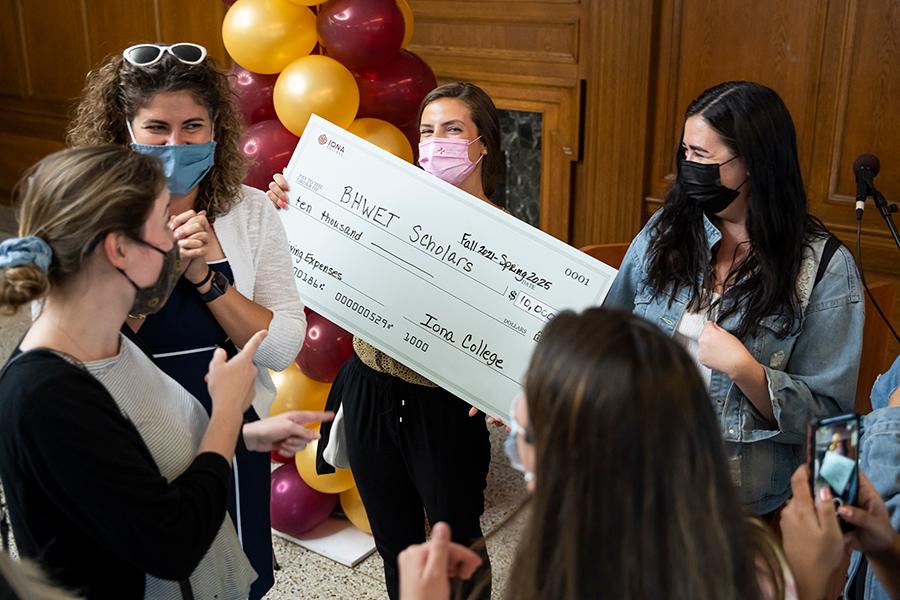 ABOUT IONA
Founded in 1940, Iona University is a master's-granting private, Catholic, coeducational institution of learning in the tradition of the Edmund Rice Christian Brothers. Iona's 45-acre New Rochelle campus and 28-acre Bronxville campus are just 20 miles north of Midtown Manhattan. With a total enrollment of nearly 4,000 students and an alumni base of over 50,000 around the world, Iona is a diverse community of learners and scholars dedicated to academic excellence and the values of justice, peace and service. Iona is highly accredited, offering undergraduate degrees in liberal arts, science, and business administration, as well as Master of Arts, Master of Science and Master of Business Administration degrees and numerous advanced certificate programs. Iona's LaPenta School of Business is accredited by AACSB International, a prestigious recognition awarded to just five percent of business schools worldwide. The Princeton Review recognized Iona's on-campus MBA program as a "Best Business School for 2021." Iona University also recently launched a new, fully online MBA program for even greater flexibility. In July 2021, Iona University and NewYork-Presbyterian announced the establishment of the NewYork-Presbyterian Iona School of Health Sciences, to be principally located on the University's new campus in Bronxville, N.Y. Supported by a $20 million gift from NewYork-Presbyterian, the NewYork-Presbyterian Iona School of Health Sciences offers a new vision for collaborative health care education, modern workforce development, and community care. On July 1, 2022, Iona officially changed its status from College to University, reflecting the growth of its academic programs and the prestige of an Iona education.