Iona Scholars Day Makes In-Person Return, Gains Recognition from City of New Rochelle
Iona College students gathered in person for the first time in three years to present research at Iona Scholars Day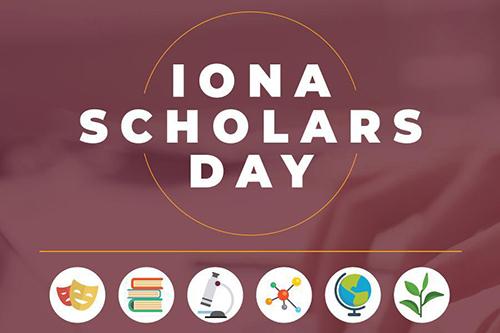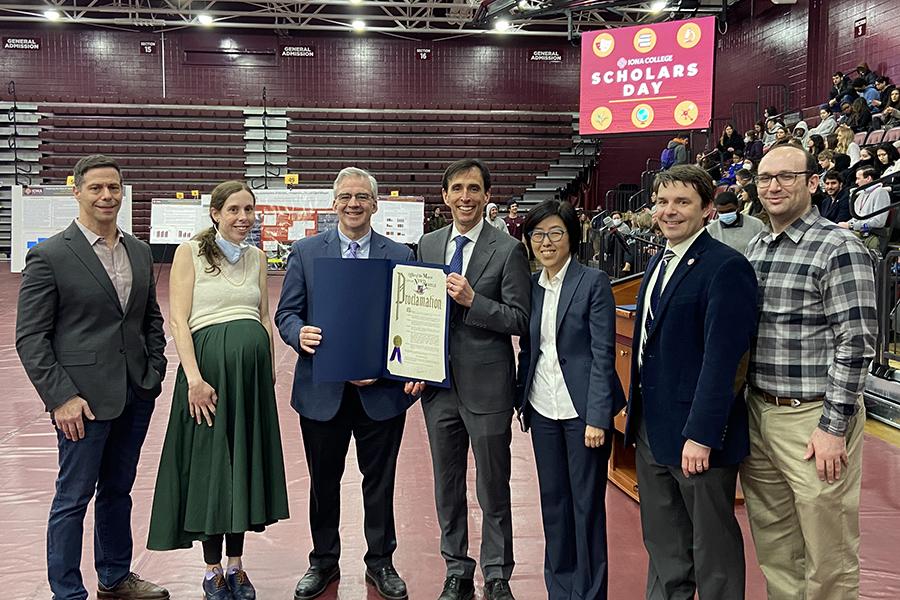 NEW ROCHELLE, N.Y. — April 7 is officially Iona Scholars Day in the City of New Rochelle, proclaimed by Mayor Noam Bramson during the College's 13th annual event. Returning to its signature in-person format, Iona Scholars Day celebrated the scholarship and creative activities performed by over 200 students from more than 20 academic majors. Participating students showcased faculty-mentored work through oral presentations, panel sessions, artistic performances and more.
 "What we're recognizing today is the nourishment of young minds and the celebration of intellectual and academic achievement," said Bramson during the proclamation presentation. "Congratulations to everyone involved, and thank you for your contributions to scholarship and academic excellence in New Rochelle."
Scholarship on display covered topics including science, technology, sustainability, visual arts and much more.
 "I am so proud of our students," said Sunghee Lee, Ph.D., Board of Trustees endowed chemistry professor. "They have worked so hard, spending months and for some, years on these presentations. Today is a display of their leadership, innovation and passion and I am excited that they get to share it with the world."
Projects were either initiated as part of a course or as independent collaborations with faculty.
"After adapting through the pandemic and presenting this event virtually, it feels great to be gathered back in person, where the best exchange of ideas is to be had. Our scholars should feel incredibly proud of their accomplishments. They went above and beyond in their pursuit of academic excellence, pushing the boundaries of what it means to Learn Outside the Lines," said Iona University President Seamus Carey, Ph.D. "I would also like to acknowledge our faculty organizers and mentors. This is what makes Iona such a special place – passionate students guided and inspired by dedicated faculty inside and outside of the classroom."
The day also allowed students to "Learn Outside the Lines," as many of their projects solved real-world issues.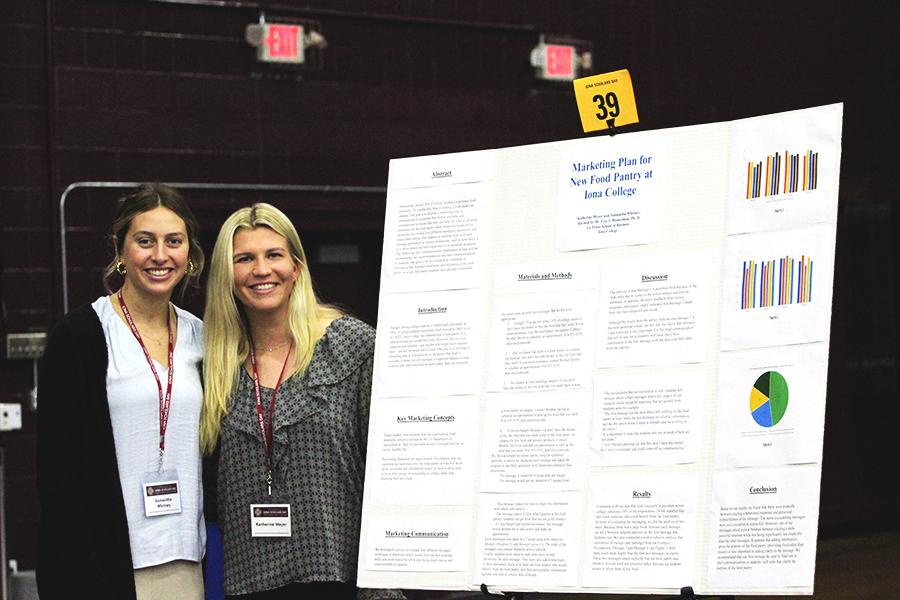 Katherine Meyer '22, a marketing major, created a marketing plan for a new food pantry at Iona to gain awareness and donor support. "As a senior, this was my first time participating in Iona Scholars Day and it was a great learning experience for me. My partner, Samantha Whitney '22, and I worked on this project all semester. We created a marketing plan for the new food pantry at Iona and I'm really excited to have this be implemented and have our research be put toward a good cause."
Anthony DiBrino '22, a computer science major, along with his teammates, Clifton Telemacque '22, Peter Esparta '22, Luke Cioffi '22, James Ollen '22 and Eliza Verghese '22, collaborated with telecommunications company, Safari Solutions. Noting that the company was looking for more affordable and customizable scheduling software, the team created a custom software application with advanced functions such as the ability to add and search for clients, event management capabilities and employee management options. The company was so impressed with their work that they plan to put the software to use. "My experience with Iona Scholars Day was really bonding," said DiBrino. "We got to work as a team to try and figure out various solutions to the problem. I thought it shined a light on what our experiences in the real world will be like."
Students also researched topics that will help them propel into their future endeavors.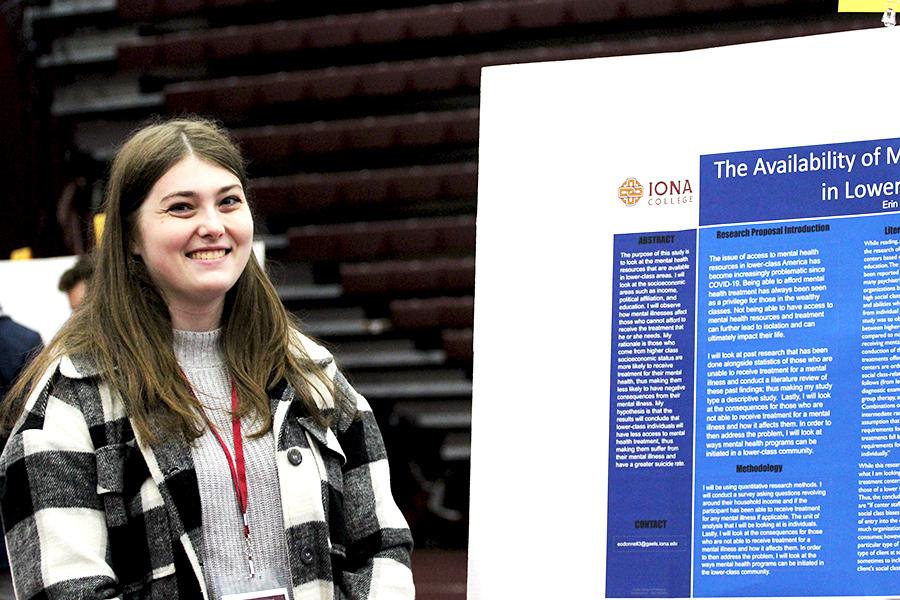 Erin O'Donnell '22, a sociology major, focused her research on the availability of mental health resources in lower class areas. "I'm so glad I've had the opportunity to showcase the research that I've done. My project focused on mental health and that's something I'm going to graduate school for so I'm very excited to have had the chance to explore the topic even more."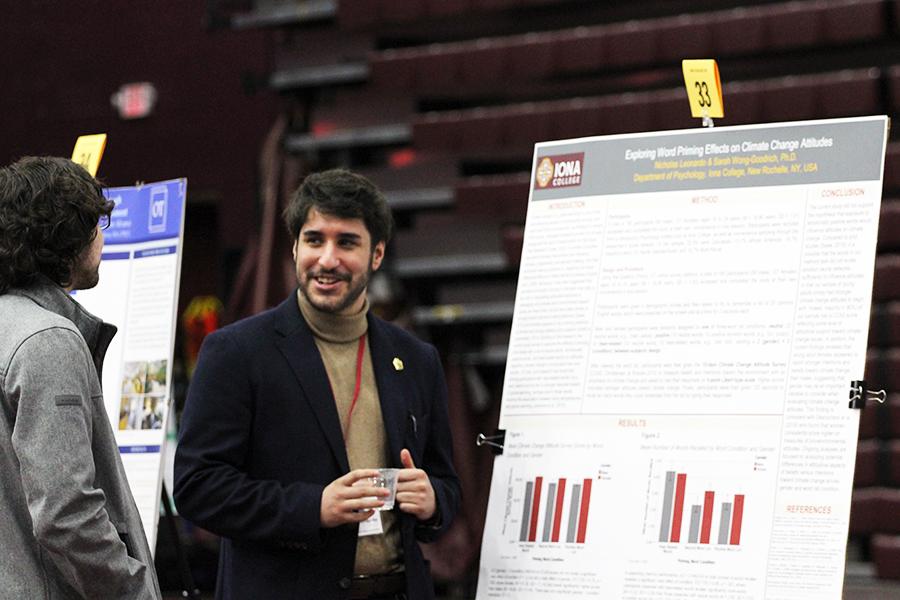 Nicholas Leonardo '21, a psychology major, explored word priming effects on climate change attitudes. "Iona Scholars Day was a great experience; it's a chance for all of us students to present the hard work that we've done throughout our years. I also think it is a great time to get feedback if we want to use our research later during our careers, if we have to write a thesis for a master's degree or if a student wants to enroll in an honors program. Overall, I would encourage everyone who has the opportunity to take part."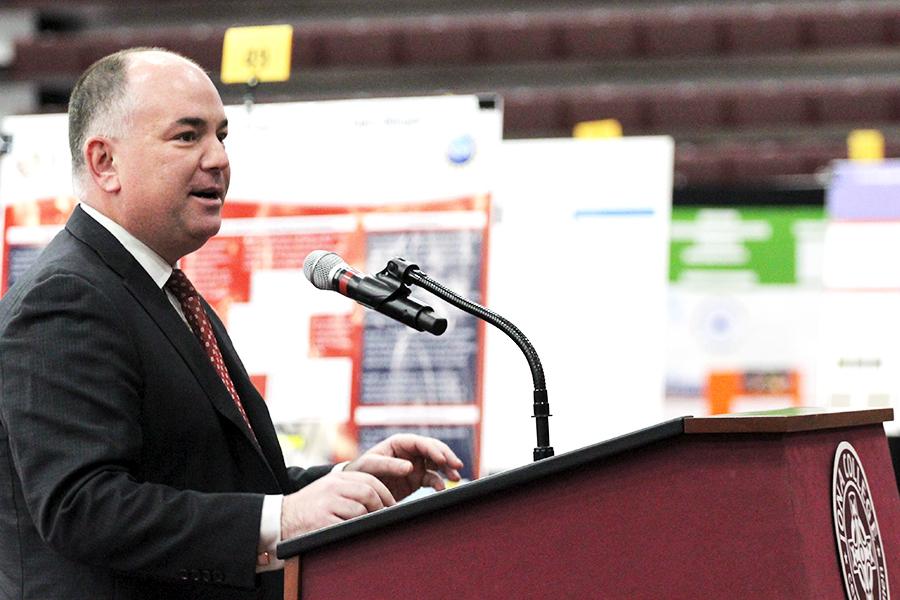 The day also included a keynote address from James P. Oates '95, principal of Eventum Risk Advisors, LLC. He delivered an inspiring speech, ending with a valuable lesson on what it means to be a leader.
"The attributes of leaders that I think people value the most include having a vision – knowing where the team is headed," said Oates. "A leader is savvy at being able to explain why – why is that where we want to go? A leader helps equip the troops with the tools and capabilities they need to help achieve the vision. A leader is someone who is very authentic and has empathy for people around them. A leader is someone who is open to challenge – constantly challenging themselves, learning and adapting."
ABOUT IONA
Founded in 1940, Iona University is a master's-granting private, Catholic, coeducational institution of learning in the tradition of the Edmund Rice Christian Brothers. Iona's 45-acre New Rochelle campus and 28-acre Bronxville campus are just 20 miles north of Midtown Manhattan. With a total enrollment of nearly 4,000 students and an alumni base of over 50,000 around the world, Iona is a diverse community of learners and scholars dedicated to academic excellence and the values of justice, peace and service. Iona is highly accredited, offering undergraduate degrees in liberal arts, science, and business administration, as well as Master of Arts, Master of Science and Master of Business Administration degrees and numerous advanced certificate programs. Iona's LaPenta School of Business is accredited by AACSB International, a prestigious recognition awarded to just five percent of business schools worldwide. The Princeton Review recognized Iona's on-campus MBA program as a "Best Business School for 2021." Iona University also recently launched a new, fully online MBA program for even greater flexibility. In July 2021, Iona University and NewYork-Presbyterian announced the establishment of the NewYork-Presbyterian Iona School of Health Sciences, to be principally located on the University's new campus in Bronxville, N.Y. Supported by a $20 million gift from NewYork-Presbyterian, the NewYork-Presbyterian Iona School of Health Sciences offers a new vision for collaborative health care education, modern workforce development, and community care. On July 1, 2022, Iona officially changed its status from College to University, reflecting the growth of its academic programs and the prestige of an Iona education.