Iona University to Host Inaugural National Collegiate Irish Dance Championships April 15
Irish Dance teams from across the country will compete in New Rochelle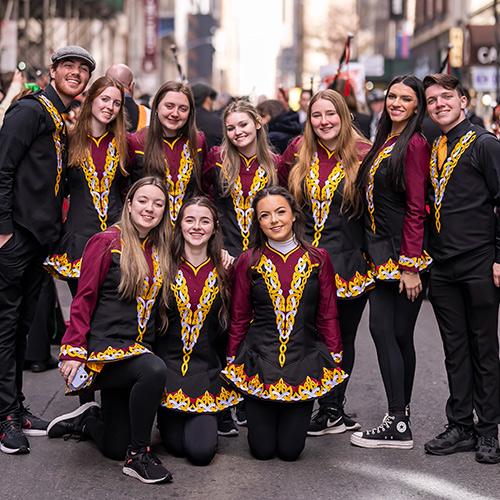 New Rochelle, N.Y. – Iona University is proud to announce it will host the inaugural National Collegiate Irish Dance Championships on April 15, 2023. Over 150 dancers from 11 colleges and universities are expected to compete both individually and as teams in 4-Hand and 8-Hand competitions. The event will take place on Iona's New Rochelle campus, located at 715 North Ave., New Rochelle, N.Y.
Spectators are invited to enjoy this day of Irish dance starting at 9 a.m. and concluding around 5 p.m. Tickets are complimentary for Iona students, faculty and staff. General admission tickets range from $10 to $20. Click here to secure your tickets today!
Kelly Beyrer, director of performing arts at Iona and founder of the University's Irish Dance team, said she is proud to welcome Irish Dance enthusiasts from across the country.
Founded in 2021, the Iona Irish Dance team currently consists of 15 members, all of whom came to Iona with previous experience and have since represented Iona at competitions, events and prestigious parades across the country. Most recently, the Irish Dance team led Iona University up Fifth Avenue during the St. Patrick's Day Parade in New York City.
"Although Irish Dance is relatively new to Iona, as an Irish Catholic institution, we have tremendous admiration for the tradition and are so proud to host a celebration of both our heritage and student talent on campus," Beyrer said. "Congratulations to all the dancers, coaches and teams who will be competing from far and wide. The talent on display will be top notch."
To compete, teams must be members of the College Irish Dance Association, a nonprofit organization founded in 2020. With over 50 member schools, Collegiate Irish Dance aims to give dancers an opportunity to create new friendships based on similar passions while encouraging scholarships to be given by universities who recognize the dedication and intelligence these dancers possess. Their motto is "Dance Another Day."
Rory Beglane, Iona's Irish Dance team coach and a founding member of the College Irish Dance Association, said he is so proud to bring this competition to Iona University.
The idea first started in the spring semester of 2012, when he and his fellow Villanova University Irish Dance team co-captain first sought to bring college Irish Dance teams together from across the country. Villanova hosted the first-ever Intercollegiate Irish Dance Festival in 2013. From there, Beglane teamed up with another few collegiate Irish dancers, Zach Warshaw and Megan Dunn-Peters, to evolve the network into what it is today. And it is still growing strong.
"It's been a journey to get to this day, and we are incredibly excited to have our inaugural championships. Personally, I am thrilled to have Iona as the host, a school that has meant so much to me since my days at Iona Prep," Beglane said. "College Irish Dance is about so much more than competing; it is providing students a way to share a passion and continue beyond their high school years in a fun and creative way. There aren't words to capture what this competition means for the validity of Irish Dance as a whole, with so many institutions recognizing the importance of this sport and culture."
Brendan Broesler '23, captain of the Iona Irish Dance team, has been dancing since he was 3 years old. As part of Iona's first-ever team, he has led Iona to victory on stages from Villanova to Dayton, Ohio. To be able to compete in a national competition on his home campus is not only a thrill, but an honor, and he looks forward to representing the University with distinction.
"Irish Dance is so important to the person I am today," Broesler said. "To be part of the Irish Dance team at Iona University has been a transformative experience, and one that will stay with me for the rest of my life. Our team is like a family."
ABOUT IONA
Founded in 1940, Iona University is a master's-granting private, Catholic, coeducational institution of learning in the tradition of the Edmund Rice Christian Brothers. Iona's 45-acre New Rochelle campus and 28-acre Bronxville campus are just 20 miles north of Midtown Manhattan. With a total enrollment of nearly 4,000 students and an alumni base of over 50,000 around the world, Iona is a diverse community of learners and scholars dedicated to academic excellence and the values of justice, peace and service. Iona is highly accredited, offering undergraduate degrees in liberal arts, science, and business administration, as well as Master of Arts, Master of Science and Master of Business Administration degrees and numerous advanced certificate programs. Iona's LaPenta School of Business is accredited by AACSB International, a prestigious recognition awarded to just five percent of business schools worldwide. The Princeton Review recognized Iona's on-campus MBA program as a "Best Business School for 2023." Iona University also recently launched a new, fully online MBA program for even greater flexibility. In July 2021, Iona University and NewYork-Presbyterian announced the establishment of the NewYork-Presbyterian Iona School of Health Sciences, to be principally located on the University's new campus in Bronxville, N.Y. Supported by a $20 million gift from NewYork-Presbyterian, the NewYork-Presbyterian Iona School of Health Sciences offers a new vision for collaborative health care education, modern workforce development, and community care. On July 1, 2022, Iona officially changed its status from College to University, reflecting the growth of its academic programs and the prestige of an Iona education.