Iona University Wins 2023 BCW Hall of Fame Award
Iona honored with Corporate Citizenship Award at annual awards ceremony
New Rochelle, N.Y. – With nearly 500 business leaders on hand, the Business Council of Westchester presented its annual Hall of Fame Award for Corporate Citizenship to Iona University on April 25, 2023. Held at Glen Island Harbour Club in New Rochelle, this year's event honored seven business leaders and organizations who have transformed their industries and added to the economic vitality of the region. The theme was "The Year of Talent."
Prior to presenting the award to Iona President Seamus Carey, Ph.D., the BCW highlighted some of the University's recent accomplishments in a celebratory video. The video is available for viewing here.
"To be recognized for the positive impact we are making both locally and around the world is not only deeply rewarding, but also reflective of the hard work taking place all across the University," Carey said. "As we educate the next generation of leaders at Iona, we seek to instill both the skills and the values needed to succeed. On behalf of everyone at Iona, I want to thank the Business Council of Westchester for this award as well as their partnership."
A plaque of all BCW Hall of Fame winners hangs in the Westchester County Airport, welcoming visitors and showcasing the talent that resides within the county. Iona University will now be added to that prestigious list.
"We chose the theme of this year's event honoring the dynamic and innovative business leaders who have led their talented teams to outstanding success in their respective fields,'' said Dr. Marsha Gordon, president and CEO of the Business Council of Westchester. "This illustrious group of winners joins more than 100 past winners which include some of the most prestigious business leaders and organizations. We are proud to continue this time-honored tradition in Westchester.''
LEARN OUTSIDE THE LINES
Notably this year, Iona's Hynes Institute for Entrepreneurship & Innovation teamed up with the BCW on several strategic initiatives through the BCW's Westchester Innovation Network (WIN), a program aimed at driving economic development, innovation and growth within the county.
It was a key example of how an Iona education prepares students to "learn outside the lines," applying the lessons learned in the classroom to help solve real-world problems.
Projects included:
First, Iona students partnered with the City of Mount Vernon to develop ways to help minority- and women-owned business enterprises (MWBEs) bid on government contracts and grow their businesses.
Next, Iona students worked to address the complex problem of "heat islands" in municipal housing in partnership with the City of Yonkers, Yonkers Housing Authority and Groundwork Hudson Valley.
Most recently, Iona partnered with the City of New Rochelle to explore how virtual reality (VR) can help support the city's business and residential growth.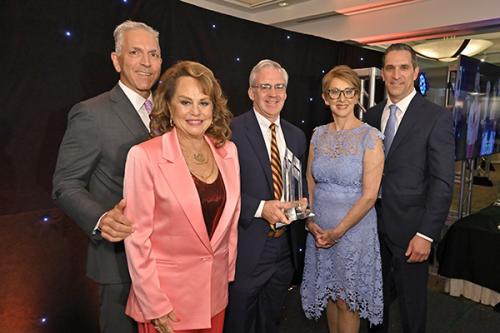 Led by Rob Kissner, Hynes Institute's GaelVentures program manager, each project consisted of a class of students working over the course of a semester to analyze a real-world challenge and present innovative solutions directly to the cities' leaders.
In Mount Vernon, computer science and entrepreneurial leadership major Isaiah Williams '23 was also able to build upon his class experience by developing a micro-site for MWBEs during an internship with the City of Mount Vernon's Economic Development Department, provided through the BCW.
Iona student interns also partnered with the BCW WIN program to support the development of a Planning Futurist Implementation Guide by conducting research and interviews with key innovators and stakeholders in the Westchester Innovation landscape. Based on these findings, students are in the process of formalizing recommendations to best support the growing innovation ecosystem in Westchester.
"Our work with the BCW this year has facilitated some truly transformational experiences for our students," said Dr. Christoph Winkler, endowed professor and founding program director of the Hynes Institute. "We've worked with the biggest cities in Westchester, directly making an impact in our local communities in service to others. That is what an Iona education is all about. Thank you to Marsha and everyone at the BCW for such a tremendous partnership; we are honored to be recognized with this year's prestigious Corporate Citizenship Award."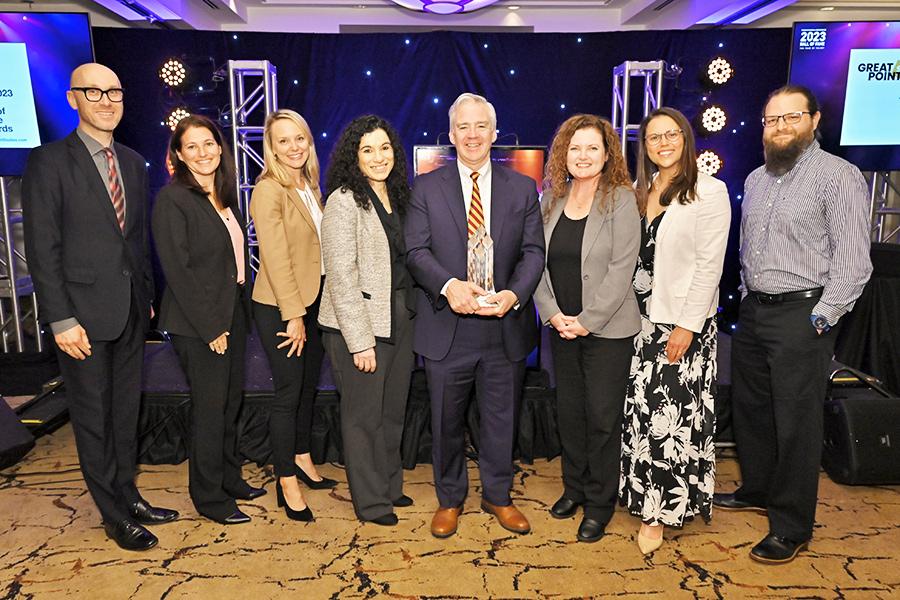 ABOUT IONA
Founded in 1940, Iona University is a master's-granting private, Catholic, coeducational institution of learning in the tradition of the Edmund Rice Christian Brothers. Iona's 45-acre New Rochelle campus and 28-acre Bronxville campus are just 20 miles north of Midtown Manhattan. With a total enrollment of nearly 4,000 students and an alumni base of more than 50,000 around the world, Iona is a diverse community of learners and scholars dedicated to academic excellence and the values of justice, peace and service. Iona is highly accredited, offering undergraduate degrees in liberal arts, science and business administration, as well as Master of Arts, Master of Science and Master of Business Administration degrees and numerous advanced certificate programs. Iona students enjoy small class sizes, engaged professors and a wide array of academic programs across the School of Arts & Science; LaPenta School of Business; NewYork-Presbyterian Iona School of Health Sciences; and Hynes Institute for Entrepreneurship & Innovation. Iona is widely recognized in prestigious rankings, including The Princeton Review's 2024 national list of "The Best 389 Colleges" and The Wall Street Journal/College Pulse's "2024 Best Colleges in America," which ranked Iona at #66 in the nation overall and #8 in the nation among Catholic schools. Iona's LaPenta School of Business is also accredited by AACSB International, a recognition awarded to just five percent of business schools worldwide. In addition, The Princeton Review recognized Iona's on-campus MBA program as a "Best Business School for 2023." Iona also offers a fully online MBA program for even greater flexibility. In July 2021, Iona announced the establishment of the NewYork-Presbyterian Iona School of Health Sciences, which is now principally located on Iona's Bronxville campus in collaboration with NewYork-Presbyterian. Connecting to its Irish heritage, the University also recently announced it is expanding abroad with a new campus in County Mayo, Ireland. A school on the rise, Iona officially changed its status from College to University on July 1, 2022, reflecting the growth of its academic programs and the prestige of an Iona education.