Iona's Marriage and Family Therapy Program Earns Reaccreditation
The reaccreditation extends for a minimum of two and maximum of seven years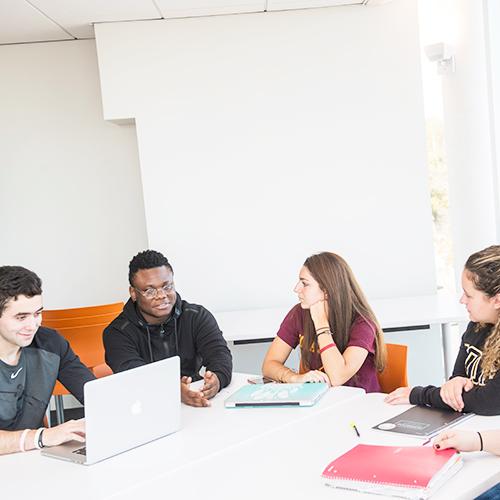 NEW ROCHELLE, N.Y. — Iona University is pleased to announce that it has received reaccreditation for its master's degree program in Marriage and Family Therapy (MFT) from the Commission on Accreditation for Marriage and Family Therapy Education (COAMFTE). COAMFTE, the national accrediting body that ensures the quality and integrity of MFT graduate programs, reaccredited Iona's program for a minimum of two and maximum of seven years.
"Iona's MFT faculty and staff have been working tirelessly to ensure the strength of our students' graduate training experience and exceed all expectations of our accrediting board," said Christiana I. Awosan, MFT program director. "We remain focused on bolstering the program's curriculum, continuing to integrate the Commission's latest teletherapy standards and expanding our network of field placement opportunities for students. We will also expand on our collaborative work with the University's interprofessional education initiatives and hone in on our role within Iona's newly established New York-Presbyterian Iona School of Health Sciences."
Iona's rigorous, three-year MFT program maintains a strong focus on social justice and self-of-the-therapist, which is the practice of training students to effectively use themselves in the therapeutic alliance. The first year of the program immerses students in classroom work, while the second and third years add the practicum experience for students to begin working with clientele. Students in practicum meet with clients at the Iona Family Therapy Center and at field placement internships.
"We are excited to continue the great responsibility of preparing skilled marriage and family therapists who are ready to work with diverse families, professionals and communities," Awosan said.
Iona is one of only four COAMFTE-accredited programs in New York State and one of two in the Greater New York area. Iona's MFT program was first accredited by COAMFTE on January 31, 2009.
ABOUT IONA
Founded in 1940, Iona University is a master's-granting private, Catholic, coeducational institution of learning in the tradition of the Edmund Rice Christian Brothers. Iona's 45-acre New Rochelle campus and 28-acre Bronxville campus are just 20 miles north of Midtown Manhattan. With a total enrollment of nearly 4,000 students and an alumni base of more than 50,000 around the world, Iona is a diverse community of learners and scholars dedicated to academic excellence and the values of justice, peace and service. Iona is highly accredited, offering undergraduate degrees in liberal arts, science and business administration, as well as Master of Arts, Master of Science and Master of Business Administration degrees and numerous advanced certificate programs. Iona students enjoy small class sizes, engaged professors and a wide array of academic programs across the School of Arts & Science; LaPenta School of Business; NewYork-Presbyterian Iona School of Health Sciences; and Hynes Institute for Entrepreneurship & Innovation. Iona is widely recognized in prestigious rankings, including The Princeton Review's 2024 national list of "The Best 389 Colleges" and The Wall Street Journal/College Pulse's "2024 Best Colleges in America," which ranked Iona at #66 in the nation overall and #8 in the nation among Catholic schools. Iona's LaPenta School of Business is also accredited by AACSB International, a recognition awarded to just five percent of business schools worldwide. In addition, The Princeton Review recognized Iona's on-campus MBA program as a "Best Business School for 2023." Iona also offers a fully online MBA program for even greater flexibility. In July 2021, Iona announced the establishment of the NewYork-Presbyterian Iona School of Health Sciences, which is now principally located on Iona's Bronxville campus in collaboration with NewYork-Presbyterian. Connecting to its Irish heritage, the University also recently announced it is expanding abroad with a new campus in County Mayo, Ireland. A school on the rise, Iona officially changed its status from College to University on July 1, 2022, reflecting the growth of its academic programs and the prestige of an Iona education.