Three Iona College Students Earn Prestigious Stanford University Fellowships
Three Iona College students have earned prestigious Stanford University fellowships that train students to become entrepreneurs and change agents of higher education on their respective campuses.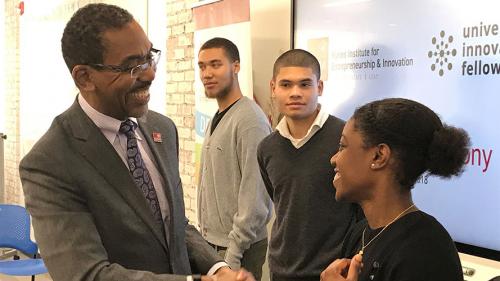 NEW ROCHELLE, N.Y. - Three Iona College students have earned prestigious Stanford University fellowships that train students to become entrepreneurs and change agents of higher education on their respective campuses.
The Iona students – Tiara Griffith '20, Elijah Ware '19 and Alberto Goncalves '20 – have been accepted into the University Innovation Fellows, or UIF, after a rigorous application process for a program that involves an intensive six-week program of study in design thinking, entrepreneurial mindset and startups.
They come from a variety of majors and backgrounds. Griffith, a management major from Mount Vernon, N.Y., is slated to graduate in 2020; Ware, a broadcast media (sports) major, is from Waldorf, Md., and is scheduled to graduate in 2019; and Goncalves, a finance major from Westfield, N.J., is expected to graduate in 2020.
The Iona fellows are among students who have been chosen to participate in the UIF Program from 96 universities in 16 countries from around the world, including Bucknell, Columbia, Purdue, Michigan State, Rensselaer Polytechnic Institute, United States Air Force Academy, and universities throughout China, India and Europe.
The December 6 "pinning" ceremony, whereby the fellows were formally acknowledged on campus at GaelVentures (Iona College's startup incubator space), marks the official launch of the program whereby the fellows from Iona will work together with key stakeholders on campus (student leaders, clubs and extra-curricular organizations) to design and implement impactful activities and programs across the campus.
"Building an interdisciplinary entrepreneurship and innovation program together with our students is essential to the success of the Hynes Institute," said Christoph Winkler, Ph.D., an endowed professor and Founding Program Director of the Hynes Institute for Entrepreneurship & Innovation. "Participating in the UIF Program has given our fellows access to an innovation network that helped them identify, design and implement entrepreneurial learning opportunities for all Iona students across the campus. Needless to say, we are very proud of our newly inducted fellows and all the gears that they have set in motion."
The UIF program is run by Stanford University's Hasso Plattner Institute of Design (d.school). Following acceptance into the program, schools support students to go through training and travel to the University Innovation Fellows Silicon Valley Meetup in California or the Eastern Hemisphere Meetup in Dubai. To date, the Stanford program has trained nearly 1,500 students since its inception in 2006.
Fellows are trained by UIF program leaders and conduct in-depth analyses to develop unique projects that address a need at their respective schools. After training, they receive a year-round mentorship; connect with fellows from around the world; and attend national conferences and events with other fellows. Fellows work to ensure that their peers gain the knowledge, skills and attitudes required to compete in the economy of the future and make a positive impact on the world.
Typical projects can include the creation of design innovation spaces on campus, the creation of entrepreneurship organizations, hosting experiential learning events, or working with faculty to develop new courses. The goal is to create lasting institutional change and create opportunities for students to engage with innovation, entrepreneurship, design thinking and creativity at their schools.
"Higher education needs to change faster to meet the needs of students and industry today," said Leticia Britos Cavagnaro, co-director of the University Innovation Fellows program at Stanford University. "As the key stakeholders of higher education, students should be active participants of a change process that helps them learn the skills and mindsets necessary to create the future. The students who participate in our program are ideally poised to help accelerate the pace of change at their schools. They are highly motivated to make progress quickly, as they're only on campus for a short time, and they care deeply about their schools and the experience of all students."
Iona's participation with UIF coincides with the creation of the Hynes Institute for Entrepreneurship & Innovation, which was established on campus in 2017 with a $15 million gift from James and Anne Marie Hynes. The Hynes Institute is an emerging program that aims to prepare the next generation of entrepreneurs, innovators and leaders, in part by preparing students for the new global economy. Iona's curriculum is specifically designed so that students can develop an entrepreneurial and problem-solving mindset.
Construction began earlier this year at Spellman Hall, where the Hynes Institute will occupy 3,800 square feet of classroom and office space. GaelVentures, Iona's incubator space, is also available to the community.
ABOUT IONA
Founded in 1940, Iona College is a master's-granting private, Catholic, coeducational institution of learning in the tradition of the Edmund Rice Christian Brothers. Iona's 45-acre campus is just 20 miles north of Midtown Manhattan. With a total enrollment of nearly 4,000 students and an alumni base of over 50,000 around the world, Iona is a diverse community of learners and scholars dedicated to academic excellence and the values of justice, peace and service. Iona is highly accredited, offering undergraduate degrees in liberal arts, science, and business administration, as well as Master of Arts, Master of Science and Master of Business Administration degrees and numerous advanced certificate programs. Iona's LaPenta School of Business is accredited by AACSB International, a prestigious recognition awarded to just five percent of business schools worldwide. The Princeton Review recognized Iona's on-campus MBA program as a "Best Business School for 2020." Iona College also recently launched a new, fully online MBA program for even greater flexibility.