Why earn your BBA in Entrepreneurship at Iona?
You will develop an entrepreneurial mindset, which will give you unique and essential skills as you set out to build your career in an increasingly dynamic and complex world.
You will have the opportunity to apply your entrepreneurial mindset skills to solve daily business challenges as entrepreneurs and intrapreneurs, and you will gain hands-on experience with an internship or "entrepreneurship in practice" experience.
You will be part of a community of learners and innovators and will benefit from all the programs and activities available through our visionary Hynes Institute for Entrepreneurship & Innovation – our modern collaborative workspace at the center of campus – and our renowned LaPenta School of Business, including:
Coworking space where you can share and develop ideas with peers, faculty and mentors;
Robust mentoring network;
Executive-In-Residence;
GaelVentures – our community incubator space.
What You'll Learn
You will learn all aspects of launching your own entrepreneurial venture. You will learn to identify problems and will strengthen your problem-solving skills. You will also learn ideation skills, design thinking, business modeling, leadership, teamwork, presentation skills and entrepreneurial skills.
You will learn to be more adaptable in your thinking and will become more comfortable dealing with risk and uncertainty. In addition, you will round out your advanced studies in entrepreneurship by choosing from an extensive list of specialized entrepreneurship and related business topics.
Unique Elements of Program
Flexible program allows for the pursuit of a double major
---
Space to Create
The Hynes Institute recently opened its new, 3,800-square-foot state-of-the-art addition in the center of campus and is the home of all things innovative! And the new LaPenta School of Business opened in 2020 with eco-friendly, collaborative work spaces. These two hubs of creativity will be your home away from home!
GaelVentures
In this program, you'll have access to GaelVentures, Iona's own community incubator space. Work alongside fellow students, mentors, entrepreneur-in-residence and faculty members to develop your ideas and gain new perspectives on your work.
Events
From networking sessions to workshops to innovation competitions to invited speakers, there's always something going on at the Hynes Institute. Students can enhance their extracurricular learning experience by participating in the many Hynes Institute events.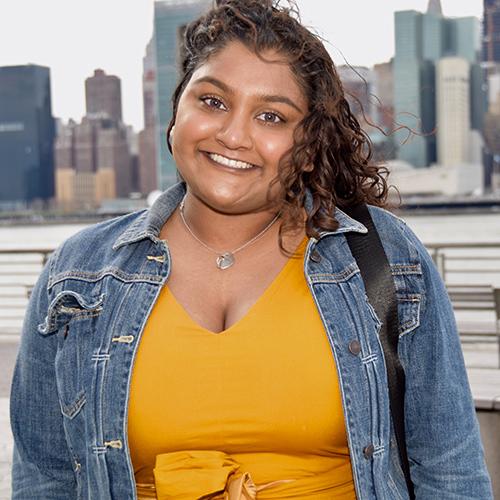 At Iona, I feel like I am constantly achieving my full potential. I chose Marketing because it challenged me, and through the Hynes Institute, I have found my new passion. Iona has enabled me to step out of my comfort zone and get involved.
Riana Khan '22
Read More About Riana
Careers & Outcomes
The entrepreneurial mindset and design thinking foster a universal skill set that can can be applied as essential building blocks to any career path.
Career Paths:
Start-up Founder
Small Business Owner
Business Advisor
Innovation Manager
Product Designer
Consultant
Business Analyst
Marketer
Sales Manager
Entrepreneur-in-Residence: Danny Potocki '06
Danny Potocki joins the Hynes Institute as its first entrepreneur-in-residence. Potocki is managing director of Accel7, an accelerator that invests in and advises environmental, social and governance (ESG) companies. He'll focus on building the Institute's mentorship network and will teach capstone courses.