Occupational Therapy (MS Degree)
Why Occupational Therapy?
Earning your Master of Science degree in Occupational Therapy leads to a fulfilling career path helping others improve their day-to-day quality of life. After earning their master's degree, licensed occupational therapists help people with illnesses, injuries and disabilities manage everyday activities like walking, getting dressed, cooking and writing.
Why Study Occupational Therapy at Iona?
Iona University's full-time, 27-month Master of Science in Occupational Therapy (OT) program combines classroom and clinical instruction—including a six-month fieldwork rotation—and is accredited by the Accreditation Council for Occupational Therapy Education (ACOTE).
As an occupational therapy student, you'll get to know your classmates and faculty very well through the program's small, collaborative cohorts. Our expert faculty have both clinical and research experience that informs their teaching in exciting ways. In addition, our master's program is fully integrated into the close-knit Iona University community, as well as the larger community of New Rochelle, New York through service learning.
At Iona, our MS in Occupational Therapy will offer you unique opportunities to explore the connections between design, technology and occupational therapy through our Hynes Institute for Entrepreneurship & Innovation. This entrepreneurial component of the program offers a future-minded perspective on the role of an occupational therapist in society, disability and assistive devices.
NewYork-Presbyterian Iona School of Health Sciences
As part of the NewYork-Presbyterian Iona School of Health Sciences, occupational therapy students will develop the skills and experience needed for tomorrow's workforce.
Students have the opportunity to do clinicals and rotations at NewYork-Presbyterian, ranked one of the top hospitals in the nation by U.S. News & World Report 2022-23. Iona students are also considered for full-time positions within the NewYork-Presbyterian network upon graduation.
Align your education with your career goals at the NewYork-Presbyterian Iona School of Health Sciences and earn a degree of tremendous value for your future.
What You'll Learn
Iona University's MS in Occupational Therapy program follows ACOTE accreditation standards and educates students as generalists prepared for licensure exams. You'll build a strong OT foundation and go beyond with our interdisciplinary coursework. Our program consistently weaves community engagement and innovation into your training so you will be prepared to work with clients across the lifespan in a wide range of clinical settings like hospitals, schools and assisted living centers.
Our master's degree curriculum centers around four core competencies of an ethical, client-centered OT practice:
Occupational development and performance
Assessment and intervention processes
Evidence-based practice skills
Habits for reflective practice
Throughout the seven semesters, we'll also teach you how technology can enhance your practice, serving as a tool for client education, assessment, intervention and documentation of services.
After completing their MS degree, our Occupational Therapy graduates are ready for their licensure exam and to pursue fulfilling OT careers. Throughout your time at Iona, you will experience an inclusive occupational therapy education offering abundant clinical opportunities and holistic coursework exploring big-picture questions about accessibility and aging.
---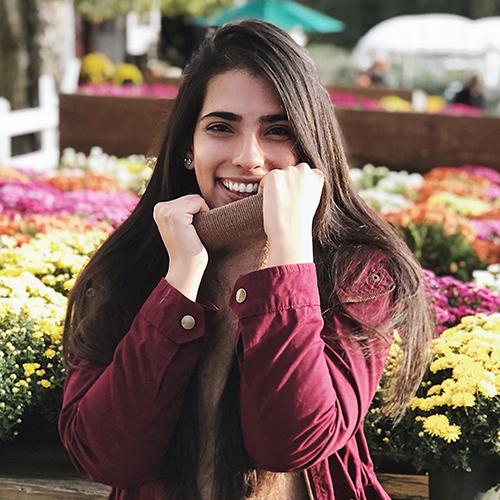 Iona OT prioritizes community engagement and entrepreneurship, which is a unique quality that sets it apart from other colleges and programs.
Gurpreet Singh '22
Read More About Gurpreet
OT Program Highlights
Hynes Institute Collaboration
In partnership with the Hynes Institute for Entrepreneurship & Innovation, we create modules integrating OT coursework with principles of entrepreneurship and innovation. During these interdisciplinary classes, you'll develop ideas for products or projects to meet the particular occupational needs of persons with disabilities.
Community Engagement
As a full-time OT student, you will be connected to your cohort while also benefiting from campus resources and events. Engagement with the greater Iona community begins early in the program, as you learn from and work with Learning in Retirement at Iona University (LIRIC) participants. The occupational therapy program also partners with many local organizations for community development projects as well as full-time fieldwork.
Greater NYC Location
Iona's location in New Rochelle offers access to many service-learning and fieldwork partner sites across the New York metropolitan area. In addition, our partnership with NY-Presbyterian Hospital offers students a variety of opportunities that extend learning beyond the classroom. Other local partners include:
ABC Pediatric Therapy (Bronx and Harlem locations)
Quality Services for the Autism Community (QSAC)
Andrus Children's Center and Weekday Nursery
Guidance Center (Pre-K)
Rockland Psychiatric Center
These community experiences prepare you to work with a variety of patients including pediatric patients, chronically ill people and older adults.
Careers & Outcomes
The field of occupational therapy is expected to grow significantly over the next decade, much more than the average career path according to the U.S. Bureau of Labor Statistics. Talented and compassionate OTs have been and will continue to be in high demand for the foreseeable future.
As an OT graduate from Iona, you will be well-prepared for diverse, fulfilling occupational therapy roles through our entrepreneurial programming and service-learning opportunities.
Licensed Occupational Therapists May Work In:
Hospitals
Private practices
Schools
Nursing homes
Home-based health services
Mental health centers
Modeling A Different Path
Aaron Philip, the first black trans model with a disability to be signed to a major modeling agency, recently gave a talk at the Hynes Institute and visited with our first-year OT cohort. Philip, who was born with cerebral palsy, rose to fame on Twitter and Instagram and was signed to Elite Model Management in 2018. She shared how OT made her life and career possible and talked with students about how they can be the best possible OTs for their clients.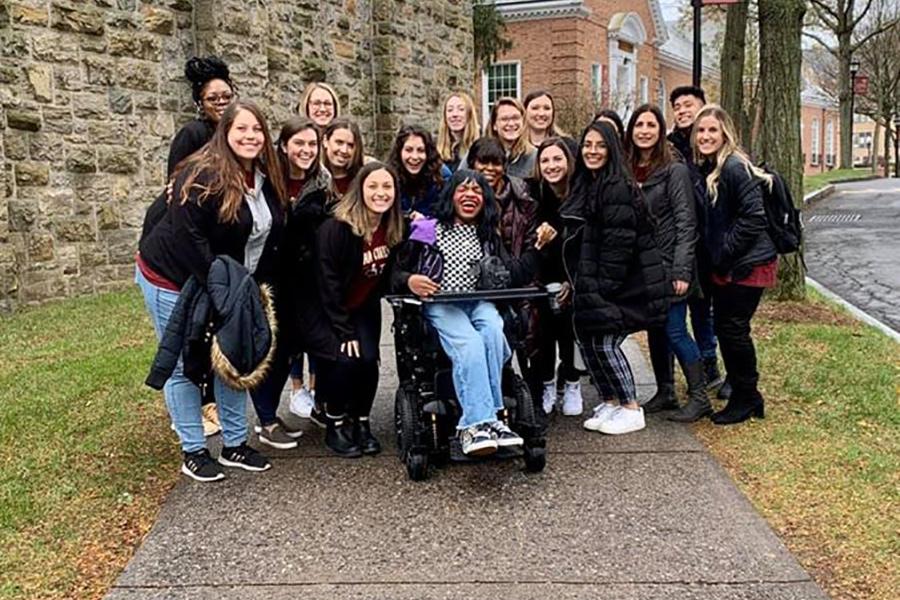 Additional Information
OT Prerequisite Requirements
To enter the competitive occupational therapy program at Iona University, prospective OT students must meet the admission requirements which include a bachelor's degree with a minimum undergraduate GPA of 3.0, observation or volunteer experiences relevant to occupational therapy and prerequisite coursework.
Accreditation
The Iona University Graduate OT Program is accredited by the Accreditation Council for Occupational Therapy Education (ACOTE) of the American Occupational Therapy Association (AOTA).
Learn more about the Master's in OT program at Iona!
Iona University offers a Master of Science in Occupational Therapy that comprehensively equips our students for careers as compassionate, innovative occupational therapists. Request information to learn more about our experiential program or apply now!
Licensing
Occupational therapists require license to practice in all states. Most state licenses are based on the results of the National Board for Certification in Occupational Therapy (NBCOT) Certification Examination.
Find Out what an Iona Education Can Do For You
Visit Campus
Our scenic campuses, located just 20 miles from midtown Manhattan, truly do offer the "best of both worlds." Let us show you around, answer your questions and give you a feel of our tight-knit community.
Apply Today
If you're considering applying to Iona, you're not alone! During the past two years, our new-student enrollment has spiked 32%. Additionally, graduate students automatically qualify for consideration of merit scholarships during their graduate program.
Request More Information
Learn more about Iona University today!