Communication Sciences and Disorders (MA Degree)
Why Communication Science and Disorders?
For those with communication difficulties, everyday tasks can become a challenge. Through a Master of Arts in Communication Sciences and Disorders (CSD) degree, you will learn how to support those with communicative disorders through diagnosis and treatment, in all age groups and in various clinical settings.
Why Study Communication Sciences and Disorders at Iona?
This graduate program is designed for aspiring professionals who hold a bachelor's degree with the appropriate prerequisite coursework. A master's degree in Communication Sciences and Disorders is the professional degree required for a career as a speech pathologist, audiologist or related clinical roles. This graduate program also prepares you for application for professional credentialing in the field of speech-language pathology.
Our fully accredited CSD graduate program provides robust hands-on experiences serving individuals with communicative disorders in the greater community. You'll get to work with clients in our Speech, Language and Hearing Clinic, which provides a broad and deep range of services including language delay evaluation, treatment of oral motor disorders, stuttering assistance, swallowing therapy and more.
At the clinic, you will work alongside faculty who are practicing therapists in a program that is fully accredited by the Council on Academic Accreditation in Audiology and Speech-Language Pathology (CAA) of the American Speech-Language-Hearing Association.
NewYork-Presbyterian Iona School of Health Sciences
As part of the NewYork-Presbyterian Iona School of Health Sciences, communication sciences and disorders students will develop the skills and experience needed for tomorrow's workforce.
Iona students may have the opportunity to do clinicals and rotations at the NewYork-Presbyterian network, ranked one of the top hospitals systems in the nation by U.S. News & World Report 2022-23.
Align your education with your career goals at the NewYork-Presbyterian Iona School of Health Sciences and earn a degree of tremendous value for your future.
What You'll Learn
As a CSD master's student at Iona, you will gain a firm understanding of the normal processes of speech, language and hearing as well as the competence to diagnose and treat the full range of communicative disorders in all age groups. Our curriculum offers the knowledge and skills required to practice speech-language pathology in an effective, ethical and inclusive manner. As part of your master's program, you will participate in hands-on clinical practicums and intern in professional settings in addition to engaging with faculty research and the more academic side of the communication sciences field.
---
Program Highlights
Clinical Experience
In our full-service Speech, Language and Hearing Clinic, you will gain hands-on experience assessing and serving clients for the greater New Rochelle, New York community. You will help provide services for child language delays, communicative disorders resulting from brain injury or stroke, articulation and many other communication issues under the guidance of licensed Speech-Language Pathologist faculty members certified by the American Speech-Language-Hearing Association (ASHA).
Professional Credentialing
As a graduate of our program, you will have completed the necessary coursework and clinical experiences to satisfy the academic and professional requirements specified by ASHA for the Certificate of Clinical Competence in Speech-Language Pathology (CCC-SLP) and are eligible to apply for licensure by the New York State Department of Education's Office of the Professions.
ASHA Guidelines for Obtaining Certification
Successful Iona Alumni
Our master's degree will successfully lead you to a career as a speech pathologist or audiologist. With our program's 100% job placement rate, you will be working in your field within a year after graduation. You can also count on caring alumni to help with mentorship and job opportunities.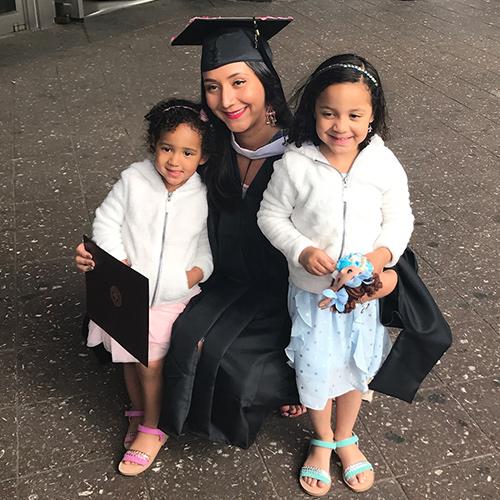 I was able to complete a rigorous full-time graduate program with two children. There will be days when you question your career choice and your clinical skills, but Iona's team of dedicated educators are there to help you through it.
Jaridy Fabre '17
Speech Pathology Careers & Outcomes
After graduating with a Master's in Communication Sciences and Disorders, our students move toward speech language pathology licensure to help others improve their communication disorders. A career in the communication sciences field allows clinicians to be the reason someone's life is changed for the better—a very rewarding professional path.
Communication Sciences Job Titles
Speech-Language Pathologist
Audiologist
Clinical Fellow
Speech Therapist
Hearing Specialist
Iona Communication Sciences and Disorders Graduates Have Built Careers At:




Additional Information
Application Requirements
Our Communication Sciences and Disorders graduate program admits for the fall semester only. The deadlines for Fall 2023 are as follows:
Extended deadline: June 1, 2023
Applicants should have a bachelor's degree with a minimum cumulative GPA of a 3.0 and a prerequisite GPA of a 3.3 with no prerequisite courses below a C. Successful completion of prerequisite courses is required by the end of the summer prior to enrollment in the CSD graduate program. If all prerequisites are not complete at time of admission, applicants will receive a conditional admittance until all prerequisite courses are complete.
Applicants must complete an application through the Centralized Application Service for Communication Science and Disorders Program (CSDCAS) before the application deadline. The Council of Academic Programs in Communication Sciences and Disorders has created a central CSDCAS application for applicants. The CSDCAS application includes:
CSDCAS application includes:
Official transcripts from all previous institutions attended
Three (3) letters of recommendation (academic or professional references are accepted)
Brief essay and video components
25 observation hours
GRE scores are recommended, but NOT required. The preferred score range is 140-150 for each section
Learn more about Iona's CSD master's degree program!
Iona's Communication Sciences and Disorders master's degree equips you for a career as a speech pathologist or audiologist. Request information to learn more about Iona's well-respected graduate program or apply now.
Find Out what an Iona Education Can Do For You
Visit Campus
Our scenic campuses, located just 20 miles from midtown Manhattan, truly do offer the "best of both worlds." Let us show you around, answer your questions and give you a feel of our tight-knit community.
Apply Today
If you're considering applying to Iona, you're not alone! During the past two years, our new-student enrollment has spiked 32%. Additionally, graduate students automatically qualify for consideration of merit scholarships during their graduate program.
Request More Information
Learn more about Iona University today!