Why Philosophy?
How do we know what we know? Do "right" and "wrong" change as the world changes? What is required of us as members of a society?
As a philosophy major, these are some of the big questions you will consider. You will discover how these questions have direct relevance to many aspects of everyday life, including business, law, medicine and the arts, and you will build a strong foundation in logic, problem solving and information analysis – skills necessary for success in many careers.
Why Study Philosophy at Iona?
Our philosophy program is at the heart of the Iona University mission of fostering intellectual inquiry and developing graduates who will be recognized for their ethical sensibilities, creativity, and independent thinking.
You'll work with dedicated professors to grapple with some of the most profound ideas of the ancient, medieval, modern, and contemporary worlds. You will develop a strong knowledge base and hone your critical, analytical, and evaluative abilities – skills transferable to fields such as law, business, mathematics, politics, the natural and social sciences, literature and the fine arts.
You'll have the opportunity to explore connections with other academic areas such as psychology and neuroscience, environmental studies, entrepreneurism and leadership, the natural sciences, allied health disciplines, and literature and the arts.
Our program offers rigorous preparation for advanced studies in philosophy, as well as a solid foundation for pursuing graduate study and careers in a wide range of academic and professional areas.
What You'll Learn
You will explore the ideas that form the intellectual foundations of human culture and that continue to shape our personal and professional lives.
You'll learn to think and write clearly, to refine your listening and speaking skills, to raise challenging questions, to hone your problem-solving ability, and to approach issues with reasoned judgment. Equipped with such knowledge and abilities, philosophy students generally score better on exams like the GRE, the LSAT, and the GMAT than students in most other disciplines.
You will take eye-opening courses, which will prepare you to meet the challenges that arise in your chosen professional field and focus on philosophy paired with:
Law, culture, and childhood
Human nature
Science and neuroscience
Animal rights
Business ethics
Unique Elements of Program
---
Program Highlights
Honors Program
Philosophy plays a central role in our Honors Program, with courses specifically designed to develop intellectual curiosity, analytic abilities, and awareness of ethical and civic responsibilities.
Student-Faculty Research
You'll have the opportunity to work closely with faculty members in the development of presentations for campus programs like Iona Scholars Day or student philosophy conferences held at other colleges and universities. You may even submit written work for publication in an undergraduate philosophy journal.
Conferences and Presentations
You'll have opportunities to attend philosophy conferences and presentations at nearby schools, or to accompany faculty members to one of the many public philosophy events in and around New York City.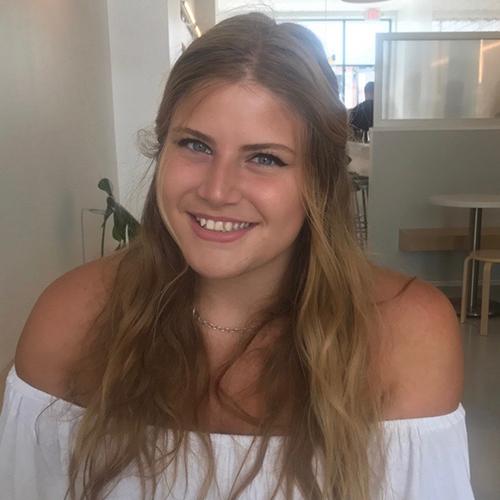 Philosophy has changed my way of thinking and how I view and handle situations at work and in my personal life. The problem-solving and analytical skills I have gained from taking philosophy courses have bettered me as an employee, and as a person.
Lucia Pacifico '20, Philosophy Major
Dr. Galen Barry Receives Fulbright U.S. Scholar Flex Award to Conduct Research in Brazil
"Having spent time in Brazil for research before, I think there is a lot of good philosophy being done there. I don't always agree with various trends or views there, but I think it's important for Anglophone philosophers to disabuse themselves of the idea that they are the center of the philosophical universe."
Careers & Outcomes
With a degree that emphasizes intellectual thought and reason, you will be prepared to work in a wide range of fields from law, religion, business and more.
Job Titles
Litigation Attorney
Publications Editor
Writer/Author
Philosophy and Religion Professor