2018 Iona College Trustees Scholarship Award Gala Honorees Announced
The annual gala takes place Friday, April 13 at Cipriani 42nd Street.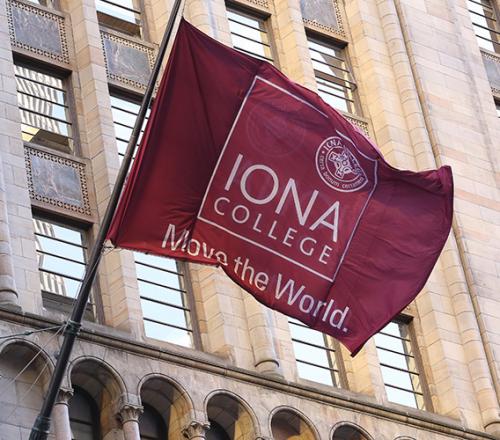 NEW ROCHELLE, N.Y. - A retail energy executive, a maintenance enterprise executive and the current head of a prominent, family-founded foundation will be honored by Iona College at its 2018 Trustees Scholarship Award Gala on Friday, April 13 at Cipriani 42nd Street, the Board of Trustees recently announced.
"The Trustees Scholarship Award Gala is an opportunity for the Iona community to come together to celebrate our students, faculty and alumni who Move the World through their service and scholarship," said President Joseph E. Nyre, Ph.D. "This year's honorees exemplify Iona's key values through their openness to innovation and entrepreneurship, devotion to integrity and diversity, and their engagement with the community."
Armando C. Rodriguez Jr. '86, president & CEO, A&A Maintenance Enterprise, and Joseph A. Armentano '88MBA, CEO, Paraco Gas Corporation, will be presented with Iona's Legacy Award. The honor is traditionally bestowed upon unique individuals in recognition of their lifetime accomplishments. The award is presented as a symbol of what can be achieved in life.
David A. Pope '07H and the Generoso Pope Foundation will be recognized with the Blessed Edmund Rice Humanitarian Award. The award recognizes those who by their activities and service to others have reinforced Iona's identity as a College founded in the tradition of the Congregation of Christian Brothers and American Catholic higher education. It is named after Blessed Edmund Rice, the founder of the Christian Brothers.
Past honorees represent a "who's who" of prominent and successful leaders, including His Eminence Timothy Cardinal Dolan '14H, Francis Cardinal Spellman, New York Governor Malcolm Wilson, U.S. Senator Edward Kennedy, former NY Yankee Mariano Rivera, New York City Police Commissioner Ray Kelly and the New York Police Department, and the 15 Iona alumni lost in the September 11, 2001 attacks on the World Trade Center.
Proceeds from the Trustees Scholarship Award Gala will support student scholarships. For more information and to purchase tickets, e-journal ads and other sponsorship opportunities, visit the scholarship gala site.
For additional information, please contact: Iona College Office of Advancement & External Affairs at (914) 633-2093 or events@iona.edu.
About The Honorees:
Armando C. Rodriguez Jr. '86 was born in Cuba, and migrated to the United States in 1967. Rodriguez is proud to call himself a Cuban American. Growing up in White Plains with his sister, his mother passed away when he was just a child, leaving his father to raise him. Family was essential and education the key to a brighter future. He obtained his Bachelor of Science in Business Administration from the School of Business at Iona College in June of 1986. He furthered his education by studying elementary petroleum exploration at the University of Texas and completed the NMSDC Advanced Management Education Program at the Kellogg School of Management at Northwestern University and the Corporate Responsibility Program at the Harvard Business School.
With an interest in the family business at the age of 12, Rodriguez began his affiliation by assisting his father in areas of maintenance and the delivery of a dependable service. Founded in 1973 and under his leadership since 1987, A&A has grown from a local service provider with four employees to a national provider with over four thousand employees and operations in 19 states and regional offices throughout the country. With a passion for excellence and a drive to be the best in the industry, Rodriguez has elevated A&A Maintenance to one of the largest Hispanic-owned companies in America.
Rodriguez has gained the respect of many clients and has received several awards of recognition, merit, and excellence, including awards from the City of New York Business Improvement District, Pepsi-Cola Company, Westchester Hispanic Chamber of Commerce, and The National Hispanic Business Group. Hispanic Business Magazine ranked A&A Maintenance in the top 500 largest Hispanic-owned companies in America and one of the fastest growing top 100 Hispanic-owned businesses.
Rodriguez currently serves as Trustee for his alma mater, Iona College. In his spare time, he loves to golf and spend time with his wife, two daughters and two grandchildren.
Joseph A. Armentano '88MBA is the chief executive officer of Paraco, a privately held retail energy company serving the Northeast region. Paraco's story began in 1968 with Armentano's father, Pat, working from a garage in Mount Vernon, N.Y., where he founded the industrial gas company, Patsems, Inc. The company entered the propane business in 1979 with the purchase of a small propane and oil marketer called Paraco Fuel Corporation. Today, Paraco has more than 107,000 customers and serves residential and commercial users of propane and heating oil. Paraco's footprint is primarily in the Northeast and is the 13th largest propane marketer in the U.S. with more than 500 employees headquartered in Rye Brook, N.Y. Armentano has been with the company serving various sales and operations positions since his graduation from college in 1976. He has served as CEO since 1987 and has witnessed four decades of continuing growth of their family business. Presently the company operates from 20 locations in the Northeast and exceeds $200 million in sales revenues.
Armentano prides himself on giving back to the communities Paraco serves and donates to many philanthropic organizations. He maintains active involvement in civic and professional organizations. Currently, he serves on the board of directors of the National Propane Gas Association; the Greyston Foundation, a not-for-profit organization involved in open hiring for unemployable workers; the Italian Business Forum, a cultural not-for-profit organization, and the Westchester County Association, a preeminent business membership organization. Armentano has also previously served on various not-for-profit boards including the American Red Cross, a past chairman of the Propane Education and Research Council and a member of Vistage, a CEO Management Group.
Armentano grew up in Mount Vernon and Yonkers and is the oldest of four boys. He attended Roosevelt High School where he was a member of the National Honor Society and played football for Tony DeMatteo, one of his earliest mentors, who still coaches football today. Armentano graduated from Fordham University in 1976 with a BA in history and went on to earn his MBA in finance from Iona College in 1988. Armentano is currently writing his first book Keep Smiling, the story of the legacy of his father. The book is expected to be published this spring.
David A. Pope '07H is president of both Pope Real Estate and A.J. Realty Development. In addition to his businesses, Pope is CEO and president of the Generoso Pope Foundation in Tuckahoe and is active in several professional and community organizations. The foundation was established in 1947 by Generoso Pope, an Italian immigrant and the owner of a chain of Italian-language newspapers. The foundation supports grantees ranging from hospitals and nursing homes to cultural events in the community and educational initiatives. David A. Pope, Generoso's great-grandson, became president and CEO of the foundation in 2005.
Pope has devoted much of his time and energy to fulfilling his great-grandfather's dream - the establishment of the Westchester Italian Cultural Center. The center, located in the Generoso Pope Foundation Building in the center of Tuckahoe, opened its doors in 2007. The center seeks to preserve, promote and celebrate the rich heritage of Italian culture by offering educational programs, exhibits and events that encourage an appreciation of the Italian language, arts, history, cuisine and commerce.
Pope has received numerous awards and commendations for his contributions to the community from local, state and federal government agencies. He received a Leadership Award from Pace University's Law School. Pope was bestowed an honorary degree from Iona College in 2007.
ABOUT IONA
Founded in 1940, Iona College is a master's-granting private, Catholic, coeducational institution of learning in the tradition of the Edmund Rice Christian Brothers. Iona's 45-acre campus is just 20 miles north of Midtown Manhattan. With a total enrollment of nearly 4,000 students and an alumni base of over 50,000 around the world, Iona is a diverse community of learners and scholars dedicated to academic excellence and the values of justice, peace and service. Iona is highly accredited, offering undergraduate degrees in liberal arts, science, and business administration, as well as Master of Arts, Master of Science and Master of Business Administration degrees and numerous advanced certificate programs. Iona's LaPenta School of Business is accredited by AACSB International, a prestigious recognition awarded to just five percent of business schools worldwide. The Princeton Review recognized Iona's on-campus MBA program as a "Best Business School for 2020." Iona College also recently launched a new, fully online MBA program for even greater flexibility.