Activist and Survivor of Marjory Stoneman Douglas High School Shooting Encourages Iona Students to Push for Change
Activist Jaclyn Corin, a survivor of the mass shooting at Marjory Stoneman Douglas High School in Parkland, Fla., in 2018, recently spoke with Iona students during the College's annual celebration of the Week of the Peacemaker.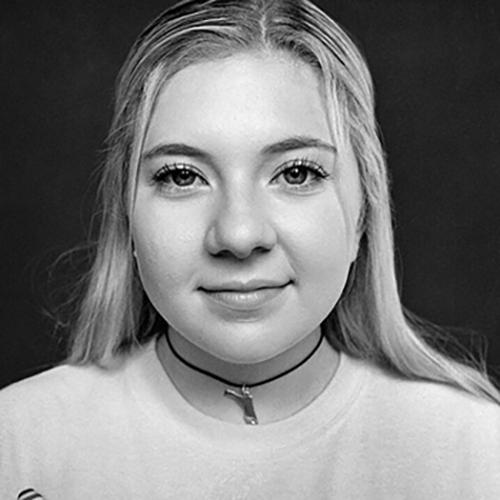 NEW ROCHELLE, N.Y. - Activist Jaclyn Corin, a survivor of the mass shooting at Marjory Stoneman Douglas High School in Parkland, Fla., in 2018, recently spoke with Iona students during the College's annual celebration of the Week of the Peacemaker.
The Peacemaker events are meant to shine a light on a social justice issue, and this year's theme, "Guns and Roses: A New Dialogue on Violence in the U.S.A.," was centered around gun violence.
"The charge of the Week of the Peacemaker is grounded in our commitment as a College in the Catholic tradition 'to scrutinize the signs of the times' and to relate them to a faith that proclaims justice and peace as vital," said Carl Procario-Foley, Ph.D., director of the Office of Mission and Ministry, which hosted the event.
"The topic of gun violence relates directly to a whole set of issues of human life and dignity, which are integral to Catholic Social Teaching," Procario-Foley added. "We always want students to learn something new about the issue, examine their own rationale on the complex issue of gun violence, and to hear another perspective."
Presentations and workshops were held during the week of November 3 – 8, allowing the Iona community to participate in discussions and share ideas.
One panel titled "Intention of Prevention" discussed the facts and statistics of gun violence while also sharing how individuals can be aware and know the signs of potentially dangerous situations. Social work major Christina Marquez '20 attended this panel and observed, "Shootings have become too prevalent and gun culture is so in our face but we are so desensitized to it. The music we listen to on a daily basis and the phrases we use – a majority have gun violence thrown in and we do not bat an eye. This presentation opened my eyes and made me more aware of the gun culture and my stance in it."
Associate professor of marketing Eric Hamerman, Ph.D., lead the presentation "Vice Marketing: How Marketing Principles Explain Gun Proliferation."
"It's important for the business school to be represented in this conversation, because the manufacture, sale, advertising and distribution of guns (and other "vice products") can be explained by basic marketing principles, and studies have shown that gun proliferation is correlated with gun violence," Hamerman said. "I hope that my presentation gave students a better understanding of how the concepts in their business school classes can be used as a framework for thinking about solutions for larger societal issues."
To conclude the week, students, faculty and staff packed the Christopher J. Murphy Auditorium to listen to keynote speaker, Jaclyn Corin. Now a freshman at Harvard University, Corin says that the tragic shooting at her high school has given her a new role in life. She says her passion is to serve and encourage others to be more active in their communities. Corin once wanted to be a nurse and attend the University of Florida but now finds herself at Harvard studying sociology and government law.
Corin stated that she feared the media coverage of the shooting at Marjory Stoneman Douglas High School would fade quickly, as she had seen happen with other shootings, but she was determined to not let that occur. She became a lead organizer for the March for Our Lives movement in Washington D.C., which was attended by over one million people, and 800 other local marches around the world in March 2018.
From minimum age purchasing requirements to restrictions on concealed carry permits, localities across the nation have enacted many new gun laws since Parkland. "Young people can induce change by holding our representatives accountable," said Corin. Her hopes for the future are that young people can be more successful in changing legislation on a national level.
Iona College students, faculty, staff and alumni collaborate on campus and with local, national and international communities to share the mission of service, justice and spirituality.
ABOUT IONA
Founded in 1940, Iona College is a master's-granting private, Catholic, coeducational institution of learning in the tradition of the Edmund Rice Christian Brothers. Iona's 45-acre campus is just 20 miles north of Midtown Manhattan. With a total enrollment of nearly 4,000 students and an alumni base of over 50,000 around the world, Iona is a diverse community of learners and scholars dedicated to academic excellence and the values of justice, peace and service. Iona is highly accredited, offering undergraduate degrees in liberal arts, science, and business administration, as well as Master of Arts, Master of Science and Master of Business Administration degrees and numerous advanced certificate programs. Iona's LaPenta School of Business is accredited by AACSB International, a prestigious recognition awarded to just five percent of business schools worldwide. The Princeton Review recognized Iona's on-campus MBA program as a "Best Business School for 2020." Iona College also recently launched a new, fully online MBA program for even greater flexibility.