After 15 years of Army Service, Iona College Graduate Achieves Life's Dream of Completing Degree
From New Rochelle to the Middle East and back, Billy Falla has worked hard to achieve this milestone – and he isn't about to stop now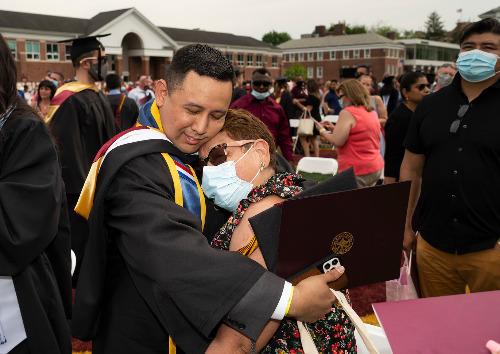 NEW ROCHELLE, N.Y. (May 2021) – At the age of 41, Billy Falla has swapped his Army helmet and fatigues for a Commencement cap and gown, graduating with a bachelor's degree in criminal justice from Iona College. It's an accomplishment he's not only achieved through hard work in the classroom, but has been dreaming about throughout his extraordinary life of service, faith and family.
Confident yet humble, Falla's path to Iona started when he immigrated to New Rochelle from Peru in 1998 with his parents and two younger siblings. He was 18 years old and spoke hardly any English. When he enrolled in New Rochelle High School, they placed him as a freshman so he could learn the language. He graduated in three years.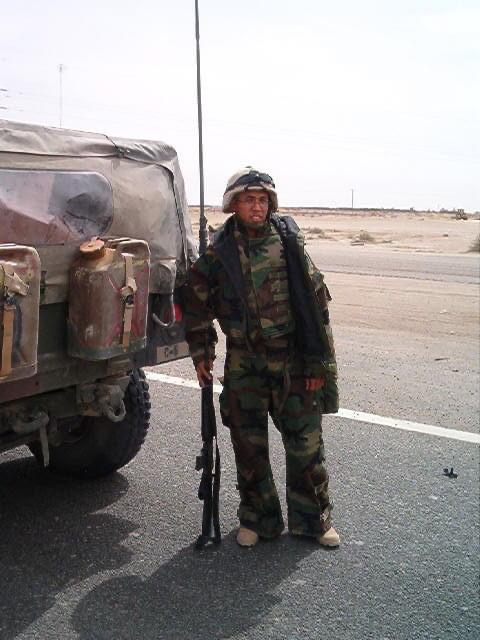 Immediately afterwards, he enlisted in the Army and was set to begin basic training on September 12, 2001. Then, the world changed in an instant.
Like most, Falla watched the 9/11 attacks in shock and horror. Yet unlike many, he was already at the base of Fort Jackson, South Carolina, set to begin his military training the following day. He was offered a choice.
"The drill sergeant lined us up and told us, 'You have the option to leave,'" Falla recalled. "'Anyone on this side of the line is going. Anyone on this side is staying.'"
Falla stayed.
"I said to myself, 'God put me here for a reason. I've never been afraid of facing challenges. I was put here to do this,'" Falla recalled. "The first thing my mom said was, 'I want you back home. I know what's going to happen.' I told her, 'Don't be afraid. I know what I want. I know what I'm doing.' I told her, 'You are my strength. I will be OK.'"
From that fateful decision on day one, Falla would go on to survive paramilitary attacks, devastating sandstorms and unexpected missile strikes as a Logistics Specialist with the legendary 101st Airborne Division in the Middle East. Over the next 15 years, he would travel the world and earn his U.S. citizenship – a milestone that still brings him to tears. He loved his time in the service, and cherished its challenges.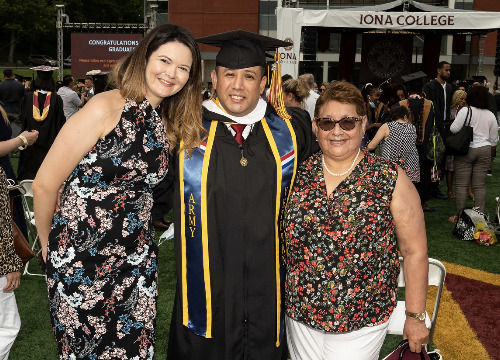 What brought him home to New Rochelle, however, was family. His mother's health was ailing, and after his father passed away from ALS, or amyotrophic lateral sclerosis, Falla regretted he couldn't be closer to provide better care.
The fact that the late ALS Ice Bucket Challenge co-founder Patrick Quinn, Iona alumnus Class of 2006, delivered a posthumous keynote address at this year's Iona Commencement feels like no coincidence, Falla said, but rather a sign that all is connected through God, a value he learned as a young child in Peru.
Now, Falla is teaching his own son, Matthew, the values he holds so near, building a legacy in the city he loves as a proud husband, father and now a college graduate. He is currently pursuing a job opportunity with a high-end security firm, and eventually would like to continue his education and get a law degree.
"I love this community. I grew up here for a big part of my life, and I always knew Iona was one of the top colleges in nation for criminal justice," said Falla, whose younger siblings also graduated from Iona. "But it's not just about the name. I'm going to a place that really means something. It's the culture; it's the people. Whatever you want to get out of it, you can achieve it."
ABOUT IONA
Founded in 1940, Iona University is a master's-granting private, Catholic, coeducational institution of learning in the tradition of the Edmund Rice Christian Brothers. Iona's 45-acre New Rochelle campus and 28-acre Bronxville campus are just 20 miles north of Midtown Manhattan. With a total enrollment of nearly 4,000 students and an alumni base of over 50,000 around the world, Iona is a diverse community of learners and scholars dedicated to academic excellence and the values of justice, peace and service. Iona is highly accredited, offering undergraduate degrees in liberal arts, science, and business administration, as well as Master of Arts, Master of Science and Master of Business Administration degrees and numerous advanced certificate programs. Iona's LaPenta School of Business is accredited by AACSB International, a prestigious recognition awarded to just five percent of business schools worldwide. The Princeton Review recognized Iona's on-campus MBA program as a "Best Business School for 2021." Iona University also recently launched a new, fully online MBA program for even greater flexibility. In July 2021, Iona University and NewYork-Presbyterian announced the establishment of the NewYork-Presbyterian Iona School of Health Sciences, to be principally located on the University's new campus in Bronxville, N.Y. Supported by a $20 million gift from NewYork-Presbyterian, the NewYork-Presbyterian Iona School of Health Sciences offers a new vision for collaborative health care education, modern workforce development, and community care. On July 1, 2022, Iona officially changed its status from College to University, reflecting the growth of its academic programs and the prestige of an Iona education.