Biochem Majors to Perform Research in International Collaboration
Marnie Skinner '20 and Regan Warmoth '20 will join a scientific research team in Italy this summer.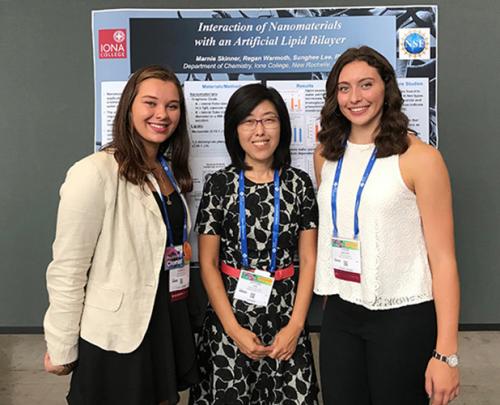 NEW ROCHELLE, N.Y. - In its continuing commitment to advancing the sciences and providing experiences that will prepare students for successful careers, Iona College is proud to announce two undergraduate biochemistry majors will be joining a scientific research team in Italy this summer. Marnie Skinner '20 and Regan Warmoth '20 will assist Antonella Fontana, Ph.D. and her research team at the University of Chieti in Italy in June 2019.
Skinner and Warmoth have been studying the interaction of nanomaterials and model cell membranes since their freshman year at Iona, and during a five-week stay in Italy, they will expand this investigation to explore the capacity of specific nanomaterials to influence real cell membranes using various techniques.
Skinner, who is the vice president of the Chemistry Club, a member of Gamma Sigma Epsilon (chemistry honors society) and a starting pitcher on Iona's softball team, is looking forward to all the new experiences the trip will offer.
"While in Italy our research will focus on the effects of graphene oxide on liposomes with and without cholesterol present. We will be able to observe the properties of these liposomes with varying characterization techniques. I am excited about this opportunity to learn a more traditional method of cellular membrane simulation and be able to not only have this knowledge going forward with research, but also to be able to utilize the techniques in our own lab here at Iona," explained Skinner. "This will also be my first time out of the country, so I am excited to experience another culture and enjoy the beautiful sites of Italy."
Warmoth, who came from a small town outside of Chicago and was recruited by Iona to play water polo, made a difficult choice to give up her beloved sport in favor of academics. Now she feels that decision paid off.
"As an undergraduate biochemistry researcher here at Iona, I have been blessed with the opportunity to go explore Italy and do what I love most, which is research," Warmouth said. "I played water polo during my freshman and sophomore years until I had to make a tough decision to stop playing the sport I love and focus on my education and research. I was unsure if I had made the right decision, but in throwing myself into school and research, I was granted a once in a lifetime trip to Italy."
"I am very fortunate to have Dr. Lee as a mentor and blessed to see where our research takes us! I have been bugging Dr. Lee to work with nanoparticles since freshman year and for Marnie and I to focus our project on graphene oxide nanoparticles means the world to me," added Warmouth. "I am truly excited to experience the new culture and of course try new foods!"
This international research collaboration is supported by an award from the National Science Foundation (NSF) to Sunghee Lee, Ph.D., Board of Trustees Endowed Professor of Chemistry, to create and exploit new concepts in science and engineering and provide global leadership in research and education, and strengthen the nation's STEM workforce through international research collaboration.
"I'm really pleased for Marnie and Regan and their ability to join a research team in Italy, with their NSF award," said Dr. Lee. "They are excellent students majoring in Biochemistry and have been in my research group since their freshman summer. During the five weeks they will stay in Italy, they will expand their knowledge and techniques in the preparation and characterization of nanomaterial-containing liposomes, with applications in nanomedicine. I believe this international research experience will provide them tremendous growth opportunities, both personally and professionally. As a faculty mentor, there is nothing more satisfying than witnessing my students transform to mature scientists!"
ABOUT IONA
Founded in 1940, Iona University is a master's-granting private, Catholic, coeducational institution of learning in the tradition of the Edmund Rice Christian Brothers. Iona's 45-acre New Rochelle campus and 28-acre Bronxville campus are just 20 miles north of Midtown Manhattan. With a total enrollment of nearly 4,000 students and an alumni base of over 50,000 around the world, Iona is a diverse community of learners and scholars dedicated to academic excellence and the values of justice, peace and service. Iona is highly accredited, offering undergraduate degrees in liberal arts, science, and business administration, as well as Master of Arts, Master of Science and Master of Business Administration degrees and numerous advanced certificate programs. Iona's LaPenta School of Business is accredited by AACSB International, a prestigious recognition awarded to just five percent of business schools worldwide. The Princeton Review recognized Iona's on-campus MBA program as a "Best Business School for 2021." Iona University also recently launched a new, fully online MBA program for even greater flexibility. In July 2021, Iona University and NewYork-Presbyterian announced the establishment of the NewYork-Presbyterian Iona School of Health Sciences, to be principally located on the University's new campus in Bronxville, N.Y. Supported by a $20 million gift from NewYork-Presbyterian, the NewYork-Presbyterian Iona School of Health Sciences offers a new vision for collaborative health care education, modern workforce development, and community care. On July 1, 2022, Iona officially changed its status from College to University, reflecting the growth of its academic programs and the prestige of an Iona education.